How to Backup Drivers on Windows 10, 8.1, 8, 7, XP, Vista
Jun. 24, 2022 / Updated by Bessie Shaw to Windows Driver Solutions
Did you ever reinstall Windows only to discover you missed some drivers? We've received so many reports from users about no WiFi or no Internet connection after Windows 10 update, as well as the driver problems of display, Bluetooth, sound card, and motherboard after a new fresh reinstallation. How to backup drivers before formatting Windows OS? In this post, you will learn why you need driver backup and how to backup Windows drivers on your computer.
It's Important to Backup Drivers for Windows PC
You've been told to backup your hard disk and data thousands of times, but seldom did you hear that you need to backup the drivers of your computer hardware and devices as well. In fact, it's very very very important to backup Windows drivers.
Like your personal data on computer, drivers can be easily deleted unintentionally ---- when you do Windows system reinstalling, formatting, or when you clean your computer or wipe hard drive but erase driver files by mistake……Drivers loss can happen now and then.
"Oh, so what I need to do is to find new drivers and then install the new ones" --- if this is what you think --- it sounds good but soooooo….. much laborious. You should know that finding a correct driver manually is not that easy at all (in case you try Windows drivers download utility), and the drivers you need might not be available from even the manufacturers' sites, especially for old hardware, devices and old Systems like Windows Vista and XP. And what if you have no Internet connection because of network driver loss?
Driver backup is like a boon. Backing up drivers saves you the trouble of searching, downloading, and installing drivers. What's more, you can easily backup and restore drivers even without Internet connection to fix all driver issues, like no audio, no Ethernet, no Wi-Fi, and possibly even no USB --- all potentially major problems.
It's necessary to take drivers backup in Windows 10, Windows 8.1, Windows 8, Windows 7, Windows XP and Windows Vista. Now backup your printer drivers, exec drivers, vista drivers, XP drivers, exec tape drivers, nero drivers, WiFi drivers, display drivers, audio drivers, network drivers, USB driver, etc.
Easy to Backup Driver for Windows 10/8.1/8/7/XP/Vista on Your Laptop, Notebook or Desktop PC
When it comes to driver backup, OSToto Driver Talent is the powerhouse. It satisfies you with all features like free driver backup software, smart driver backup, system drivers backup, backup and restore drivers, professional, easy to use, one-click solution --- all the key works that erupt in your mind.
Free download and install Driver Talent on your computer. It will help to backup drivers for either 64 bit or 32 bit Windows OS.
Driver Talent can backup Windows drivers for all laptops, notebooks, or desktop PCs, including Asus, Acer, Dell, HP, Sony, Lenovo, Samsung, Toshiba, IBM, Alienware, Compaq, Gateway, LG, Microsoft, MSI, etc. Here is how:
Step 1. Scan to Detect Driver Backup Information
Launch Driver Talent after you install it in on your PC. In the main interface, click on "Tools" to enter the backup menu. Driver Talent will automatically scan your computer to check driver backup information.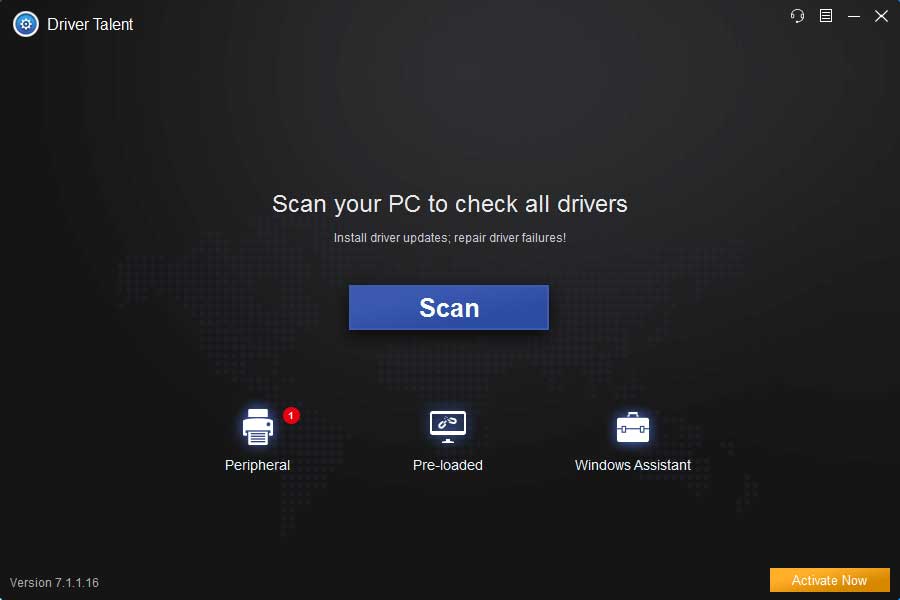 Step 2. One-click Backup All Drivers
Select the drivers you want to backup (we suggest you backup all) and click on "Start". This driver backup software will instantly backup the drivers.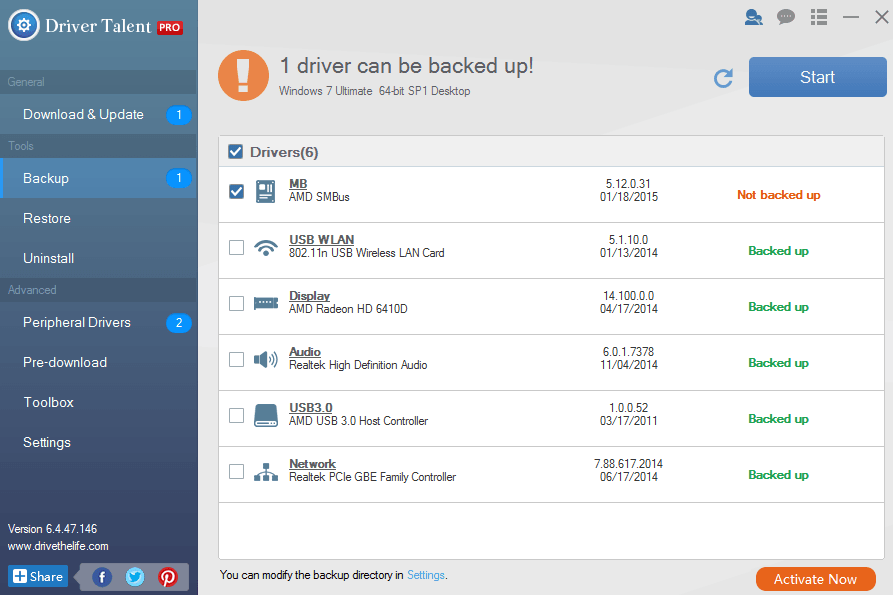 All the backed-up drivers are stored in a default folder on your computer (F:\DTLFolder\DriversBackup). You are allowed to modify the backup directory in Settings on this drivers backup software.
How to Restore or Reinstall Drivers from Backup
So you've backed up drivers before you lost them when reinstalling Windows system or format hard drive. Just one click and you can restore the missing drivers from backup with Driver Talent.
Click on the "Restore" menu. You will see the list of all the devices of which you can restore drivers. Select the devices of which you lost drivers and click on the triangular symbol to select the most recent driver versions you've backed up. Click on the "Restore" button to restore the drivers to previous versions.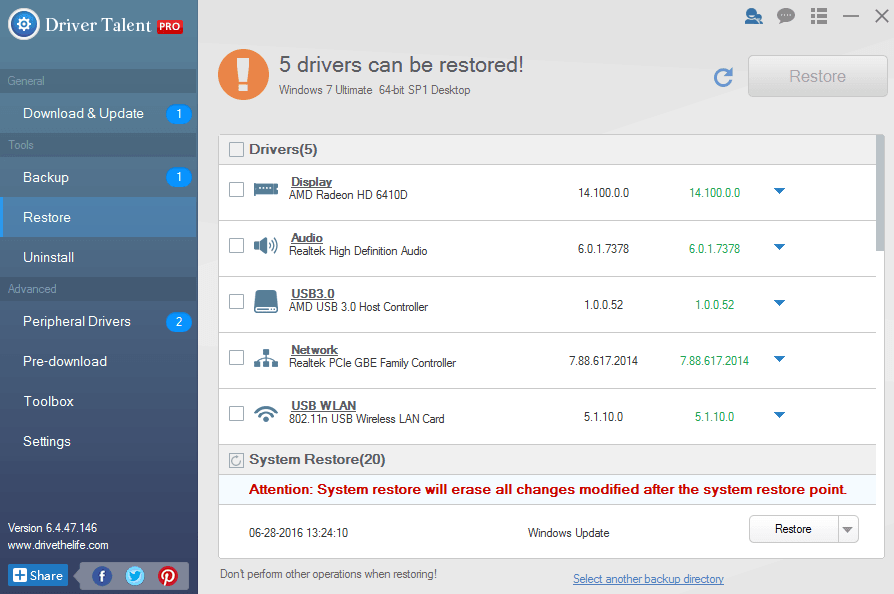 If you've backed up drivers in another folder, click on the "Select another backup directory" at the bottom of the software to locate the backed up driver versions to restore.
Since we've dedicated the workable methods in this post Top 2 Ways to Restore or Roll Back Drivers to Previous Versions, you can check to see for more details.
Have more suggestions or any questions about drivers backup for Windows? Hit me in the comments.
Recommended Download