How to Download & Install Network Drivers without Internet Connection
Jun. 24, 2022 / Updated by Daphne to Windows Driver Solutions
No Internet & No Drivers after a Fresh Install of Windows OS

"My laptop had a virus so I installed a new fresh version of Windows 7, now that is done I quickly realize that I can't access the Internet due to there being no drivers installed. The wireless drivers and every other Internet driver are not installed. I am trying to install from USB stick but not installing, please tell me what should I do?" --- Quoted from Spice Community
This is not a rare problem. A majority of users who do a clean install of Windows ever encountered this embarrassing situation: no Internet connection on the computer. Lots of users can't access the Internet after reinstalling Windows 10, Windows 8/8.1, Windows 7, Windows XP, and if you've updated to the new Windows 10, you've probably got this no Internet issue. "How to check my computer to install Lan driver? How to solve and prevent this problem?" This is what I will demonstrate today in this article.
See Also:
How to Download and Install Network Drivers after Reinstalling Windows (No Internet Connection)
Generally, there are 3 methods to solve network connection problem after a Windows system format or reinstallation.
See Also:How to Install Drivers without Network, USB or CD Drive
Method 1: Download and Install Lan/Wired/Wireless Network Drivers with Driver Talent for Network Card
This way is easy and recommended since it is a smart, quick and automatic solution!
We have introduced that Driver Talent (formerly called DriveTheLife) offers a smart and automatic driver download, install, fix and update solution for all Windows users. But it needs a continuous Internet connection to do all the jobs. So what if there is no network driver and no Internet to download the driver?
That is why Driver Talent for Network Card is designed. Driver Talent for Network Card, as its name tells us, is specially developed to solve network card driver problems. It has a large size because all major network adapter drivers are integrated in its local library so that it is able to install network drivers or LAN drivers without Internet connection.
Now let's start to explore how to use it.
Step 1. Go to a computer whose network connection is available. Download Driver Talent for Network Card via the button below and save the .EXE file to a USB drive. (If you have not such computer around you, you can also download the utility via your iPhone or Android phone or other network available devices.)
Step 2. Connect the USB drive to your computer and copy the installer file. Then run the .EXE file to install Driver Talent for Network Card.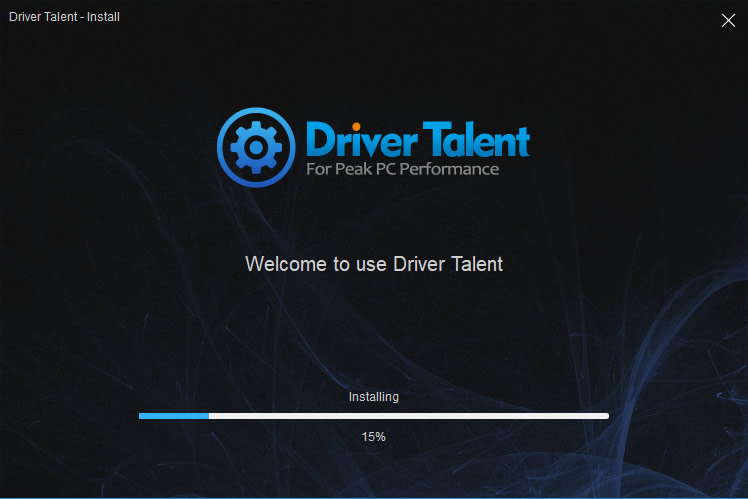 Step 3. Launch the utility and it will start scanning automatically without any advanced configuration. (Are you wondering when the network driver is installed? It is installed during the process of installing Driver Talent for Network Card.) Once this tool is installed, the network driver is installed successfully.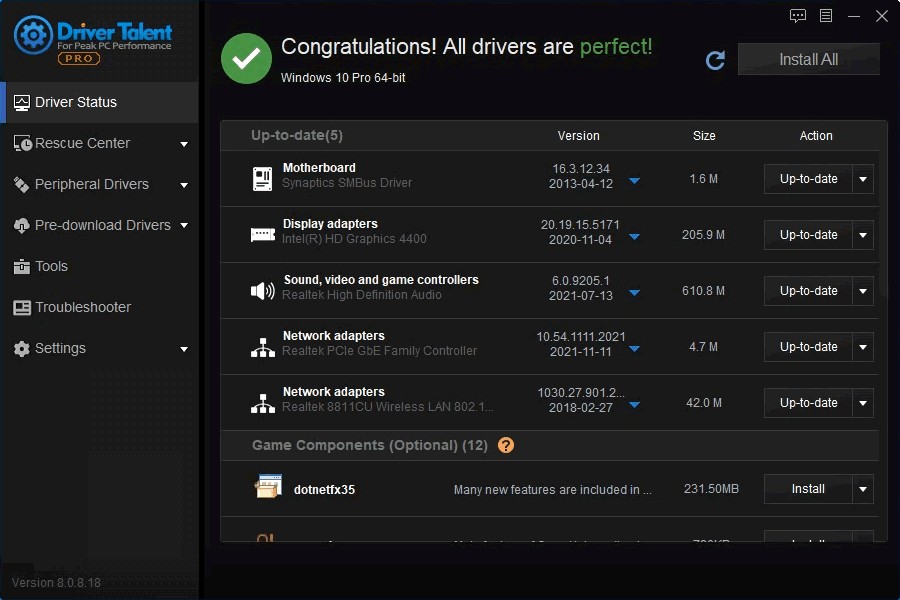 Step 4. Restart the computer. You will see that the computer has Internet access again. If you want to install other drivers, you can complete all the jobs with one "Update" or "Download" click.
All the functions that Driver Talent have are adapted in Driver Talent for Network Card. So just use it as Driver Talent after the network drivers are installed. Don't know the full features of Driver Talent? View Driver Talent user guide here.
See Also:
Method 2. Download Network Drivers from One Computer to Another
If you have one more computer available, you can use it to help download drivers for your computer which has no Internet access. Try the "Pre-download" feature on Driver Talent. It will help you to download all the correct drivers including the network drivers for your computer.
For more details on how to download drivers on another computer, refer to: 5 Steps to Download Drivers for another Computer PC.
Method 3. Download and Install LAN/Network/Internet Drivers Manually
To download and install network drivers or LAN drivres manually has never been easier. You need to refer to the hardware model and details then search painfully for the correct driver for your network adapter. It is no doubt a time-consuming job. However, it also works well if you got the right driver installed on your computer.
Note that another Internet-available computer is needed to download Driver Talent for Network Card or the specific driver of your network card. Then transfer the .exe file onto your computer to install. It's much better to download and install it on your computer before you format or reisntall the Windows system.

All major computers are supported including Dell, Asus, HP, Acer, Samsung, Toshiba, Lenovo, Sony, etc. to download network drivers offline.

All commonly used Windows systems are supported including Windows 10, Windows 8.1, Windows 8, Windows 7, Windows XP, Windows Vista, etc..
You may also like to check out:
If you still fail to connect to the network on your computer, you can drop a line below in the comment section or click the support menu on the left of this page, we'll try our best to help you. If you encounter other driver problems after the latest Windows 10 update, you can also comment below. Hope you continue to have access to Resource section on this site as well as provide support.

Recommended Download