Fix LAN (Local Area Network) Not Working on Windows 10 Creators Update
Jun. 24, 2022 / Updated by Bessie Shaw to Windows 10
You may encounter the LAN not working or no LAN connection problem after the Windows 10 Creators Update (1709). LAN is short for Local Area Network. Many people choose LAN because it is a secure way to work or share files.
Many factors can result in LAN not working or no LAN access issue after the Windows 10 updates, such as incorrectly LAN-related configurations, improper registry values, network card driver problems, etc. If you come across such LAN problems, you can follow the methods below to troubleshoot the glitches.
Way 1. Enable LAN-related Services on Windows 10 Creators Update
1. Use Windows shortcut keysWin + R to open Run.
2. Type into services.msc and hit the key Enter.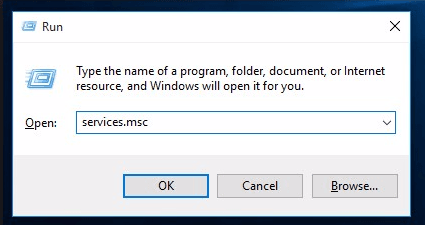 3. After you opening Services window, go to Server and double-click it to open Server Properties.
4. If the Service status shows a grey Start button, you need to click the button to run the service.
5. Then select Automatic from the drop-down menu of Startup type.
6. Click the Apply button and the OK button to save the changes.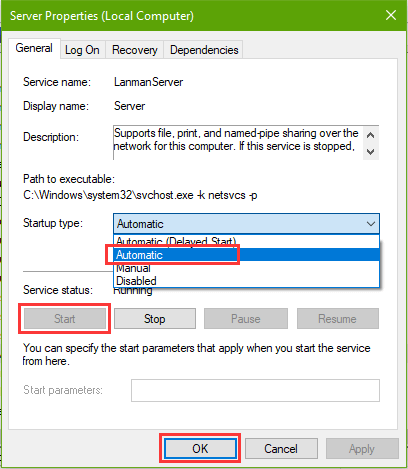 Also, follow the same steps to enable other LAN-related services:
WorkstationComputer BrowserDHCP ClientRemote Procedure CallRemote Procedure Call (RPC) LocatorDNS ClientFunction Discovery Resource PublicationUPnP Device HostSSDP DiscoveryTIP/IP NetBIOSHelper
After that, go to Network to see if you can connect to other computers or printers in LAN.
See Also:
Way 2. Change Advanced Share Settings
1. Right-click Start menu (or use Win + X) and select Network Connections.
2. On the right side, scroll down and click Network and Sharing Center.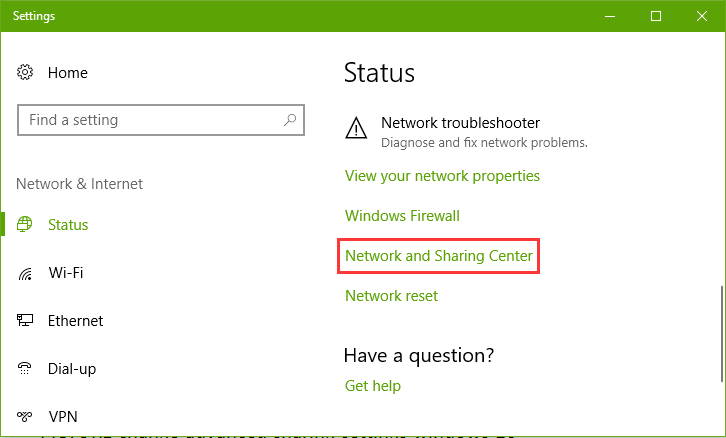 3. Click Change advanced sharing settings on the left side.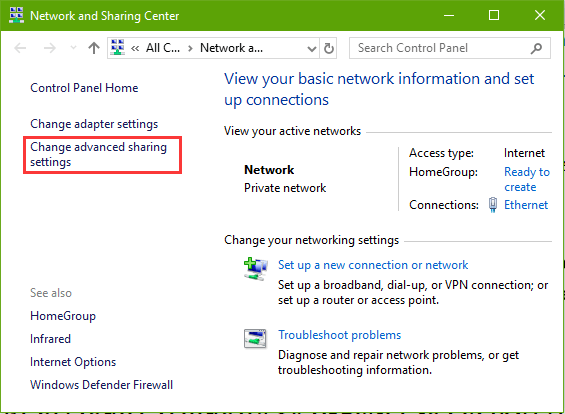 4. Expand Guest or Public entry and check the options Turn on network discovery and Turn on files and printer sharing.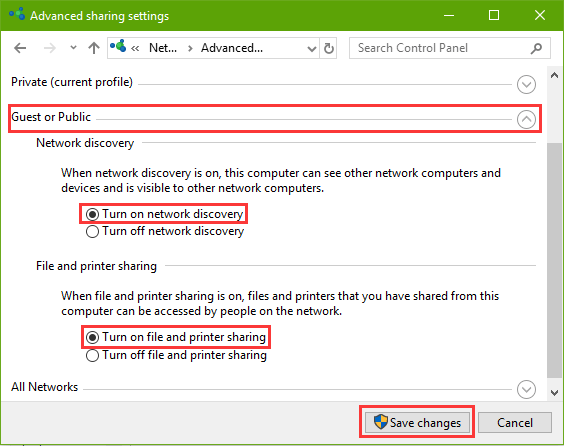 5. Click the Save changes button.
See Also:
Way 3. Modify Windows 10 Registry to Fix LAN Not Working
You can also modify the registry to get the no LAN available problem fixed. The missing LanmanServer service could also lead to the LAN not working issue.
Note: Registry Editor is an important database storing key Windows data. We recommend you backup the registry before any changes in case other serious PC issues occur, such as endless boot loop problem, black screen issue, 0x8000ffff error, etc.
1. Open Run and type into regedit.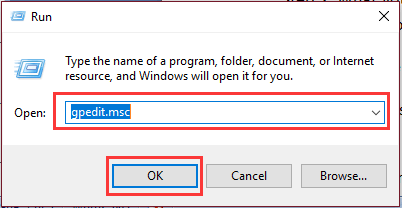 2. Hit the Enter to open Registry Editor.
3. Copy and paste the path into the bar and press the Enter: HKEY_LOCAL_MACHINE\SYSTEM\CurrentControlSet\Services\LanmanWorkstation\Parameters
4. On the right side, right-click the blank area and select New >DWORD (32-bit) Value.
5. Rename the new DWORD AllowInsecureGuestAuth.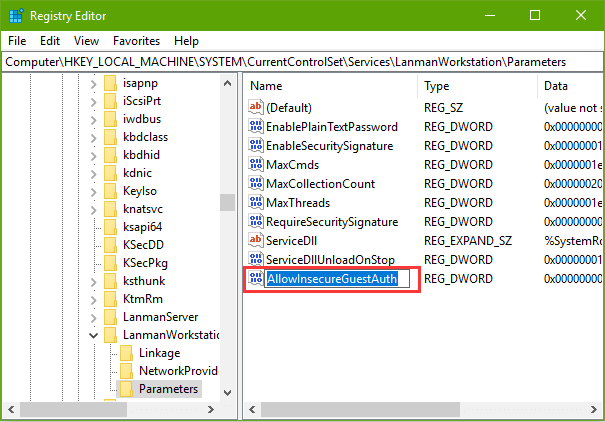 6. Double-click the new DWORD and change the Value data to 1.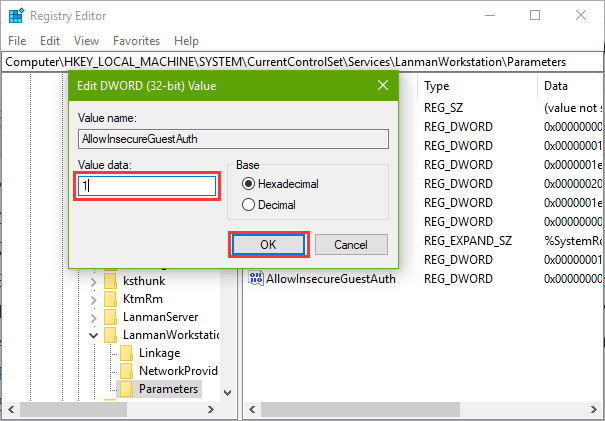 Now connect to LAN to see if the problem has been solved.
Way 4. Install Proper Network Card Driver to Solve No LAN Access Issue
When your Windows 10 computer cannot connect to the network properly, you need to check if the network card driver is installed correctly. This is how to check the driver status:
1. Open Run and type into cmd. Then press the Enter key.
2. Type into the command: ping 127.0.0.1.
3. Hit the Enter.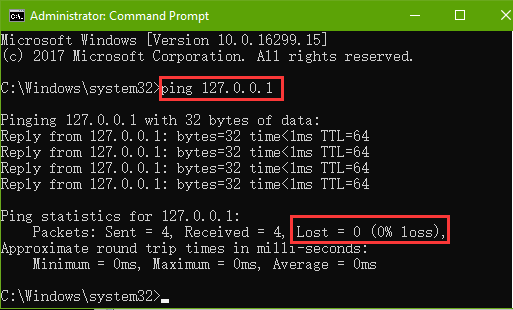 If you see "Lost = 0 (0% loss)" on the screen, that means there's no problem with the network driver. Otherwise, you need to reinstall the network card driver that triggers the LAN not working on your Windows 10 Creators Update desktop or laptop.
To bring the LAN connection back on track, you can download the network driver from the manufacturer's website and then manually install the driver update. But if you prefer a one-click driver solution, you can use Driver Talent to quickly download and install the driver you need.
Here are 3 easy steps to reinstall the driver in minutes.
1. Launch Driver Talent. Click the Scan button to begin detecting driver problems.
2. Click the Update or Repair button to download and install the driver update you need. You can also select driver versions from the drop-down menu.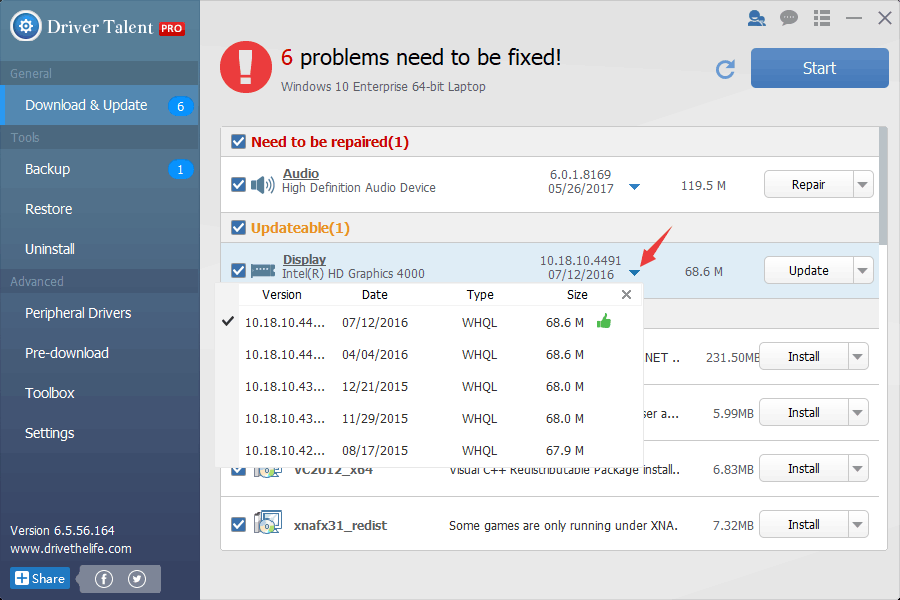 3. Restart the computer to make the driver changes take effect.
Note: If there's no network available for you to download anything, you can use a USB stick to transfer Driver Talent for Network Card from another computer or your smartphone to your computer, which contains the basic network drivers that are compatible with common Windows OS.
Related Posts:
That's it. Hope you can connect to your Windows LAN after the fixing. If you still fail to solve the no LAN access or LAN not working problem, please leave a comment below or click the LEFT MENU on this page for more technical support. If you have any other Windows 10-related issues, see Windows 10 section on this site.
Recommended Download