Top 3 Ways to Fix Endless Reboot Loop after Windows 10 Update
Jun. 24, 2022 / Updated by Daphne to Windows 10
Recently, several computer users complain about the endless reboot loop issue after the Windows 10 update (Fall Creators Update 1709 or Spring Creators Update), or upgrade to Windows 10 from Windows 8.1, 8, or 7, as below:
Windows 10 is stuck in a endless reboot loop after Windows 10 update.


After logging into the computer I am greeted with a blue screen saying that my computer needs to restart. Then the computer is stuck in a reboot loop, no blue screen, no auto recovery.

I kept getting the error INTERNAL_POWER_ERROR and restart loop. Stuck in an infinite Windows 10 endless reboot loop.

My Windows 10 installation is stuck in an endless restart loop after POST.
We've received many user reports on this issue. The Windows 10 reboot loop is nerve-wracking. No matter if you updated from Windows 8.1, 8 or 7, there is a big chance that you would get stuck in an infinite Windows 10 boot loop. Some may also come across this reboot issue after the Windows 10 updates like the Fall Creators Update Version 1709 or the Spring Creators Update.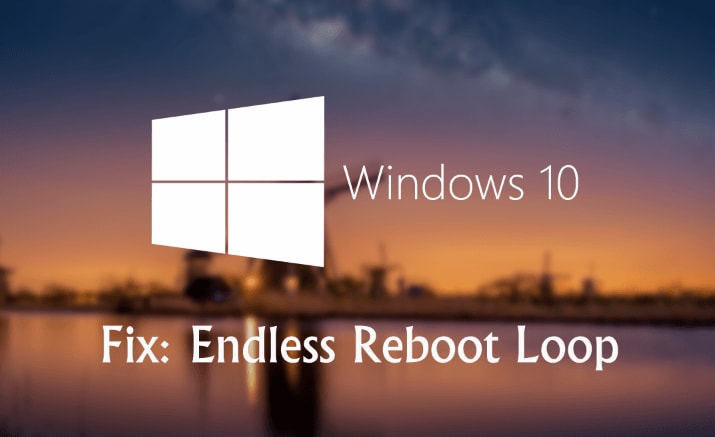 What Causes This Endless Reboot Loop and Crash Loop after Windows 10 Update
The third update of Windows 10 is causing Windows 10 computer to crashes like blue screen error, no sound issue, PC slow running glitch, etc. over and over again or the random freezes. The KB3081424 of Windows 10 update (a roll-up of bug fixes) fails during the update process and triggers the message: "We couldn't complete the updates, undoing the changes." This undoing will cause a mandatory system reboot and when you log back on Windows 10 update will try to install KB3081424 again. The update cannot be stopped KB3081424 and this leaves system stuck in an endless Windows 10 reboot loop.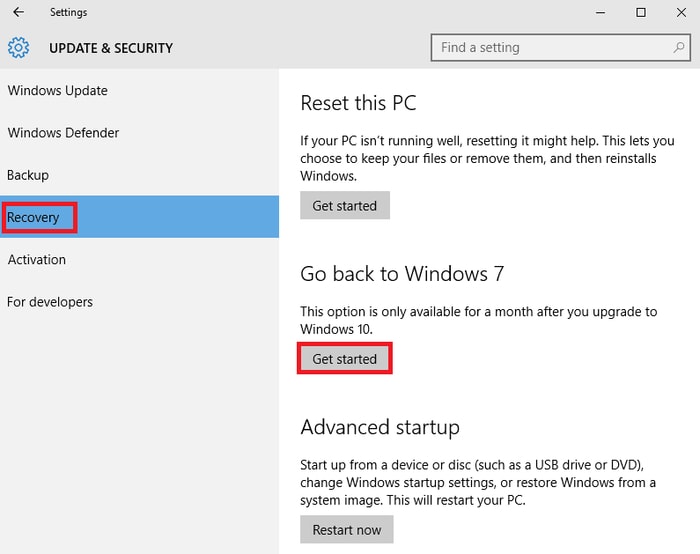 Read More: Have more other Windows 10 problems during or after update? See Windows 10 Update Issues and Solutions, as well as How to Successfully Update to Windows 10?
Why can't KB3081424 eventually install? If it fails for the first time, the initial failure will be found to create a bad entry in the Windows 10 registry. This will stop its subsequent attempts to reinstall from working correctly.
How to Fix Endless Reboot Loop during or after Windows 10 Update
Try the solutions below to fix the Windows 10 keeps restarting your computer issue, like Lenovo, Asus, Acer, Dell, HP, ThinkPad, Toshiba, IBM, Sony, Gateway, Samsung, IBM, etc.
Important Update:
Microsoft has released an updated fix for this Windows 10 boot loop issue. You can get it fixed via Windows Update. Open Settings > Update & security > Windows Update, and select "Check for updates".  An additional update will be downloaded and installed to your Windows 10 computer to fix the endless reboot loop.
To prevent Windows 10 keeps restarting again, make sure all the drivers are correct and compatible with Windows 10. You can use Driver Talent in the second method to check if there are driver issues on your computer.
Solution 1. Get Rid of Bad Registry Entry to Fix
Endless Rebootloop

in Windows 10

If your computer gets stuck in the endless reboot loop during Windows 10 install, try this solution quickly to fix this Windows 10 restart loop issue before KB3081424 tries to install again.

Step 1. Boot into Safe Mode. Type "regedit" in the Run.

Step 2. In the window that opens navigate to: HKEY_LOCAL_MACHINE\SOFTWARE\Microsoft\Windows NT\CurrentVersion\ProfileList

Step 3. Backup your registry key as what you're about to do is risky (with ProfileList highlighted, click File and Export and choose a backup name)

Step 4. Scan through the ProfileList IDs and delete any with ProfileImagePath found in it as it shouldn't be there

Step 5. Close regedit, reboot and next time KB3081424 should install properly.
Solution 2. Download Drive Talent to Fix Driver Issues
There are reports that Windows 10 conflicts with AMD graphics. If your computer is stuck in endless Windows 10 boot loop, that might be caused by the outdated driver issues. Try to fix the graphics drivers. You can use the all-in-one solution: Driver Talent (formerly called DriveTheLife), which is professional at checking and fixing driver problems. It will help to repair the driver if it is corrupted or damaged, install the best-matched driver if it is missing, and update to the latest driver if it is outdated.
Download and install Driver Talent on your laptop, desktop PC or notebook computer.

Step 1. Run Driver Talent to scan your computer to identify driver problems.

Step 2. Fix the driver by downloading, updating or repairing.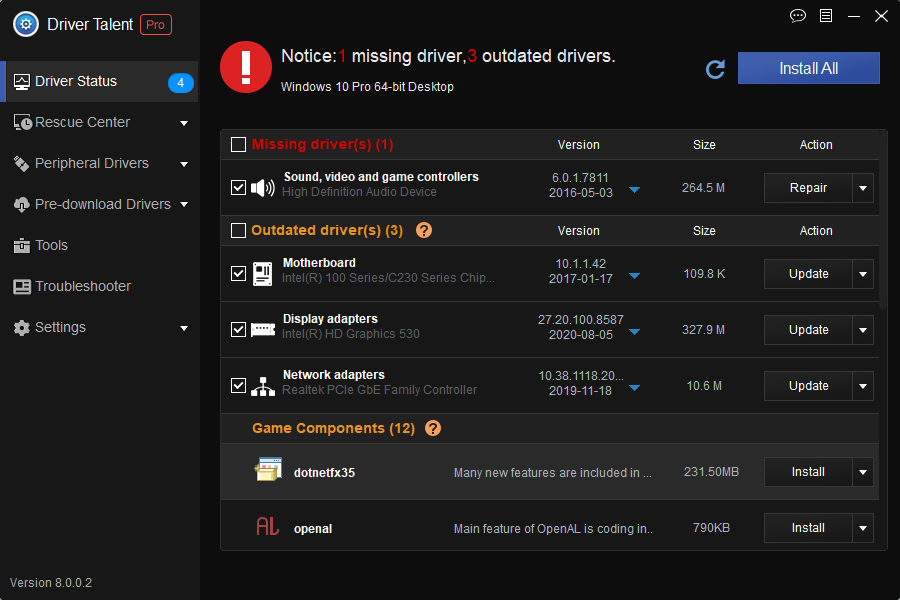 Step 3. Restart the computer to make the driver fix complete.
Solution 3. Roll Back to Windows 8.1/7
If you have upgraded to Windows 10 from the Windows 8.1/8/7, but unfortunately encounter the infinite restart problem, you can go and downgrade Windows 10 to its predecessors.
Note: An intact Windows.old file (stored in C:\Windows.old) is the important precondition for the downgrade. You need to enter Safe Mode to do this if you are stuck on the boot loop all the time.
Step 1. Use Windows shortcut keysWin + I to open Settings.
Step 2. Go to the Update & security menu.
Step 3. Choose the Recovery tab.
Step 4. Click the button Get started under the option Go back to Windows 8.1/ 8/ 7.
Step 5. Follow the on-screen instructions to finish the downgrade processes.
This can help to resolve the reboot loop after the Windows 10 upgrade.
You may also like to check out:
If you have other fixes for the Windows 10 endless reboot loop issue, welcome to share your knowledge with us in the comments section below or go to the left menu on this page. If you encounter other problems after the latest Windows 10 updates, you can also go to the Windows 10 section on this site for solutions.
Recommended Download