Top 4 Fixes for Windows 10 Boot Loop after Fall Creators Update Problem
Jun. 24, 2022 / Updated by Wendy to Windows 10
Windows 10 Fall Creators Update, version 1709 like the spring Windows 10 Update, Windows 10 1703 Creators Update, brings a string of new features, bug fixes and improvements for better PC performance and gaming experience. While the problem Windows 10 boot loop or restart loop while upgrading the Fall Creators Update comes along within this Redstone 3 update with other more issues like Windows 10 black screen, Windows 10 V1709 installation stuck error etc.
Should your computer get stuck in the boot loop or reboot loop when trying to upgrade to Windows 10 Fall Creators Update 1709, you could take below solutions to get rid of the endless boot loop.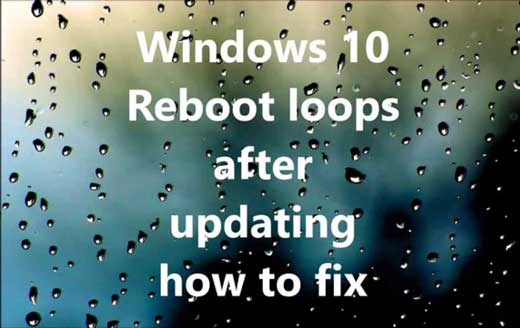 See Also:
How to Fix the Windows 10 Boot Loop after Fall Creators Update
You Windows 10 computer bump into boot loop after auto upgrade Fall Creators Update or stuck in the endless reboot loop during the installation. If you are currently stuck in stumbling boot, below are 3 quick tricks to help you out.
Important Note:
If you are in a frozen screen with spinning Windows logo and can't log in, you can boot into Safe Mode first.
1. Hold the power button to shut down and repeat this over 3 times until you see the Recover.
2. Follow the path See advanced repair options >Troubleshoot >Advanced options >Windows Startup Settings >Restart.
3. Press F4/F5 to Enter Safe Mode (with Networking).
Method 1. Unplug the External Devices to Repair the Windows 10 Boot Loop after Fall Creators Update
There is a possibility that the external devices cause the Windows 10 fails to boot while upgrading to Fall Creators Update. To exclude that likelihood, you can simply unplug all the peripheral devices as below steps.
Step 1. Unplug all the connected external devices.
Step 2. Reboot the computer.
Step 3. If you can enter your desktop normally, plug the devices one-by-one to figure out which exact hardware is causing the issue.
Step 4.Update the driver for the problematic device via Device Manager or use Driver Talent to download and install the correct driver.
Read More:
How to Fix USB Device Not Recognized Issue on Windows 10
Method 2. Update Drivers to Fix the Windows 10 Restart Loop for Fall Creators Update
In most cases, Windows 10 Fall Creators Update stuck on reboot loop and won't start in normal mode bug is due to driver and software compatibility issue. To be more specific, the culprit of the Fall Creators Update boot loop could be the incompatible graphics drivers, USB drivers or other faulty drivers. In that case, you should update drivers for Windows 10 1709 version with below steps.
Click below button to get Driver Talent and then perform 3 easy steps to update the best-matched drivers.
Step 1. Click "Scan" and then Driver Talent will scan the problematic drivers and show you in a list.
Step 2. Click "Update" or "Update" to get the most compatible drivers for Win 10 Fall Creators Update.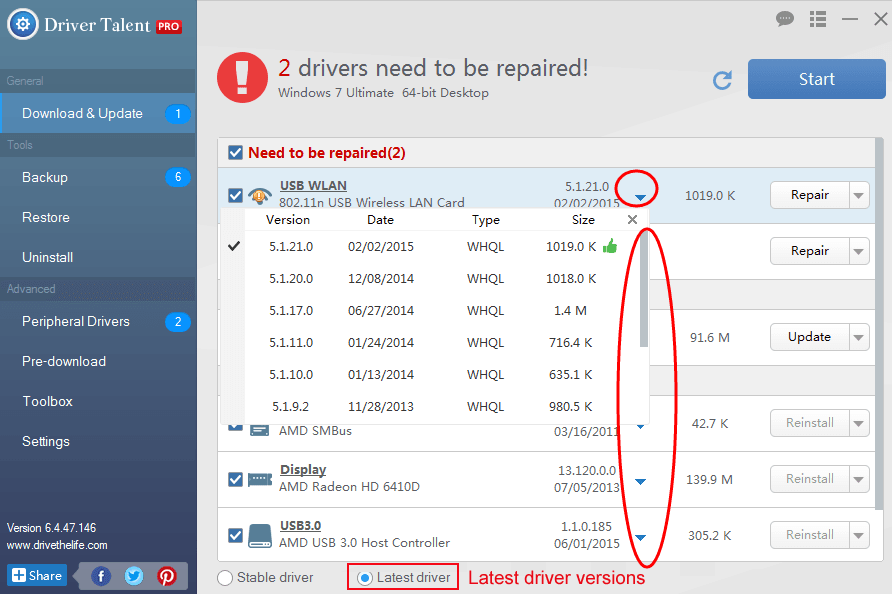 Step 3. Reboot your computer to ensure updated driver take effect.
Note: To avoid unexpected system issues, you should backup drivers before any changes on the computer.
Method 3. Restore System to Tackle the Boot Loop for Windows 10 1709 Version
If you have encountered the endless restart problem after successfully upgraded to Windows 10 Fall Creators Update from the Win 10 V1703, you could roll back or downgrade the system to solve the issue.
1. Press Win + I to open Settings.
2. Click Update & Security >Recovery >Advanced startup >Restart now >Troubleshoot.
3. Choose the Go back to the previous build or Windows Rollback option.
Here you can select which Windows version you want to go back and you all you need is to follow the on-screen tutorials to complete the system rollback. After then, check whether the boot loop issue get solved on Windows 10 1709 Fall Creators Update.
Method 4. Reset PC to Resolve Reboot Loop for Windows 10 Fall Creators Update
Please note that this solution will restore your PC to its factory state. That means all your data and information including the applications you installed, the drivers and other profiles may be removed. Here is how to perform a PC reset to stop the reboot loop:
1. Hard power off your PC 3 times until the advanced Recovery environment appears.
2. Choose Advanced options >Troubleshoot >Reset this PC.
3. Choose whether you want to keep or delete your files and apps.
4. Click Reset.
Related Posts:
After the procedure finished, you should be able to use your PC just like a new one.
Hope the above 4 methods help you to solve Windows 10 reboot/boot loop issue after Fall Creators Update. Any supplementary workarounds you share with us in below comment section or in OStoto official forum are highly appreciated.
Recommended Download