How to Fix Windows 10 Startup Issue Caused by Driver Failure
Jun. 24, 2022 / Updated by Helia to Windows 10
Recently, we've received a lot of user reports on Windows 10 startup issues. And one of the "Windows 10 not booting" problems was caused by driver failure. It was described as below:

"Here's one for you: Dell Optiplex 760, which comes with "SoundMAX Integrated Digital High Definition Audio," AKA, Analog Devices ADI 198x Integrated HD Audio Driver. Windows 10 installs its generic driver, which doesn't work correctly, especially with external speakers. The fix, for early versions of Win 10 is the Soundmax R228257 driver.exe available on the Dell driver site. But when I tried to install it after upgrading to the "Fall Creator's Update," Version 1709, Windows would not boot up. Microsoft simply says that the driver is "not compatible," and Dell says that this audio is "not supported" under Windows 10. While not the latest and greatest PC, it is a 3 GHz Core 2 Duo (E8400) based machine, not exactly junk status yet. Do you have a driver solution for this?"
According to the user's description, after the Windows 10 v1709 update, he failed to install the SoundMAX driver and Windows would not boot up.
Why Does Windows 10 Not Booing Occur When Driver Fails to Work
As the user mentioned above, the Windows 10 not booting could be triggered by incompatible drivers. In fact, it seems to be caused by drivers that were not installed correctly.
Sometimes, you may get the driver install success notice, but if you don't restart the PC and you check the driver in Device Manager, you will find that it has never been installed. Then you restart the machine, the PC may run into a blue screen or a black screen, which means the modified Registry prevents the system from loading the driver.
The incorrectly configured driver doesn't match your current Windows 10 OS. As a result, you won't boot into Windows 10 home screen.
Now, this Windows 10 guide will show you how to solve such Windows 10 not booting issue related to Windows drivers.

How to Decide the Method to Fix Windows 10 Startup Issue Caused by Driver Failure
Now you've figured out the reason that causes the problem. What you need to is to install the best-matched device driver for Windows 10.
In this case, users won't boot into Windows 10 as usual. And there are two cases of such Windows 10 startup failure:
1. Your computer startup process comes to the Windows logo but gets stuck on the screen with a spinning circle or a black screen with a cursor or a blue screen.
2. The other one is that you can see the PC brand logo but not the Windows logo.
If you are trapped in the first malfunction, you can go to Way 1 below for solution. But if you are in the same boat of the second one, it may be a little complex to fix. You can still follow Way 2 to solve the problem if you are a least an intermediate computer user.
Way 1. Enter Safe Mode to Fix the Windows 10 Startup Failure Caused by Driver Issue
You can enter the Safe Mode to install the hardware device driver:
1. Use Method 1 in this post to enter Safe Mode on your Windows 10 computer.
2. Use Windows shortcut keysWin + X and select Device Manager.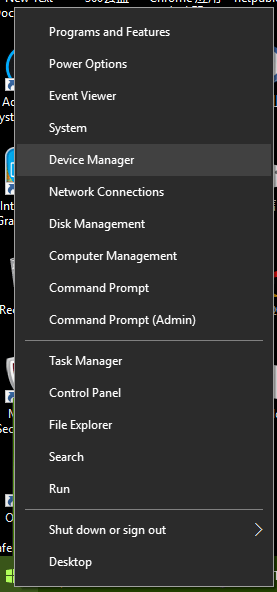 3. Navigate to your hardware device with the driver problem and right-click it to select Uninstall to remove the driver.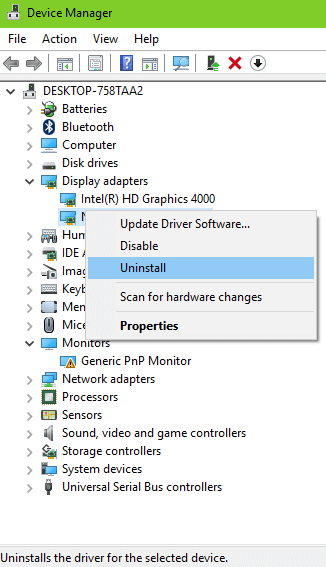 Restart the computer to make the driver changes take effect and see if you can log in Windows 10 home screen.
After that, you can download proper driver version and install it, or you can use safe and time-saving driver managers, like Driver Talent, to automatically recognize hardware devices and download and install proper drivers for them. It is available via the button below:
Way 2. Uninstall Driver in Windows PE to Fix Windows 10 Not Booting up Issue
If you can't enter the Safe Mode, you can use a bootable USB drive to enter the Windows PE to fix the issue:
1. You need to create a bootable USB drive on another workable computer.
2. Plug the USB drive into your computer and turn on the machine, pressing the Shift key until you can boot into Windows PE.
3. Go to Device Manager and remove the problematic driver.
4. Restart the computer and download and install the best-matched driver manually or with Driver Talent.
Note: If you don't know how to create such USB drive, to save energy, we recommend you seek help from some technicians.
Bear in mind that use Driver Talent to back up your drivers before updating your Windows drivers in case other serious computer issues occurs, like high CPU usage issue, "display driver failed to start" issue, no Wi-Fi, etc.
If you have any inquiry about fixing the Windows 10 startup problem caused by driver installing failure, please leave a comment below or click the LEFT MENU on this page for more technical support. If you have any other Windows 10-related issues after, see Windows 10 section on this site.
Recommended Download