How to Block Windows 10 Fall Creators Update from Auto Installing
Aug. 29, 2018 / Updated by Wendy to Windows 10
The Windows 10 Fall Creators Update, version 1709 (OS Build 16299.19), released on Oct. 17th is available now. There are users who can't wait for the Microsoft auto-rollout to experiencing dazzling new features like Windows Mixed Reality, Fluent design, OneDrive-File on-Demand etc., will get the Fall Creators Update download via the Windows 10 Update Assistant or Windows 10 installation media. On the other hand, some who hold a wait and see attitude to the Autumn Update may want to block the Windows 10 Fall Creators Update from auto installing since there could be a string of initial problems like the black screen with cursor, blue screen etc. after the Beta Fall Creators Update is installed.
If you're looking for solutions to get the Fall Creators Update blocked or you want delay Windows 10 Fall Creators Update. Below are several ways to do so.
Also see:How to Free Download and Upgrade to Windows 10 Creators Update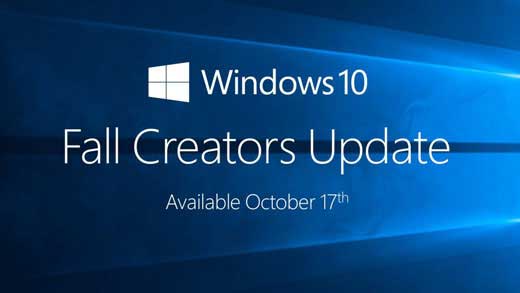 Defer the Windows 10 Fall Creators Update Upgrade for Windows 10 Pro, Enterprise or Education
If you're running Windows 10 Pro, Enterprise or Education, the easiest way to delay the Windows Fall Creators Update is to modify the Windows Update settings. Below is how.
Note: If you have no idea about your Windows edition, you can go to Settings ->System ->About, and there you can see your system edition, version and OS build information.
1. Click Start, and then select Settings.
2. Go to Update & Security ->Advanced Options.
3. Here you can choose either Current Branch or Current Branch for Business where the Creators Update 1703 version set Current Branch by default.
As below photo shows, the second option lets you defer a feature upgrade for up to 365 days and the third one for up to a year after it's available for corporate consumers, which usually happens four months after the public release.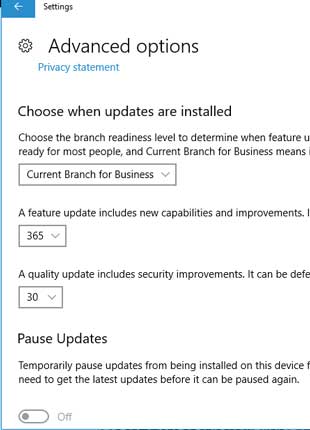 You can also toggle the Pause Updates option for a temporary delay of Windows 10 1709 version update. By doing these steps, your Windows 10 Pro can be blocked from an unexpected upgrade to Version 1709 for a long time.
Delay Windows 10 Fall Creators Update for Windows 10 Home
If you own a Win 10 Home computer, the first steps you should take to delay the Fall Creators Update from automatic installing is to set the internet connection to "metered". Microsoft promises that "we'll automatically download only those updates required to keep Windows running smoothly." Up to now, setting the connection as "metered" has locked out version upgrades for users on condition that you are in a Wi-Fi connection environment. To set your internet connection to metered, follow below steps.
It is not that easy to disable windows 10 Creators Update for Home edition users. However, still you can prevent the Windows 10 Creators Update from downloading and installing by setting a network connection as metered. Below is how.
1. Go to Settings ->Network & internet.
2. Click on Wi-Fi and then select the network connection you are using.
3. Toggle on the Metered connection switch.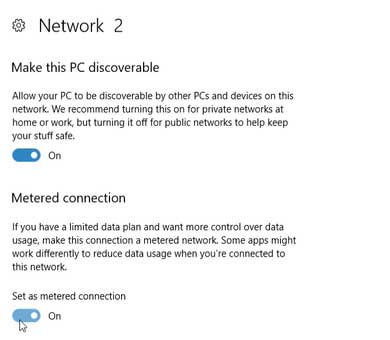 When you are ready to upgrade to Windows 10 Fall Creators Update, you can revert the changes by turning off the metered connection until then the 1709 update will remain blocked.
Tweak the Group Policy Editor to Block Windows 10 Fall Creators Update from Downloading and Installing
You should back-up your registry in case of any unexpected system errors like blue screen, black screen, etc before modifying Group Policy Editor.
, and type gpedit.msc and hit enter.
Double-click on Select when Feature Updates are received.
1. Click Start and type "gpedit.msc" and then hit Enterto open Group Policy.
2. Navigate to Computer Configuration >Administrative Templates >Windows Components >Windows Update >Defer Windows Updates.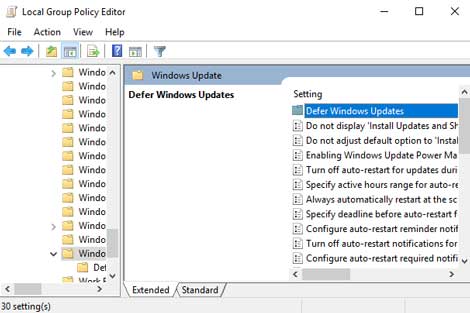 3. Locate Select when Feature Updates are received option and then double-click on it.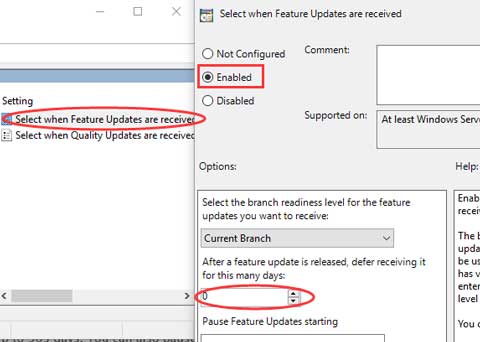 4. Select Enabled option and then you may choose how many days you want to defer the feature update.
5. Click Ok to save changes.
That's all for the Windows 10 Fall Creators Update block, postpone or delay. If you have come across other methods to defer Windows 10 Fall Creators Update, you could share with us in the comment section or in OStoto official forum via the LEFT MENU on this page.
Recommended Download