Top 7 Ways to Fix Error 0x8000ffff on Windows 10
Jun. 24, 2022 / Updated by Helia to Windows 10
The error 0x8000ffff appears on Windows 10 when you perform the Windows Update, install new programs or restore the system whose process contains file confliction. For example, if you get the error message that reads "An unspecified error occurred during System Restore. (0x8000ffff)", that means you have the system restore error 0x8000ffff in Windows 10.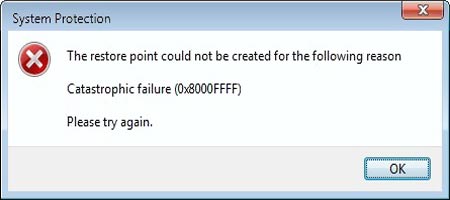 What Causes the Error Code 0x8000ffff on Windows 10
Usually, 0x8000ffff appears because of the following:
1. Viruses, Trojans, and malware infections

2. Corrupted system files

3. Incorrectly loaded drivers

4. Faulty software or programs
How to Fix Windows 10 Error 0x8000ffff
To work around the error 0x8000ffff, we've had some tweaks that you can adopt one by one. But for those who ain't that knowledgeable with the inner work of Windows, it is better for you to create a system restore point to fix Windows 10 issues instantly.
Method 1: Do a Virus Scan on Windows 10
Windows 10 often annoys you with various errors, like INACCESSIBLE_BOOT_DEVICE error, system restore error 0x8000ffff, 0x0000003B System_Service_Exception error, etc. Some Windows 10 error may be caused by virus or malware, so follow the steps below to check if your computer is infected with virus.
1. Launch your anti-virus programs to do a thorough virus scan on your computer.

2. If you get virus notice, follow the instruction on screen to remove the virus.

3. If there's no virus or malware, end all the currently running programs and restart the PC.
After the scan, see if the error 0x8000ffff still persists.
Method 2: Change to Administrator Account
You can also try to log in Windows 10 by using the Administrator account to see if it works for resolving the error 0x8000ffff, because when you perform a system restore by using other accounts, system files may fail to be overwritten. So switch to the Administrator account:
1. Click on the Start menu and then click on the user picture.

2. Select Sign out from the pop-up menu.

3. Switch to the Administrator account and log in Windows 10 again.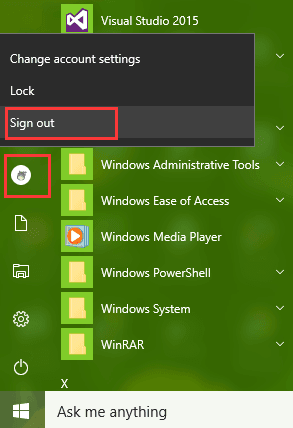 If this does not work, continue the reading.
Method 3: Perform a Windows 10 Clean Boot
Faulty startups, programs or services can also result in the Windows 10 error 0x8000ffff, but a clean boot does help to release the pain. A clean boot means you enter the Windows with just a limited set of startups or services, which will help you figure out those troublemakers from the startups.
It will take you minutes to hours to perform a clean boot and fix the error. For more details of the steps, see How to Use Windows 10 Clean Boot to Fix PC Errors.
Method 4: Run System File Checker and Fix Error 0x8000ffff
This is similar to Method 3 but it is done by Windows 10 itself. System File Checker is an inbuilt tool you can use to scan and repair corrupted system files related to 0x8000ffff. To do this, follow these steps:
1. Use Windows shortcut keysWin + X to launch the Jump List, and then select Command Prompt (Admin). (If you fail to open Command Prompt, click here for solutions.)

2. Type command line sfc /scannow into the dialog box.

3. Hit the key Enter.
It may take a little long period for Windows to scan for the corrupted system files, including those related to error 0x8000ffff. After that, follow the instructions on screen to fix the problem.
Method 5: Update Drivers to Fix the Issue
Outdated, incorrectly configured or incompatible drivers often cause various PC problems, such as AMD Radeon graphics error 43, mouse and keyboard not working, unidentified network issue, etc. If you know the exact device that causes the error 0x8000ffff on Windows 10, you can go to the Device Manager to manage the device driver.
1. Use the Windows shortcut keys Win + X, and then select Device Manager from the Jump List.

2. Expand the device entries and find out the exact device that results in the error.

3. Right click on the device and select Update Driver Software. You can also Uninstall the driver and make Windows 10 reinstall it automatically.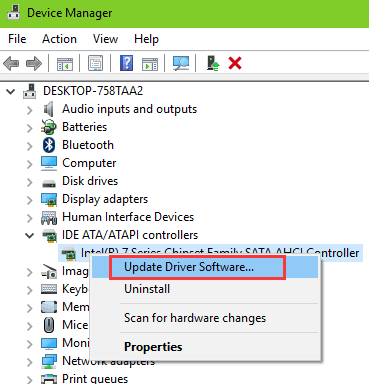 Note: If you ain't sure which device causes the problem, or if Windows 10 fails to update the drivers, it is highly recommended using professional driver troubleshooters, like Driver Talent, to help you repair the driver and fix error 0x8000ffff quickly.
Click the button above to directly get Driver Talent, which has received good review from engadget, and do a free driver scan instantly.
Method 6: Modify the Registry and Fix the Error
The error 0x8000ffff is also caused by some corruption in the Registry. If you are experienced on computer, modifying the Registry is a good idea for you to fix the 0x8000ffff error on Windows 10.
1. Use Windows shortcut keys Win + R to launch Run, and then type into regedit and press the Enter.
2. In the Registry Editor, navigate to the following key (if available):
HKEY_LOCAL_MACHINE\COMPONENTS\AdvancedInstallersNeedResolving

HKEY_LOCAL_MACHINE\COMPONENTS\NextQueueEntryIndex

HKEY_LOCAL_MACHINE\COMPONENTS\PendingXmlIdentifier
3. Right-click AdvancedInstallersNeedResolving, NextQueueEntryIndex and PendingXmlIdentifier one by one in the details pane and select Delete to clean them up.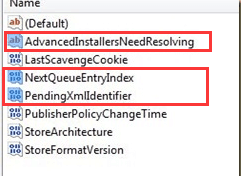 Restart the PC to see if this fixes the problem successfully.
Note: Incorrectly modifying the Registry may result in serious computer problems, because the Registry is a sensitive system database. Don't forget to backup Registry before the changes. If you are not that technical, you can use one-click solutions like OSToto PC Speeder to clean up Registry automatically.
Method 7. Reset Windows Store Cache
If the error code 0x8000ffff still exists after you tried the methods above, another thing you can try is to reset Windows store cache. Some users reported that it worked. The steps are so simple. You just need to use Windows shortcut keys Win + R to launch Run, and then type into wsreset.exe and press the Enter button. If there's still nothing changed, follow the steps below to disable proxy.
1. Press Windows + R to launch Run, type inetcpl.cpl into the box and press Enter.
2. Locate Connections tab and select LAN settings.
3. Uncheck "Use a proxy server for your LAN" and click OK.
4. Then click Apply and OK.
You may also be interested in these related articles:
If this article is helpful to resolve the 0x8000ffff on Windows 10, please add it to your bookmark or share it to your friends who encounter the same error. If you have any other Windows 10-related issues, comment below or check for the solutions in Windows 10 Issues and Fix section on this site please.
Recommended Download