Top 6 Ways to Fix INACCESSIBLE_BOOT_DEVICE in Windows 10
Jun. 24, 2022 / Updated by Helia to Windows 10
INACCESSIBLE_BOOT_DEVICE (error code 0x0000007b) causes Blue Screen of Death (BSoD) after the Windows 10 upgrade, Windows 10 reset or the Windows 10 anniversary update. If you encounter a blue screen with error massage INACCESSIBLE_BOOT_DEVICE as you can see in the picture below, go on the reading for solutions of stopping 0x0000007b blue screen in Windows 10.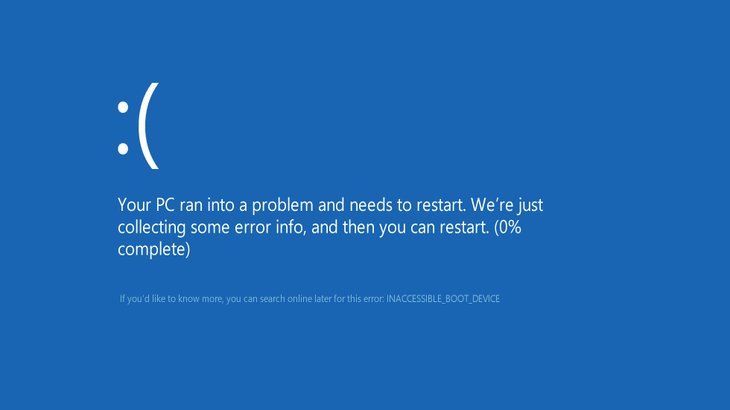 What Causes Windows 10 INACCESSIBLE_BOOT_DEVICE (Error 0x0000007b)
When Windows 10 loses access to the system partition during startup, the INACCESSIBLE_BOOT_DEVICE error will occur, usually with a blue screen. The causes can be:
1. Hardware conflicts after changes
2. Malware or virus
3. Outdated, corrupted or incorrectly configured drivers
4. Damaged hard disc
5. Other causes
Besides the Windows INACCESSIBLE_BOOT_DEVICE error, system issues like INTERNAL_POWER_ERROR, VIDEO_DXGKRNL_FATAL_ERROR, MSVCP110.dll missing error, etc. can also cause blue screen of death. So it is important to stop 0x0000007b in case more serious system issues happen.
How to Fix INACCESSIBLE_BOOT_DEVICE after the Windows 10 Upgrade, Reset or Update
Below are top 6 methods to fix INACCESSIBLE_BOOT_DEVICE error or stop blue screen 0x0000007b.
Method 1: Check the Hardware
If you fail to boot Windows 10 after receiving INACCESSIBLE_BOOT_DEVICE error message on the screen, you can check the hardware you added recently, for example, hard disk drives.
Some problematic hardware whose firmware version may be incompatible with Windows 10 can cause conflicts and result in INACCESSIBLE_BOOT_DEVICE in Windows 10. So remove such hardware and see if it can stop 0x0000007b.
Method 2: Clean up Malware or Virus
Malware, spyware, virus, etc. also result in Windows 10 INACCESSIBLE_BOOT_DEVICE error. If you are able to boot Windows, use some anti-malware utility to scan you PC and remove those corrupted files that are infected by virus or malware.
Method 3: Check Damaged Hard Disc
Corrupted or damaged hard disc often leads to 0x0000007b blue screen or INACCESSIBLE_BOOT_DEVICE error. If you can enter Windows 10, follow the steps below to check damaged hard disc:
1. Use Windows shortcut keysWin + X to open the Jump List and then select Command Prompt (Admin).
2. Type chkdsk /f into the dialog box and then press Enter.
Windows will repair the errors on the damaged hard disc automatically.
Method 4: Check System Files and Fix the INACCESSIBLE_BOOT_DEVICE Error
You can also check Windows system files after the INACCESSIBLE_BOOT_DEVICE error in Windows 10. Windows System File Checker is a tool in Windows 10 that can help to repair broken system files and restore corrupted files. To run System File Checker, follow this:
1. Launch Command Prompt (Admin) from the Jump List.
2. Type SFC /scannow into the dialog box and hit Enter.

3. If you see Windows Resource Protection found corrupt files but was unable to fix some of them on the screen, enter the safe mode and repeat 1 and 2 to repair the broken system files. Windows will scan the PC automatically
Read More: How to Enter Safe Mode in Windows 10, 8.1, 8, 7, Vista, XP
Method 5: Repair Driver Issues
If you have ever changed the motherboard to a new one, it is not strange that the INACCESSIBLE_BOOT_DEVICE error or 0x0000007b blue screen occurs, because there may be differences in the chips of the SATA or IDE controllers between two motherboard, and you need proper motherboard driver for the new one.
Besides, graphics driver problems like graphics error 43, graphics not showing, etc. can also result the INACCESSIBLE_BOOT_DEVICE in Windows 10. So it is necessary to repair broken drivers on the PC.
You can reinstall the drivers manually or use Driver Talent, a professional driver troubleshooter, to repair all the problematic drivers in one click. Click the button below to get Driver Talent directly.
Here are steps to repair driver issues with Driver Talent:
1. Launch Driver Talent and click Scan to detect all the problematic drivers.
2. Click Repair or Update to fix driver issues instantly.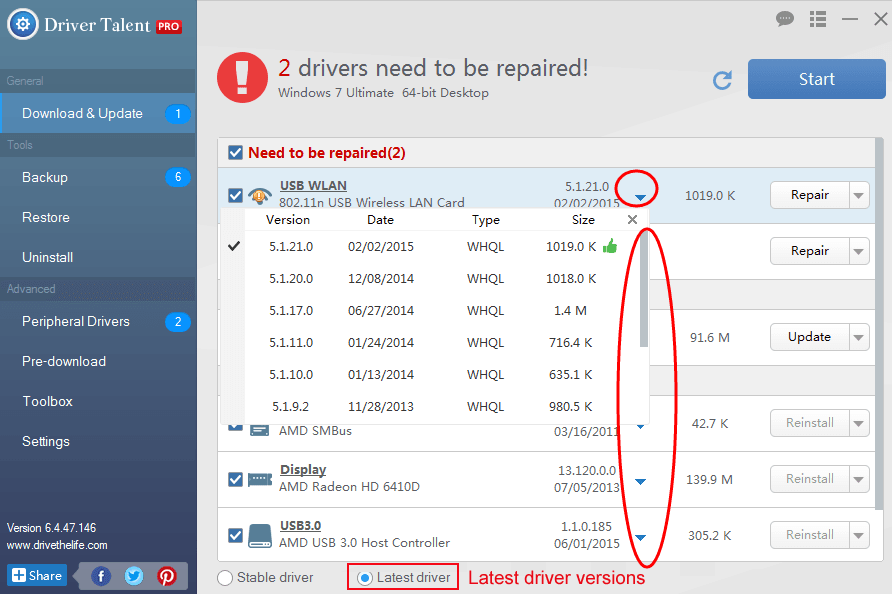 3. Restart the computer so that the newly installed drivers can take effect
Note: After the Windows 10 anniversary update, namely version 1607, users cannot install a third-party driver manually. For more information, see Fix: Driver Signature Issue in Windows 10 Anniversary.
Method 6: Reinstall Windows OS
If the methods above do not work, it is the last choice that you have to do a fresh install of the Windows OS to completely fix the INACCESSIBLE_BOOT_DEVICE error.
You may also be interested in these related articles:
How to Fix DPC_Watchdog_Violation Error in Windows 10
Fix SYSTEM THREAD EXCEPTION NOT HANDLED in Windows 10
Top 6 Ways to Fix Error 0x8000ffff in Windows 10
Fix 0x0000003B System_Service_Exception in Windows 10
Fix VIDEO_SCHEDULER_INTERNAL_ERROR in Windows 10
Fix: DRIVER_IRQL_NOT_LESS_OR_EQUAL Error in Windows 10
How to Fix UNEXPECTED KERNEL MODE TRAP in Windows 10
How to Fix VIDEO DXGKRNL FATAL ERROR in Windows 10
Above are the top 6 methods to resolve INACCESSIBLE_BOOT_DEVICE in Windows 10 or stop 0x0000007b. Hope you will never take the last one. If you have any questions on the subject of how to fix INACCESSIBLE_BOOT_DEVICE in Windows 10, let us know by typing your questions in the comment section below.
Recommended Download