How to Fix DPC_Watchdog_Violation Error in Windows 10
Jun. 24, 2022 / Updated by Helia to Windows 10
Windows users may encounter various blue screen errors after Windows 10 updte and one of the most annoying BSoD errors is DPC_WATCHDOG_VIOLATION (error code 0x00000133).
About Windows 10 DPC_WATCHDAG_VIOLATION
The error often occurs with a frozen mouse pointer or a program launching failure or occurs after the OS upgrade. There are many factors that result in Windows 10 DPC_WATCHDAG_VIOLATION error: incompatible hardware, faulty drivers, corrupted system files, etc. These are also the troublemakers of other Blue Screen errors like SYSTEM_THREAD_EXCEPTION_NOT_HANDLED, Windows 10 DRIVER_IRQL_NOT_LESS_OR_EQUAL, 0x0000007B INACCESSIBLE_BOOT_DEVICE, etc. In this case, you could refer to solutions below to troubleshoot this error.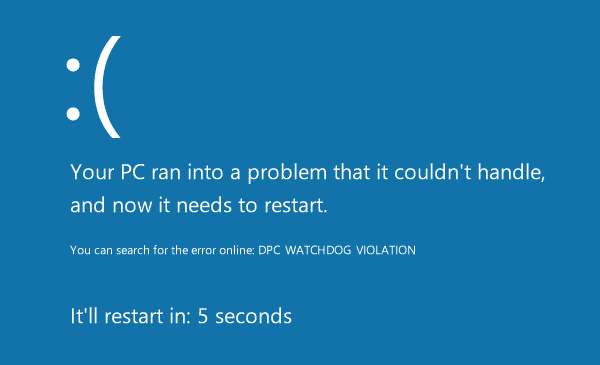 Solutions for Windows 10 DPC_WATCHDAG_VIOLATION
We've had some tips for you to fix the 0x00000133 DPC Watchdog Violation BSoD. If you have very little knowledge on the system inner workings, it is recommended that you go to the automated solutions provided below.
Solution 1: Make a General Check over Your Computer
1. Check hardware related to error 0x00000133. If you have added new hardware to your computer recently and unfortunately the DPC_WATCHDAG_VIOLATION blue screen occurs, then you can unplug or remove it to see if the problems still persists.
2. Uninstall programs or software. Remove programs or software that you suspect they may cause the BSoD.
Note: If you're not sure which program causes the blue screen, you can perform a Windows 10 clean boot to figure out the troublemaker.
After the check, turn on or restart your computer to see if the DPC Watchdog Violation bug check code.
Solution 2: Check and Fix Corrupted System Files
Many BSoD errors are caused by corrupted Windows system files, like UNEXPECTED KERNEL MODE TRAP error, VIDEO DXGKRNL FATAL blue screen, DPC_WATCHDAG_VIOLATION 0x00000133 error, etc. Windows Check Disk (CHKDSK) and System File Checker (SFC) are the two handy tools you can use to scan for and repair those damaged files.
When you happen to login Windows 10, follow the steps below to fix Windows 10 DPC_WATCHDAG_VIOLATION error.
Step 1: Run Command Line CHKDSK
1. Use Windows shortcut keysWin + X to launch the Jump List, and then select Command Prompt(Admin).
2. Type command line CHKDSK C: /F /R into the dialog box and hit the key Enter.
3. Follow the on-screen instructions and then restart your computer.
Note: Wait until it complete the checking and verifying. If you are noticed to schedule the checking next time when you reboot, just type Y and hit the Enter.

Step 2: Run System File Checker
1. Open Command Prompt (Admin).
2. Type command line sfc /scannow into the dialog box and press Enter.
3. Wait until the scanning and fixing are completed and then take a reboot.
If this does not work, go to check if there are faulty drivers and repair them.

Solution 3: Update or Repair Drivers to Fix DPC_WATCHDAG_VIOLATION Error
Outdated or incorrectly configured network driver, Synaptics touchpad driver, SATA AHCI driver and NVIDIA driver are responsible for DPC_WATCHDOG_VIOLATION blue screen. The error is caused by other faulty drivers as well. So you need to go to Device Manager to find all the broken drivers and update or reinstall them.
If you know little about this, it is better to use Driver Talent to repair the drivers. Received good review from engadget.com, Driver Talent is the "Safest and Fastest Way to Update Drivers" and can help you download and install the best-match drivers for your Windows 10 and fix the BSoD error.
Click the button above and fix the error 0x00000133 via the 3 easy steps below:
1. Click Scan to detect all the faulty drivers in your Windows 10.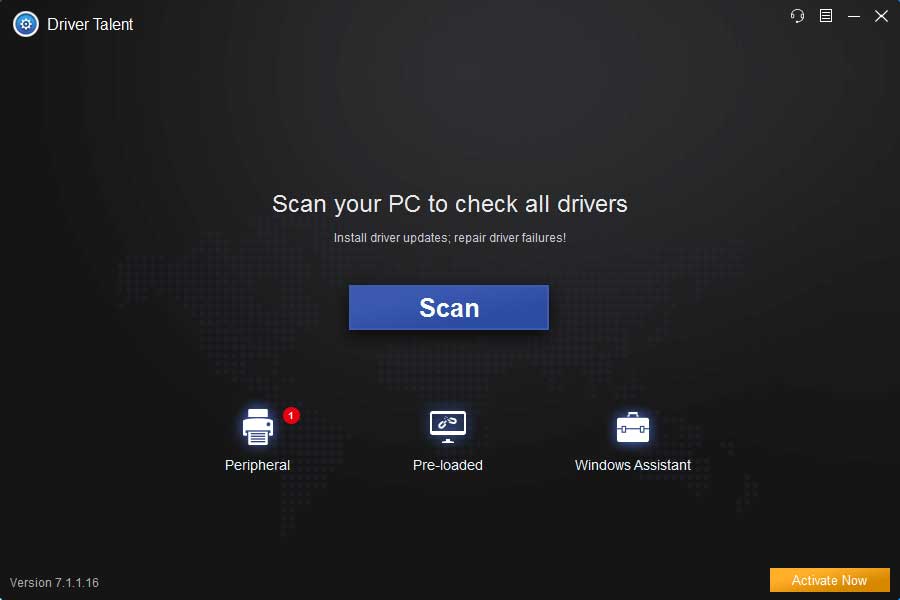 2. If there are updatable drivers, just click Update to install the best-match drivers. Or click Repair to fix driver problems instantly.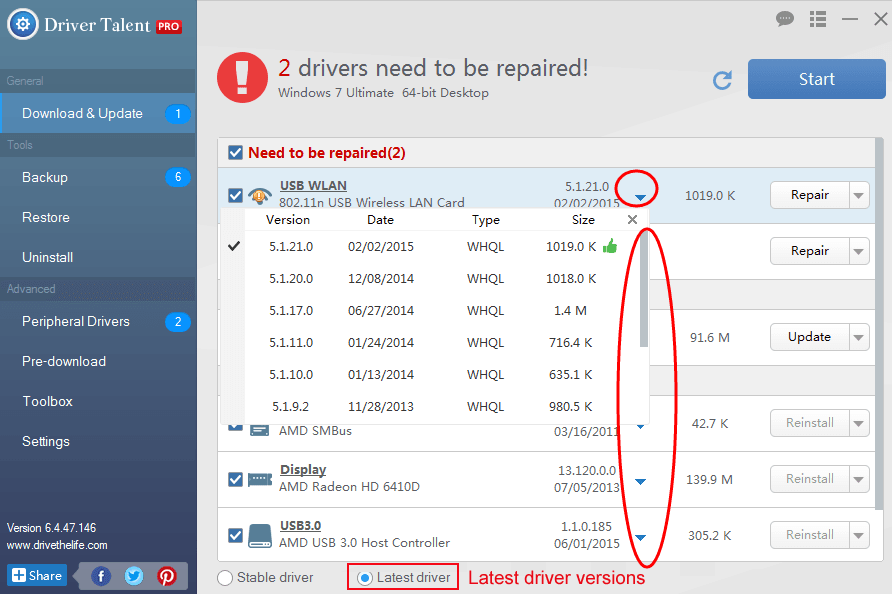 3. Perform a restart to ensure that all driver changes take effect properly.
Note: Don't forget to backup drivers before any driver changes in Windows. If you encounter other system issues, you can use system restore to fix windows 10 issues.
Hope this article helps you make your Windows 10 work normally again. If you have any questions or solutions of Windows 10 DPC_WATCHDOG_VIOLATION 0x00000133 blue screen, inform us by comment. If you have any other Windows 10-related issues, check for solutions in Windows 10 Issues and Fix section.
Recommended Download