How to Change to Multiple WiFi Adapters in Windows 10
Jun. 24, 2022 / Updated by Helia to Windows 10
Many Windows 10 users install two or multiple WiFi adapters or wireless network cards on their computer, this convenient for network connections. Some may install two internal WiFi network cards, while others add an external USB wireless adapter. But one of the WiFi adapters is often left aside because users have no idea of how to change or switch to other WiFi adapters when their Microsoft Edge is not working or the Google Chrome is not available.
What if you have two WiFi adapters on one computer? Today we are going to talk about multiple wireless connections in Windows 10.
Can I Use the Two WiFi Adapters at the Same Time
You may consider that if you use two separate wireless network cards to connect to the same WiFi router at the same time, then you can surf the Internet speedily. Anyway, the system Internet won't speed up when you connect two WiFi adapters to the same computer. It is because your PC often uses the faster mutually shared connection standard to connect to the network, and the secondary adapter will only be used when there's something wrong with the primary one.
These related posts may also interest you:
How to Switch between Multiple WiFi Adapters in Windows 10
There are 2 common ways to change to another WiFi adapter in Windows 10:
1. Disable One of the WiFi Adapters
Step 1. Use Windows shortcut keys Win + X to launch the Jump List, and then select Network Connections.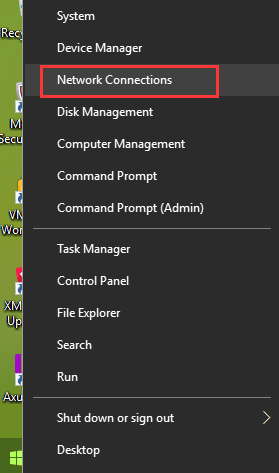 Step 2. Right click on the WiFi adapter that you are not going to use and then select Disable.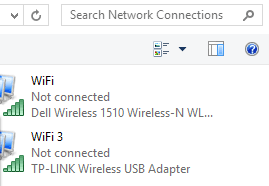 When you need to change to another wireless adapter for a stronger WiFi signal, just repeat the steps above. This is one of the ways to switch between multiple WiFi adapters.
Read More:
2. Change to Other WiFi Adapters from Taskbar
You may find it inconvenient to switch between your multiple wireless network cards by opening the Network Connections each time. Is there any faster way to change to another WiFi adapter? Definitely yes.
Step 1. Click the network icon in the notification area of taskbar.
Step 2. Select the current stronger WiFi connection under the WiFi adapter 1. Click on the Disconnect button and uncheck the Connect automatically option.
Step 3. Select WiFi adapter 2 from the drop-down menu on the top of the list. And then choose the WiFi with stronger signal and click on the Connect button.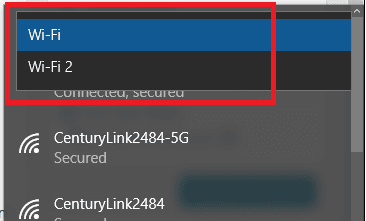 Note: If you want to connect to a SSID with WiFi adapter 1 only but not with WiFi adapter 2, uncheck the Connect automatically option under the WiFi adapter 2.
These WiFi-related posts may also interest you:
What If You Fail to Switch Between Multiple WiFi Adapters
If you can't change to another wireless network adapter and select the WiFi you prefer, you should check your network adapters in Device Manager to see if there are yellow exclamation marks beside the device names. If so, you need to use Driver Talent to repair the WiFi drivers or wireless network drivers in your Windows 10.
Network drivers help Windows OS or programs access to network hardware functions. If there are faulty WiFi drivers, wireless network problems like red cross on WiFi icon, no LAN access, unidentified network, etc. You could click on the button above to have Driver Talent and change to a proper WiFi adapter in your multiple wireless network cards instantly.

If you have any questions on switching between multiple WiFi adapters in Windows 10, don't hesitate to comment below or click the LEFT MENU on this page for more technical support. We're happy to help you. If you have any other Windows 10-related issues, check for solutions in Windows 10 Issues and Fix section please.
Recommended Download