Computer Won't Recognize Hardware and Devices – How to Fix
Jun. 24, 2022 / Updated by Bessie Shaw to Windows Driver Solutions
Your Device Can't Be Detected by Computer
It's a common thing that your computer won't recognize the hardware, keyboard, mouse, iPod, GPU, wireless adapter, USB or other devices that you connect to it. These errors are nerve-wracking, but if you've got the basic computer knowledge, you will fix them easily and quickly. This article will tell you how to solve this "computer won't recognize hardware or devices" problem. Here are the questions that you've mostly reported about:
Windows 7 won't recognize SIM card.

PC won't recognize Xbox 360 wireless controller adapter.

Computer not recognizing iPod/iPhone/iPad.

Why doesn't my computer detect my USB flash drive.

Monitor won't recognize computer.

Computer won't recognize keyboard or mouse.

Computer won't recognize hardware after format.

When I connect NS6 controller on my computer, it won't recognize.

New computer won't recognize hardware with USB 3.0.

Windows XP won't recognize External HDD.

Computer won't recognize GPU.

Computer won't recognize drivers.

PC can't detect Galaxy S4.

Nexus 7 not recognized by computer.

Computer won't recognize my Samsung Galaxy S3.

Computer won't detect my phone.

My system doesn't recognize new hardware.

My device isn't install properly on Windows.

My PC won't recognise my keyboard after Windows update.

Windows 8.1 won't recognize hardware.
Why Your Desktop or Laptop Won't Recognize the Hardware or Devices
The key point why the computer won't detect the hardware or any device you plug is that the drivers are missing, outdate or corrupted. Drivers are tiny but they are the only software that allows computer to communicate with hardware and devices. All hardware and external devices you connect to computer have to get drivers to work properly on the computer. Therefore, check all drivers on your computer and download proper drivers if there is any problem. You can try driver update tools like Driver Talent (formerly called DriveTheLife), which is free and professional to identify which drivers are outdated, missing, corrupted, broken, or incompatible, and then help to automatically download and install the best-matched drivers for your hardware and devices. This works effective and saves you a lot of time and energy.
Free download and install Driver Talent on your computer in Windows 10, Windows 8.1, Windows 8, Windows 7, Windows XP, or Windows Vista, either 64-bit or 32-bit.
Editor's Note: DriveTheLife has been updated to the new version called Driver Talent with a fresh new look.
How to Free Fix "Computer Won't Recognize Hardware and Devices" Error
It will be easily solved that your Windows desktop,laptop or notebook, like Dell, Aspire, Samsung, Acer, Asus, HP, Sony, Lenovo, Toshiba, 64-bit or 32-bit, won't recognize hardware or devices.
Automatically Fix
Step 1. After installing Driver Talent, launch it. It can scan your computer to check all drivers and list all drivers' status, including the ones that are outdated, missing, corrupted, broken or incompatible.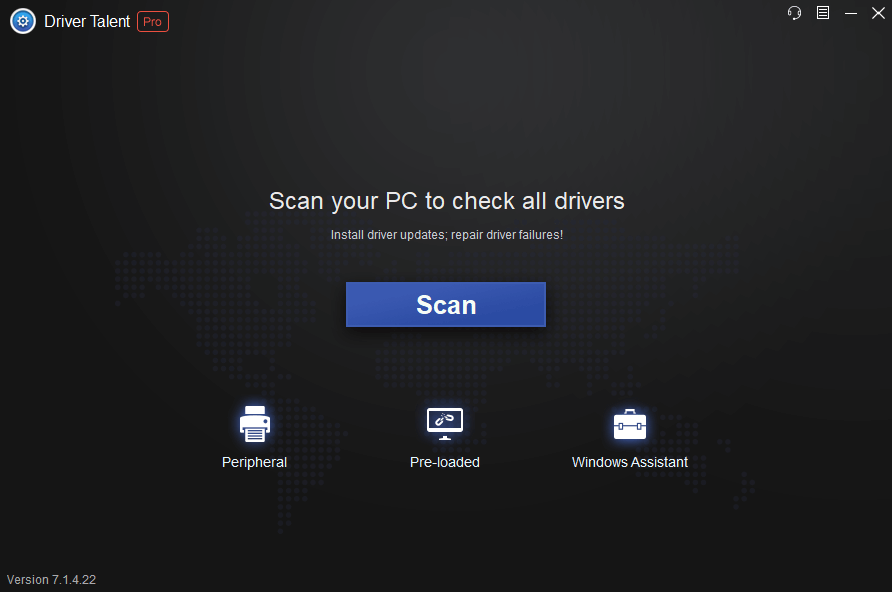 Step 2. If the drivers are corrupted or broken, click on "Repair" to fix them. Or you can click on "Reinstall" to reinstall the missing drivers.
Step 3. If the drivers are outdated, click on "Update" to download and install the latest drivers.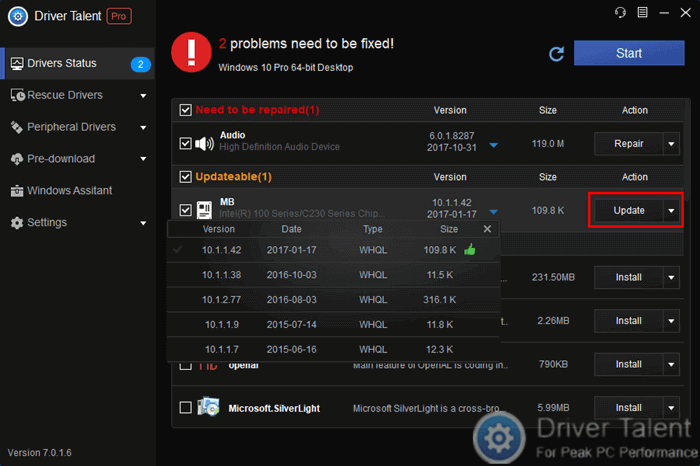 Step 4. For peripheral devices, select the "USB Drivers" menu and install drivers for the USB-connected devices.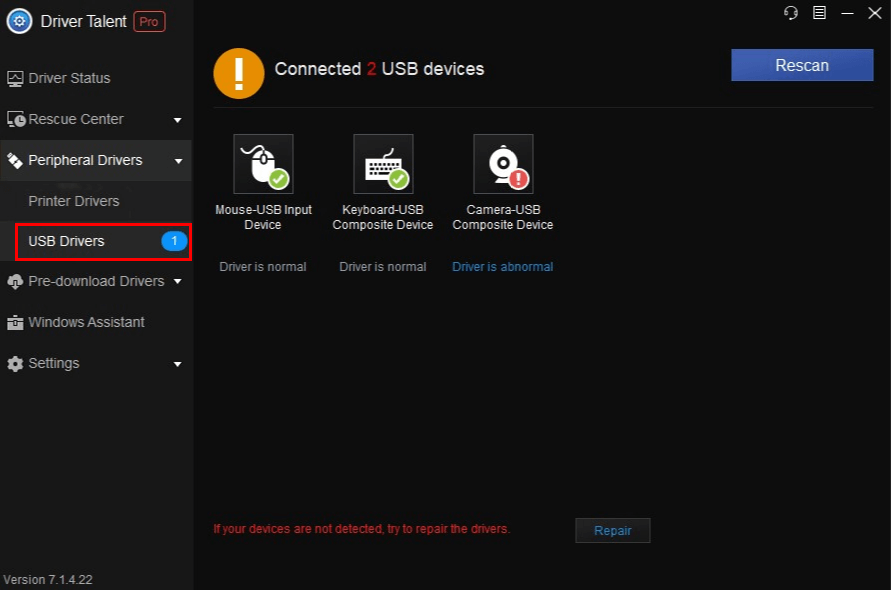 Reboot your computer after all drivers are downloaded and installed. Now your computer will recognize your hardware and any device that you connect to it.
Manually Fix
Alternatively, you can manually install the drivers or firmware on your computer.
Go to the official website of drivers & firmware download. You willget all kinds of drivers and firmware. Find the ones you need to install according to the devices.
Download and install the drivers or firmware on your computer.
For more information about computer drivers, go to Free Windows Drivers Download and Install. It details why, when, where and how to get drivers.
Recommended Download