Quick Fix for 0xca00a000 or 0x80242016 Error with Windows 10 Build 18875
Jun. 14, 2022 / Updated by Bessie Shaw to Windows 10
Last week, Microsoft released the latest Windows 10 20H1 Insider Preview Build 18875 to the Fast ring. Unfortunately, many Windows Insiders reported the 0xca00a000 and 0x80242016 errors when trying to download and install Build 18875. They posted this issue on Feedback Hub.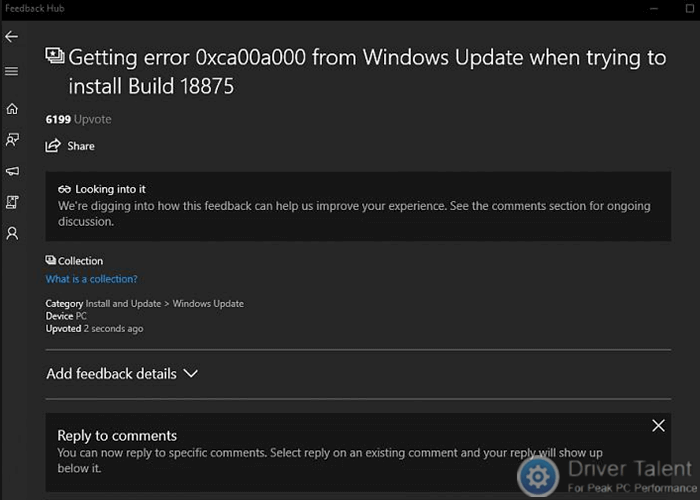 Microsoft has acknowledged this issue and found out that the issue is caused by the Cumulative Update KB4495666 (Build 18362.53) released for the Windows 10 May 2019 Update early last week. According to Microsoft, there is a migration failure stopping Insiders updating to the latest 20H1 Build 18875 from 19H1. Therefore, the company has stopped offering Build 18875 to Insiders on Build 18362.53.
If you're experiencing the 0xca00a000 or 0x80242016 error, don't panic. Microsoft is working hard on a new Cumulative Update to resolve the issue. This new Cumulative Update is expected to roll out in the coming days. By then, Insiders in Build 18362.53 will be able to update to the latest 20H1 Build 18875 with the help of this Cumulative Update.
Update: Microsoft has released KB4497093 (Build 18362.86) to address this issue. Windows Insiders who were unable to update to Build 18875 from Build 18362.53 can install it now.
If you can't wait to get rid of the issue, here is also a quick fix for you. It is verified to be valid by some Insiders who are stuck in the 0xca00a000 or 0x80242016 error. Follow the instruction below to give it a try.
How to Quickly Fix 0xca00a000 or 0x80242016 Error with Windows 10 20H1 Build 18875
To resolve the 0xca00a000 or 0x80242016 update error with 20H1 Build 18875, you can try to disable the Windows Search service and delete the Software Distribution folder before reinstalling Build 18875. Take the following steps to achieve it.
Step 1. Right click the Start button and select Computer Management from the pop-up menu to launch it.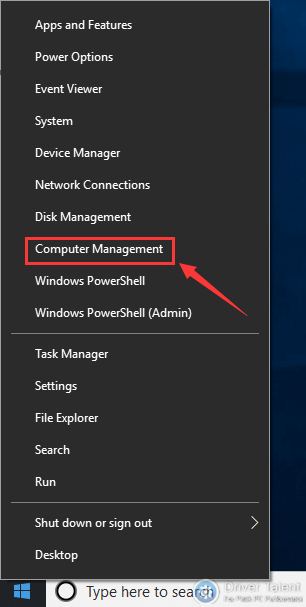 Step 2. Expand Services and Applications in the menu bar on the left and click on Services under it.
Step 3. Move to the right section and scroll down to locate Windows Search and double click on it.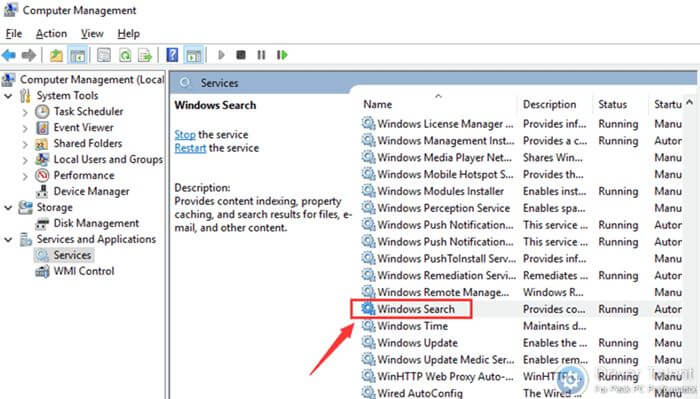 Step 4. Select "Disabled" from the drop-down menu in the Startup type to disable the Windows Search service. And then click on Apply and OK to save the change.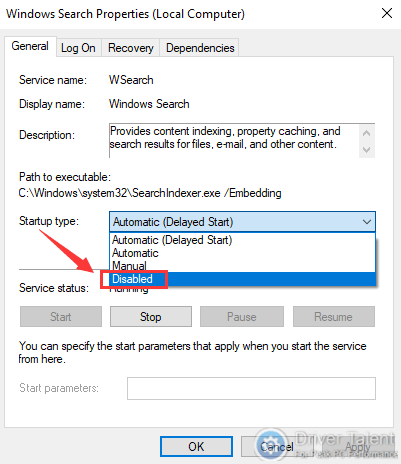 Step 5. Right click the Start button and click on Windows PowerShell (Admin) to run it.
Step 6. Type the "net stop wuauserv" command into it and hit Enter to run the command. This step will stop the Windows Update service.

Step 7. Browse to the C:\Windows\SoftwareDistribution folder and delete all the files and folders inside.
Note: You are unable to delete the files in use. In this case, you need to reboot your computer first and run the above command again. Then you will be able to delete these files in the folder.
Step 8. Restart your computer to let the changes take effect.
Now try to download and install the 20H1 Build 18875 again. It should be installed well this time.
Warm Reminder: You'd better create a system restore point before making any changes to your OS. Then if your computer runs into issues after the changes, you can perform a system restore to resolve them quickly.
You may also like to check out:
Hope the quick fix above could help you get rid of the 0xca00a000 and 0x80242016 errors with Windows 10 20H1 Insider Preview Build 18875. If it doesn't work, stay tuned for Microsoft's Cumulative Update. Please comment below to let more users know if the quick fix above works for you. We would be most grateful. More Windows 10 tips can be accessed in the Windows 10 section on this site.
Recommended Download