How to Fix MSVCP120.DLL Missing Error on Windows 10/8.1/8/7Vista/XP
Jun. 24, 2022 / Updated by Bessie Shaw to Gaming Solutions
"The program can't start because MSVCP120.DLL is missing from your computer. Try reinstalling the program to fix this problem", this error message concerning missing MSVCP120.DLL files on Windows 10, Windows 8.1, Windows 8, Windows 7, Windows Vista or Windows XP often occurs when you are trying to run a new program which is installed over the old one.

What is the MSVCP120.DLL Missing Error
Dynamic Link Libraries (Dll), the collection of modules, contains functions and data uses by Windows applications, without which they couldn't perform normally. MSVCP120.dll is indispensable for many programs and games to run as it is one of the dynamic link libraries from Microsoft Visual C++ 2013.
What Causes the MSVCP120.DLL Missing Error
Generally speaking, the main causes for "Msvcp120.dll Not Found" or "Msvcp.dll Missing" hitches are misconfigured system or malicious software. Misconfigured system is the most possible culprit since it creates registry errors which may result in computer freezing, system crashes, slow PC performance, blue screen of death and more. And malicious software could also invade your computer, damaging MSVCP120.dll file with viruses and spyware. Fortunately, below are 3 workable solutions to troubleshoot missing MSVCP120.DLL error and find them back.
Method 1. Download Visual C++ Redistributable Packages
Installing Visual C++ redistributable packages is proved helpful by many users who met the MSVCP120.dll file not found problems before, for Visual C++ redistributable packages includes missing DLL file. Below is how.
1. Navigate to the Microsoft official download page. Click "Download" to get Visual C++ redistributable packages.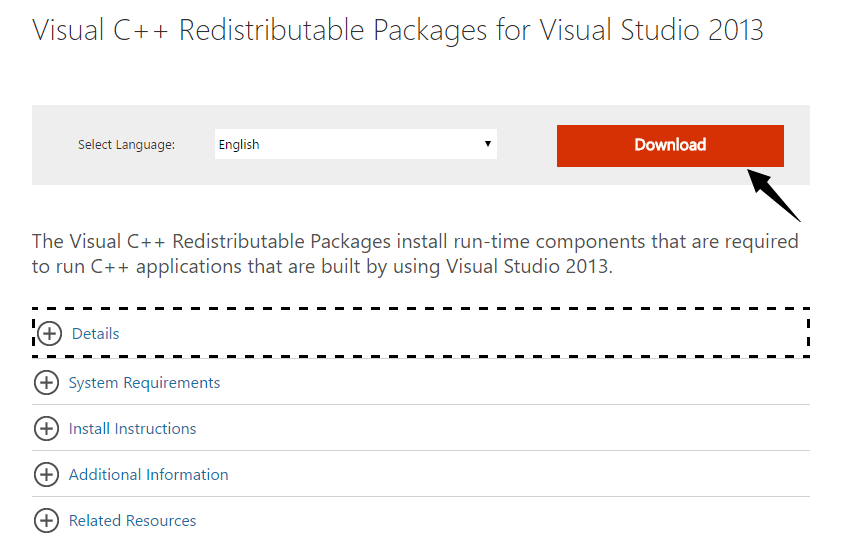 2. Download both vcredist_x64.exe and vcredist_x86.exe.
Note: Even if you're running a 64bit OS, you should install both the x64 and x86 versions.
3. Run both installers and then reboot the computer to check whether the problem solved.
Method 2. Manually Install MSVCP120.DLL via Dll-FILES.COM Website
Downloading the MSVCP120.DLL from Dll-FILES.COM website is another fix on the missing MSVCP120.DLL issue.
1. Go to Dll-FILES.COM and then type "MSVCP120.DLL" in the search box to find it.

2. Check your operating system type, 32-bit or 64-bit and then choose the compatible one to download.

3. Copy the file to the install directory of the program that showing missing MSVCP120.DLL file error. (32 bit version: C:\Windows\System32, 64bit version: C:\windows\SysWow64\)
4. Restart your computer.
Method 3. Download and Install MSVCP120.DLL
If you prefer a quick way to find the correct MSVCP120.DLL file, you might as well turn to a DLL files repairing tool, say, DriverTalent, which offers the DLL files download and install with one click. Follow the easy 3 steps to get the correct MSVCP120.DLL file.
Click the button above to get Driver Talent first.
Step 1. Scan for missing DLL files
Driver Talent will scan for all the missing, outdated, and other incorrect drivers once you click "Scan" after launching it.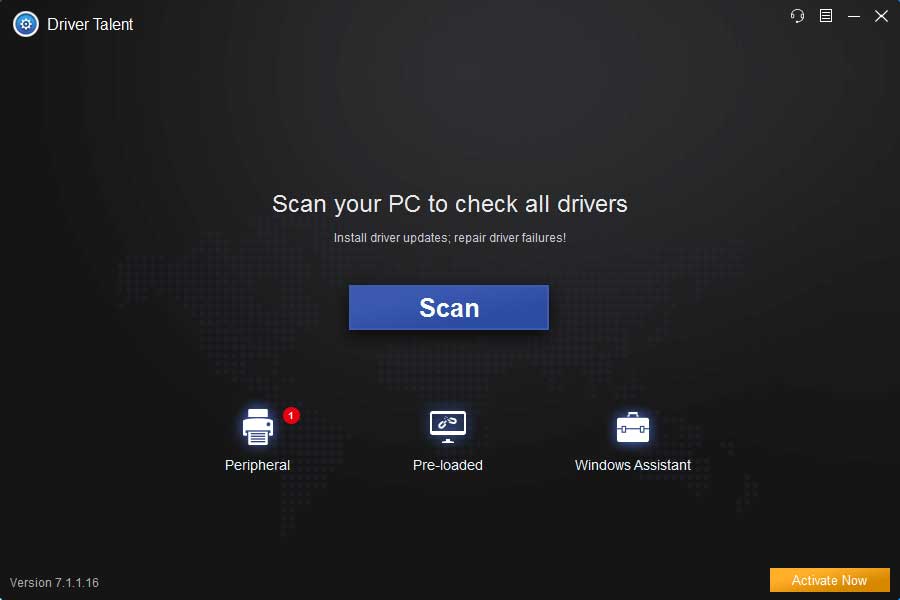 Step 2. Download and Install MSVCP120.DLL
Click "Repair" to fix the incorrect drivers. And then expand "Game components" section to find the MSVCP120.DLL file package under the "Download and Update" directory, click "Download" to get it.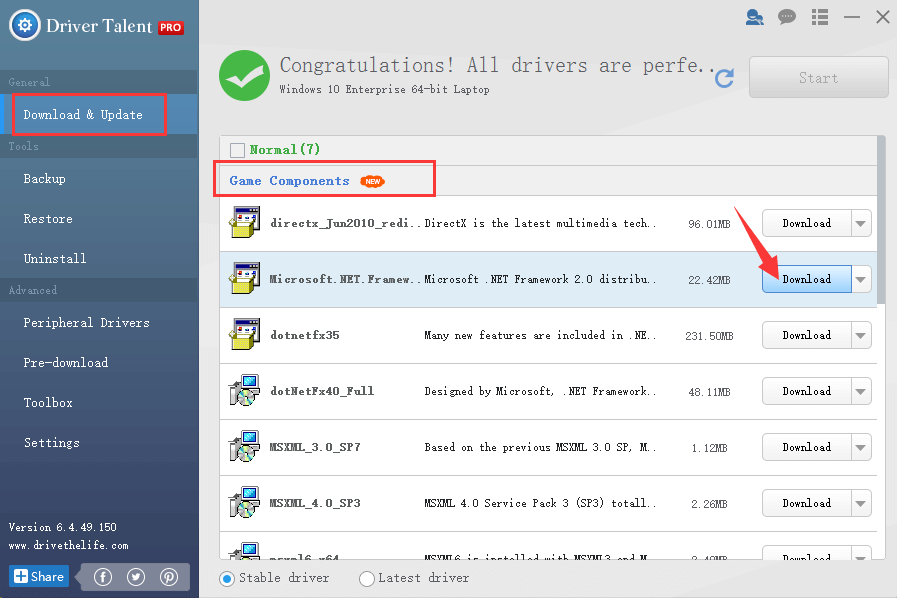 Step 3. Reboot Your PC
Copy the file to the install directory of the program as method 2, step 3 guide, and then reboot your computer.
Updated:
Should the above steps fail to find the MSVCP120.DLL file, Driver Talent has published a brand new tool for missing Dll files error which is limited free offer. Have a try with below instructions: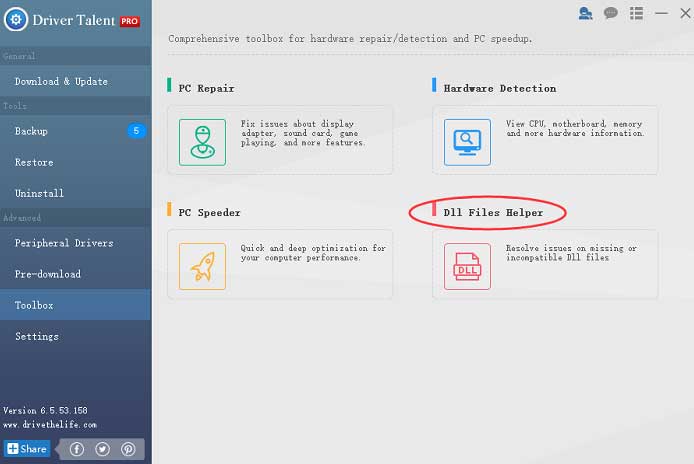 Type the name of the missing .dll file, MSVCP120.DLL into the search box and then click "Search".

Then click "Repair" to fix the missing MSVCP120.DLL error.
Notes:
Apart from downloading DLL file, like the XINPUT1_3.dll,openAL32.dll, physXloader.dll,mfc80DEU.dll, mfc80ENU.dll, mfc80ESP.dll, ATL80.dll and more, Driver Talent comes with more premium features, such as drivers downloading and updating, driver's backup, create a restore point, drivers download for another computer, PC speed up, etc.
After all the above efforts, you program or game should be running normally then. Leave us comments if the missing MSVCP120.DLL malfunction is still existed. we will come to you in the first time.

Recommended Download