How to Fix 0xC00D3E8E Read Only Error on Windows 10
Jun. 14, 2022 / Updated by Bessie Shaw to Windows 10
"I'm trying to organize my mp4 files in file explorer in Window 10, but when I try to edit the Media Created tab it gives me the 0xC00D3E8E error. I've checked all my permissions (I'm signed in as an administrator) and the read-only box isn't checked. What can I do to fix this? P.S. this is a new issue that arose from the recent Windows 10 update." – Quoted from Microsoft Community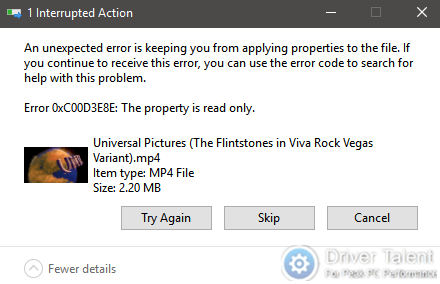 Lately, many users came across the unexpected error 0xC00D3E8E when they were trying to edit multimedia files like pictures, mp3, and mp4 on their computers. The error message reads, "An unexpected error is keeping you from applying properties to the file. If you continue to receive this error, you can use the error code to search for help with this problem. Error 0xC00D3E8E: The property is read only." This error usually occurs after Windows 10 update is installed, especially after the Windows 10 version 1803 (also known as Windows 10 April 2018 Update). To fix 0xC00D3E8E read only error on Windows 10, you can try the solutions recommended below.
Solution 1. Run DISM to Resolve Error 0xC00D3E8E
DISM (Deployment Image Service and Management) is a tool that can perform servicing tasks on Windows image. To resolve 0xC00D3E8E read only error, the first thing we can try is to run DISM. Follow the steps below.
Step 1. Launch Command Prompt as administrator.
Step 2. Copy and paste the commands below one by one to run them in Command Prompt.
Dism /Online /Cleanup-Image /CheckHealth

Dism /Online /Cleanup-Image /ScanHealth

Dism /Online /Cleanup-Image /RestoreHealth

After these commands complete, check if the 0xC00D3E8E error is resolved. If no, read on to try other solutions.

Solution 2. Run System File Checker to Troubleshoot the Error

Some users reported that performing a system file check could help troubleshoot error 0xC00D3E8E if the error was caused by corrupted system files. To do this, take these steps.

Step 1. Launch Command Prompt as administrator.

Step 2. Type "sfc /scannow" command into Command Prompt and hit Enter to run it.

See Also: How to Fix Corrupted System Files with SFC /scannow in Windows

Solution 3. Get Back the Ownership of the File

Error 0xC00D3E8E may occur if the ownership of the file is lost. Therefore, if running DISM and system file checker can't fix the error, another thing we can try is to get back the ownership of the file. Do as follows.

Step 1. Right click the file which gave you the error.

Step 2. Choose Properties.

Step 3. Get to the Security tab and select Advanced under it.

Step 4. Locate the owner name. If the owner name shows any other name instead of yours, click on Change and type in your username to select it from the list.

Step 5. Click on OK to save the change.

Solution 4. Perform System Restore to Get Rid of the Error

If you try all of the methods above but the error still exists, try to perform system restore to get rid of it. These posts are for your reference:

Wish the 0xC00D3E8E read only error on your Windows 10 computer could be resolved soon. If you have any other questions, feel free to leave comments below to let us know. For more solutions to other Windows 10 issues, you can visit the Windows 10 section on this site.
Recommended Download