Fix "This Device Is Not Configured Correctly (Code 1)"
Jun. 24, 2022 / Updated by Bessie Shaw to Windows Driver Solutions
Imagine how irritating when you need to use your device but it proved to be not working. The code 1 error is one of the common driver errors in device manager that would appear in the device status box. The full error message is "The device is not configured correctly. (Code 1)".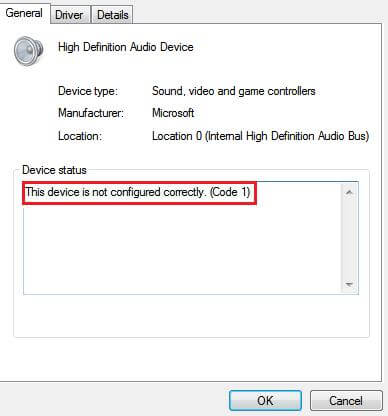 It is mainly caused by corrupted or outdated drivers. Sometimes, faulty system files or registry settings could result to this issue as well. Any devices such as graphics card, media devices, sound card, bluetooth would experience this issue.
How to Fix the Error "This Device Is Not Configured Correctly"?
We demonstrates some common methods to troubleshoot the driver error code 1 in this article. The methods are applied to Windows 10, Window 8.1/8, Windows 7, Windows Vista, and Windows XP. Let's go ahead.
Method 1 - Update/Reinstall the Device Driver
As the error message indicates, the device in question doesn't have drivers installed, or the drivers are incorrectly configured. So let's go through the first fix - update the device driver.
You can update driver manually or automatically. To manually update the driver, it is recommended to uninstall the device driver at first. Follow the steps below:
Step 1: Open Device Manager (Search it from start menu).
Step 2: Locate the device that is in question.
Step 3: Right click it and choose "Uninstall". (The picture below is captured from my sound card, you may need to choose the device in question)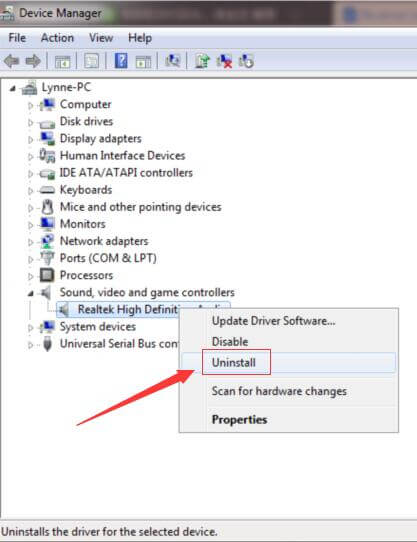 Step 4: Restart your computer. It would install the device driver from the system by default. However, in failed in most cases. So we need to download the driver from manufacturer's website and install it by your own.
If you are not sure which driver to install, you may use driver update tool which would identify your device and install matched and compatible driver automatically. Let's take Driver Talent as the example to show how to automatically update the device driver.
Step 1: Download Driver Talent and install it on your computer.




Step 2: Launch it and click "Scan" button to check for all your drivers.

Step 3: When scan is done, you can check the driver status from the scan result.

Step 4: Locate the driver of the device in question, and click the button to update/repair/reinstall it.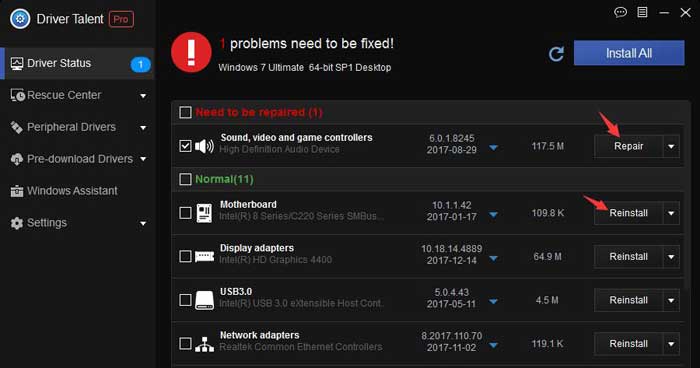 Step 5: Restart your computer when you are prompted. This will let the driver changes take effect on your computer.
Method 2: Undo Recent Changes Using System Restore
If the error occurred after you did some changes such as installing programs, updated Windows, or updated drivers, you may repair this issue by restore your computer to the point when everything was working fine. Follow the guide from the link below to learn more about system restore.
How to use system restore to fix Windows issues.
Method 3: Edit Registry Values
Warning: Making changes to your registry incorrectly may bring irreversible damage to your computer system. So please make a backup of the whole registry before editing the values.
To edit the values by your own, follow the steps below:
1. Search for "regedit" from start menu.
2. Right click it and choose "Run as administrator" (If you are running your computer as administrator role, you can skip this step).
3. Then you are headed to the registry editor. Navigate to HKEY_LOCAL_MACHINE\SYSTEM\CurrentControlSet\Control\Class\
4. Then you would see many of the device GUIDs. For different device, you need to choose different GUID. Refer to the table in the method 2 of the article how to fix driver error code 39 to find the device GUID.
5. Delete the keys of the UpperFilters and LowerFilters if applicable. (If there is no entry of UpperFilters or LowerFilters, this method is not for you)
6. Restart your computer if it is asked to.
Method 4: Reinstall Your Windows
If the driver code 1 error occurred after you updated your Windows, and you have tried the methods above but in vain, it is a great chance that the system is not updated correctly. You may try reinstalling the Windows.
Method 5: Replace the Hardware
If all the methods above cannot troubleshoot the error "this device is not configured correctly", you may replace the hardware as the last resort. You can do it yourself if you have a good knowledge of computer, or you may carry your computer to a repair store.
If your computer is still in guarantee period, you can contact the vendor for help for free.
If you discover other fixes for this error code 1 driver issue, please don't hesitate to share with us in the comments below.
Recommended Download