Fix Windows 10 Low Virtual Memory Error
Jun. 24, 2022 / Updated by Bessie Shaw to Windows Driver Solutions
The low virtual memory issue in Windows 10 may occur when some programs on your computer take too much allocation of memory, especially some heavy duty programs, say game, Visual Studio, MATLAB etc..

When confronted with that scenario, Windows always moves the least used pages of memory out to a hidden file which is called pagefile.sys. This file is used to store these least used pages, located in root of system drives. If Windows runs out of memory, you will receive the error warning as below picture: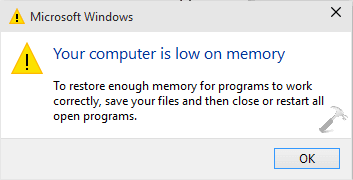 If you happened to meet that glitch, use the following two methods to troubleshoot it.
Method 1. Increase the Paging File Size to Fix Windows 10 Low Virtual Memory Error
Windows 10 sets the initial size of paging file equals to RAM. Bear in mind that RAM should be faster than your hard drive. And the maximum size is three times of total RAM. Low virtual memory warning indicates the programs you are utilizing more than three times of the installed RAM.
You can follow below steps to adjust the minimum and maximum size of the paging file:
1.Press Win + R to open Run dialog box.
2.Type sysdm.cpl, and then click OK to open System Properties.
3.Turn to Advanced tab and then click Settings under the Performance section.
4.Click Change under the Virtual memory section and this will open a new window.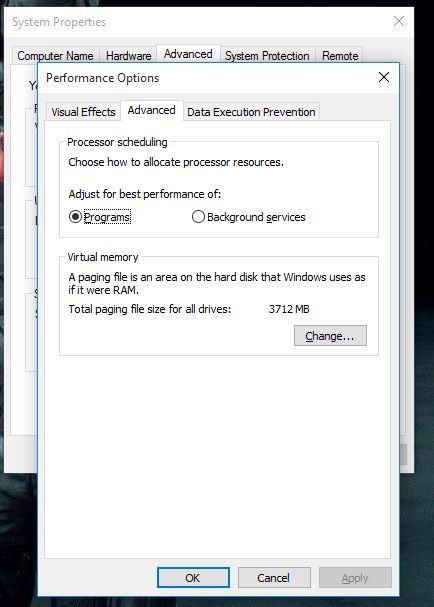 5.Uncheck the Automatically manage paging file size for all drive option.
6.Click the Custom Size radio button. Set the suitable values, Initial size (MB) along with the Maximum size (MB).
Note: It is highly recommended that don't select No paging file option. If you're done with inputting your choice, click OK, OK, Apply and OK.
If that solution successfully increases the virtual memory size, then a reboot for your computer is not imperative. But if you have decreased the size of paging file, you have to reboot your computer to make changes take effect.
Method 2. Repair Driver Issues to Fix Windows 10 Low Virtual Memory Error
To prevent the possibility of corrupting or any faulty drivers causing computer issues, you might as well turn to a professional driver update and management utility tool like Driver Talent, which could help to download and update the well-matched drivers on Windows 10 in a few minutes, without requiring any special skills.
Click below button to safe download Driver Talent.

Follow the three easy steps below to fix driver issues.
1.Launch Driver Talent. Click "Scan" to identify the incorrect drivers on the Windows 10.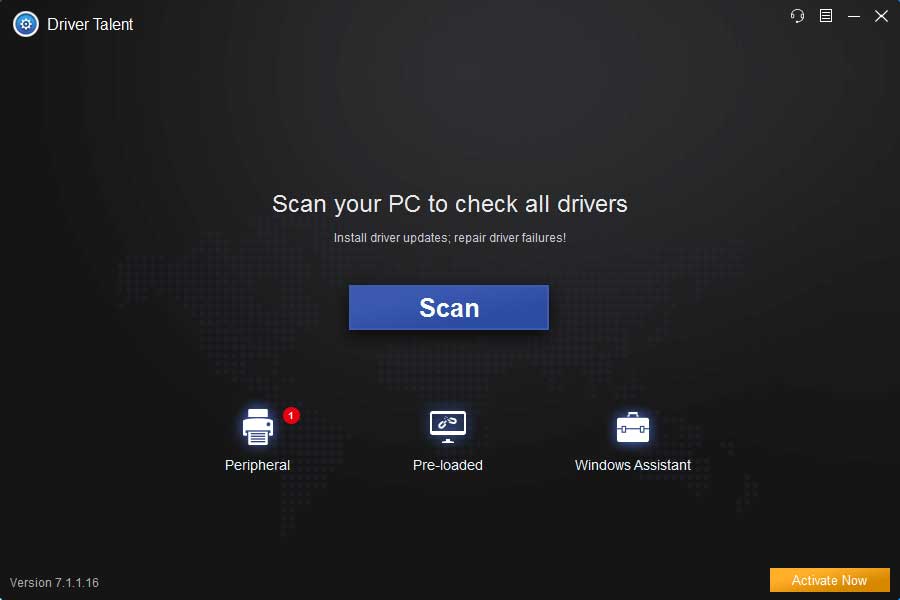 2.All the missing, outdated, corrupt or broken drivers will be listed after scan, click "Repair" to fix those drivers or you are also able to update them to the latest versions by clicking "Update".
Note:Considering driver's stability, we don't recommend you to update drivers when they aren't broken.
3.Restart your computer to make the updates come into effect.
Note: To avoid driver conflicts or driver crashes, it is recommended to perform a back up of drivers with Driver Talent before installing new drivers.
Method 3. Get More RAM to Resolve Windows 10 Low Virtual Memory
You should be aware that pagefile.sys uses your hard disk space to create a virtual memory which is much slower than an actual RAM. Thus if you have tried the above two solutions and the low virtual memory warning is still existed all the same. It is time for you to buy some more RAM and that will definitely fix the low virtual memory problem.
You may also like to check out:
Hope this article could be useful for you to troubleshoot Windows 10 low virtual memory error. If you happen to know more wonderful resolutions to resolve that glitch, please share with us in the comment section below. Thanks!
Recommended Download