Only 3 Steps to Download & Install Network Printer Driver on Windows PC
Jun. 24, 2022 / Updated by Bessie Shaw to Windows Driver Solutions
Yes, you might be facing network printer driver problems, like installing printer driver unavailable, installing printer driver failed error, network printer installation wizard cannot be launched, installing network printer driver without administrator rights, and access is denied. It seems difficult to find a correct network printer driver to install, ha? But trust me, if you try to follow the "install network printer driver wizard" bellow, you will know it's sooooo… easy and handy to install network printer drivers.
We know it's a heavy job to manually find drivers through manufacturers. But with a professional printer driver install utility, like Driver Talent, you can add and install printer driver over network within seconds. This utility allows users to install network printer drivers with only a few clicks.
You can try Driver Talent to install network drivers on 64 bit or 32 bit Windows 10, Windows 8.1, Windows 8, Windows 7, Windows XP, Windows Vista and Windows Server.
Download and install Driver Talent.
Note: Activate Driver Talent to the Pro version to get more features to install drivers.
How to Download and Install a Network Printer Driver on Windows 10/8.1/8/7/XP/Vista
There are only 3 steps to get network printer drivers with Driver Talent. You can install HP network printer driver, Brother network printer driver, Cannon network printer driver, and more other printer drivers.
Step 1. Search Your Network Printer
Run Driver Talent. On the "Peripheral Drivers" interface, click "Network Printer". There are 3 ways for you to search the network printers. Select the correct one and click "Search".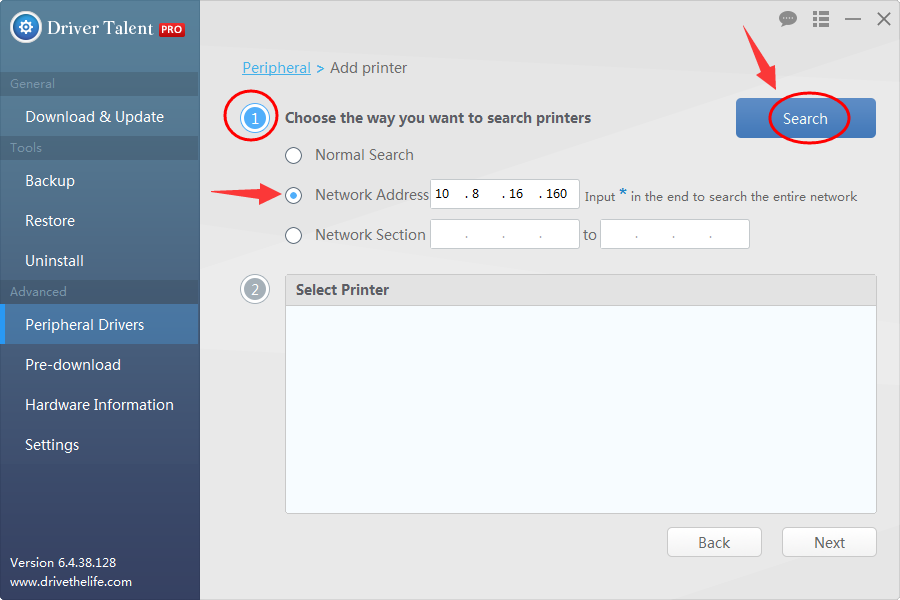 Step 2. Select Your Printer
Driver Talent will help to find all the printers on the network. In the reach result, select the network printer you want to use and click "Next".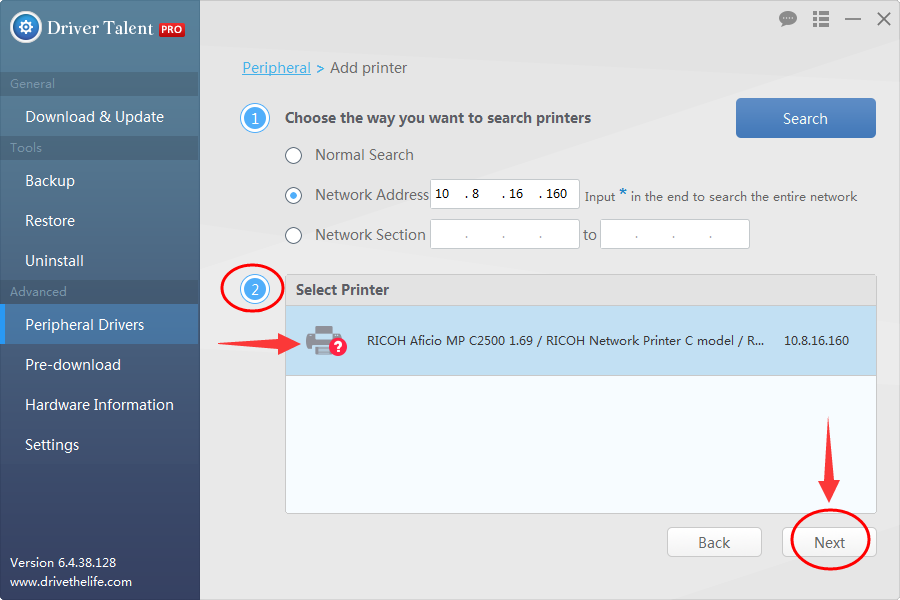 Step 3. Start to Download and Install the Network Printer Driver
Select the network printer brand and the model. Click "Next" and Driver Talent will start to download and install the correct driver for the network printer.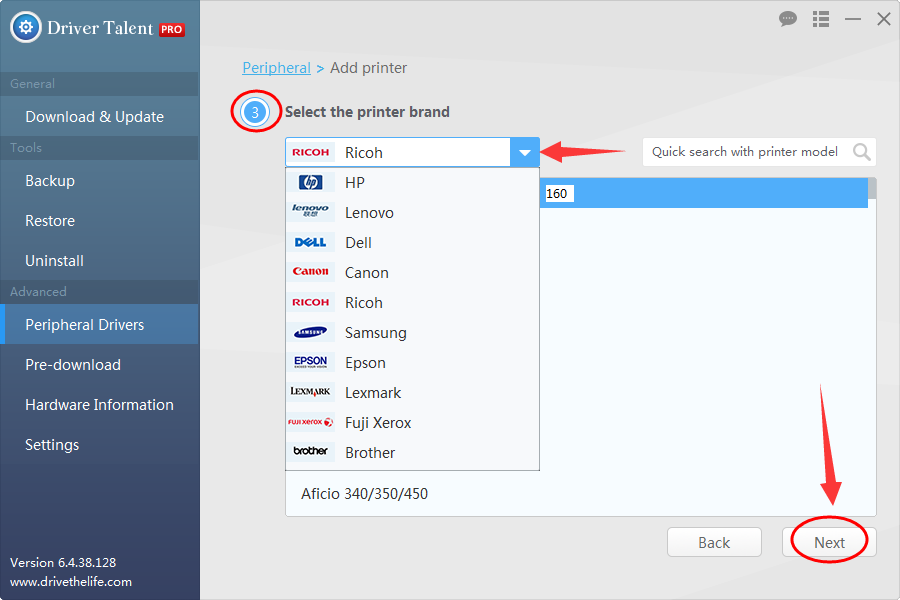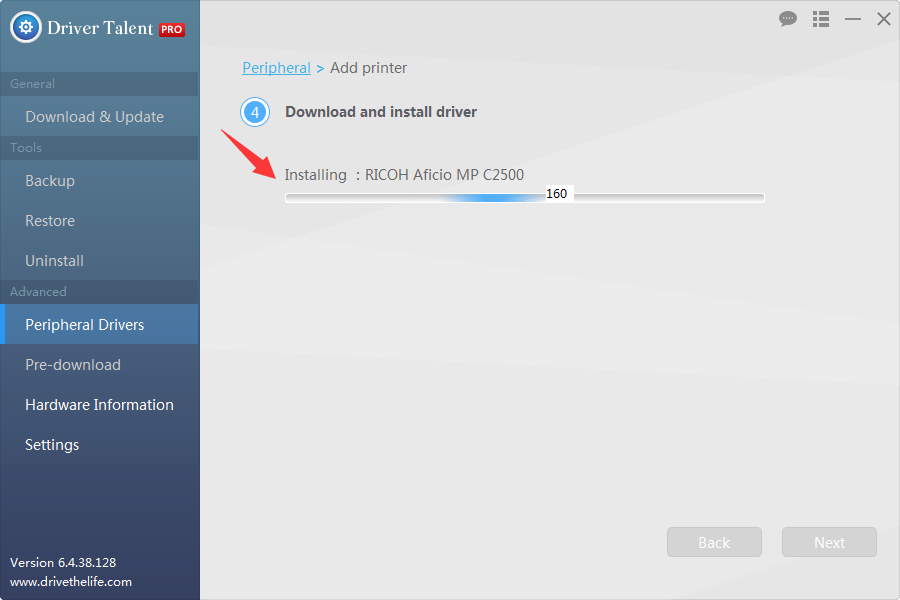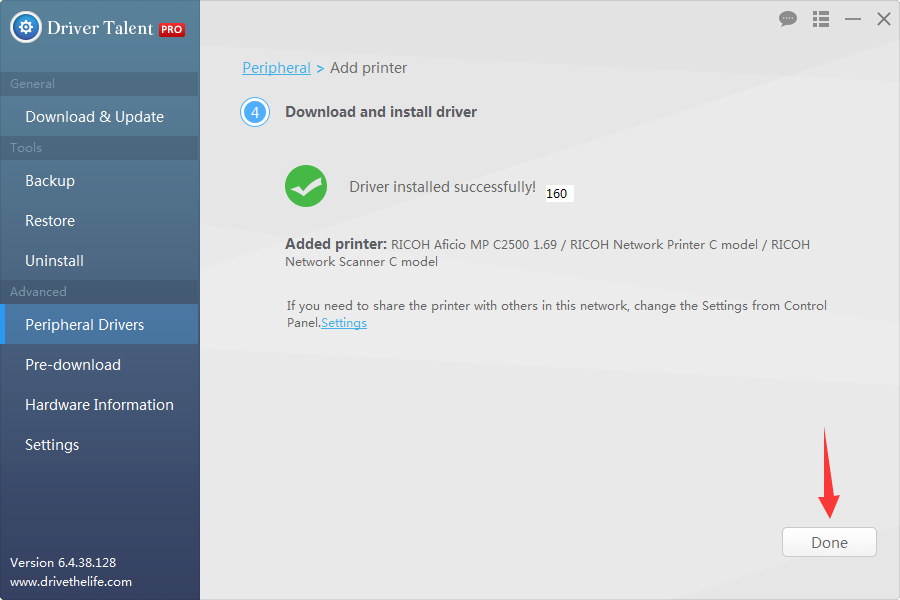 Now you can successfully to use your printer to print anything you want. You can confirm the printer is working by printing a test page.
Driver Talent can help to download and install all network printer drivers, including the printer drivers for HP, Lenovo, Dell, Canon, Ricoh, Samsung, Epson, Lexmark, Fuji Xerox, Brother, Fujitsu, and more. You can also use it to install USB connected printer drivers.
It's safe to use Driver Talent to install network printer drivers in Windows 10, Windows 8.1, Windows 8, Windows 7, Windows XP, Windows Vista and Windows Server.
See Also:Printer Drivers Download and Update on Windows 10, 8.1, 8, 7, Vista, XP
How to Add and Install a Network Printer on Your Laptop, Notebook or Desktop PC
How to install a network printer on your home or office network? Follow the easy-to-do guide below to setup a network printer.
We use Windows 7 as the example. The steps on other Windows OS are similar.
1. Click the Start button on computer and choose "Devices and Printers".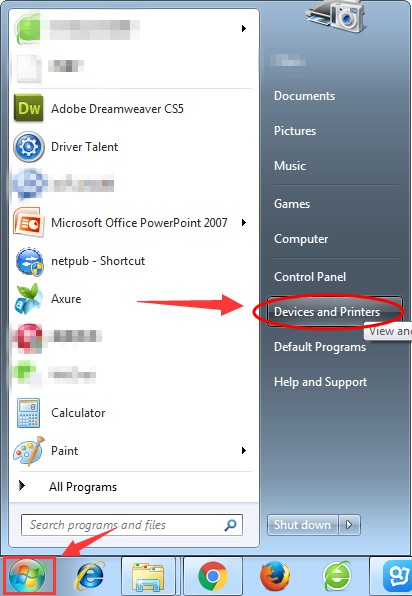 2. In the "Devices and Printer" menu, click "Add a printer".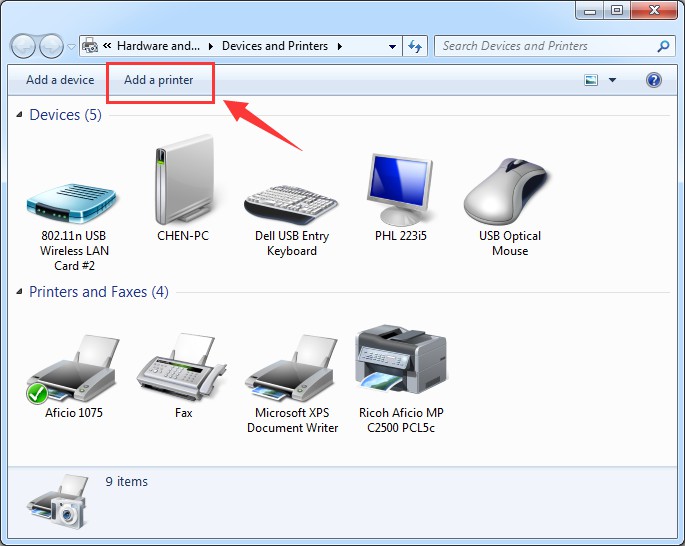 3. In the pop-up window, select "Add a network, wireless or Bluetooth printer".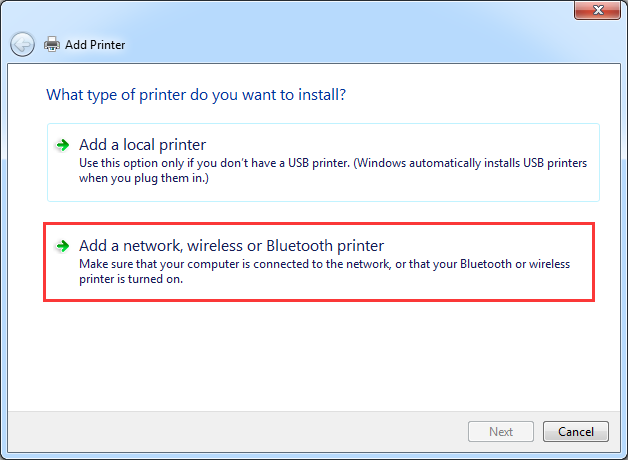 4. It will start to search all the printers available. Select the one you want to use and click "Next".
5. If you don't have a network printer driver, try Driver Talent to install the driver (do as the part above shows).
6. You can complete the additional steps in the wizard.
You may also like to check out:
2 Fixes for Printer Not Working after Windows 10 Anniversary Update
How to Set Up a Printer in Windows 10
4 Solutions to Fix Printer Not Working Error after Windows 10 Creators Update
Hit me in your comment if you have any questions about installing the network printer driver for Windows.
Recommended Download