4 Solutions to Fix Printer Not Working Error after Windows 10 Creators Update
Jun. 24, 2022 / Updated by Bessie Shaw to Windows 10
It can be one of the most discommodious trouble to get stuck on the printer can't be recognized strait. Many users have run into printer not working after Windows 10 Creators Update recently. "An error message saying the printer driver is not found and HP Solution centre is also not working after upgrading to Windows 10 Creators Update", a typical ask-for-help post of the Windows 10 CU printer malfunction in HP forum, reveals that the printer not working dilemma after upgrading to the Creators Update for Windows 10 has close relationship with the corresponding printer drivers.
To fix the printer not detected or printer not working error after Windows 10 Creators Update, below are several workable solutions, adapting to HP printers, Epson, Brother, Kyocera and more printers all the same.

Method 1. Run Printer Troubleshooter to Fix Windows 10 Printer Not Working after Creators Update
When you encounter the printer not working after upgrading the Windows 10 Creators Update problem, the first step in troubleshooting a printer problem is to use Windows 10's own troubleshooting tools to diagnose and resolve printing and scanning problems. you could download the Windows printer troubleshooter from Microsoft's server to fix the issue. After downloading it, follow these straightforward steps:
Step 1. Click the Win + R to open the Run box.
Step 2. Type "msdt.exe /id PrinterDiagnostic" and hit Enter to bring up the printer troubleshooter.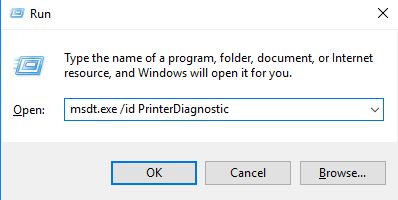 Step 3. Select the problematic Printer from the listed results.
Step 4. Click Next to start the printer troubleshooting.
If you don't see your printer from the listed results or Windows 10 can't detect your printer, click the Add a printer/scanner option and wait for the Windows detecting your printer. If still, no printer detected, click "The printer that I want isn't listed" and then select "My printer is a little older, help me find it". Choose "Replace the current driver" and reboot your computer then.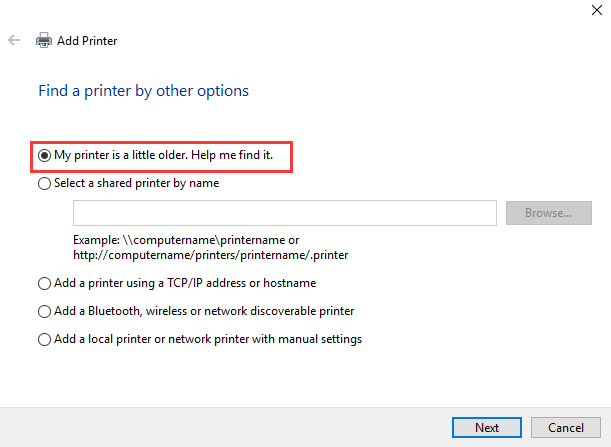 The printer troubleshooter checks for printer issues as below:
• Print Spooler Service errors
• Printer connectivity issues
• Printer driver errors
• Printers that are not shared with the HomeGroup
• Printer queue
Method 2. Update Printer Drivers for Windows 10 Creators Update
The Windows 10 Creators Update may remove some apps and software which are incompatible with the new operating system. And such software and driver compatibility issues after Windows 10 CU could happen to printer drivers, such as Brother, Canon, Dell, Epson, OKI, Samsung, Xerox, HP and Kyocera printer drivers. To exclude the possibility that printer driver issues cause the printer not working or not detected bugs, you could update the latest printer driver to match the Windows 10 CU.
You are able to update the driver for your printer by downloading it from the printer's manufacturer website and then manually install it. While since not all the printer manufacturers update the drivers in a timely fashion, some printer driver may not available for the Creators Update. To get the best match printer drivers in a quick way, it is recommended to use a driver update utility, such as Driver Talent, offering the latest official or WHQL printer drivers for the Windows 10 and Creators Update.
Click the button below to get the printer drivers update utility and follow the 3 steps below to install Windows 10 Creators Update printer drivers.

Step 1. Scan for Problematic Printer Drivers
Launch Driver Talent. Click the "Scan" button to detect all the missing, outdated, incorrectly configured or incompatible drivers on Windows 10 CU, printer drivers included.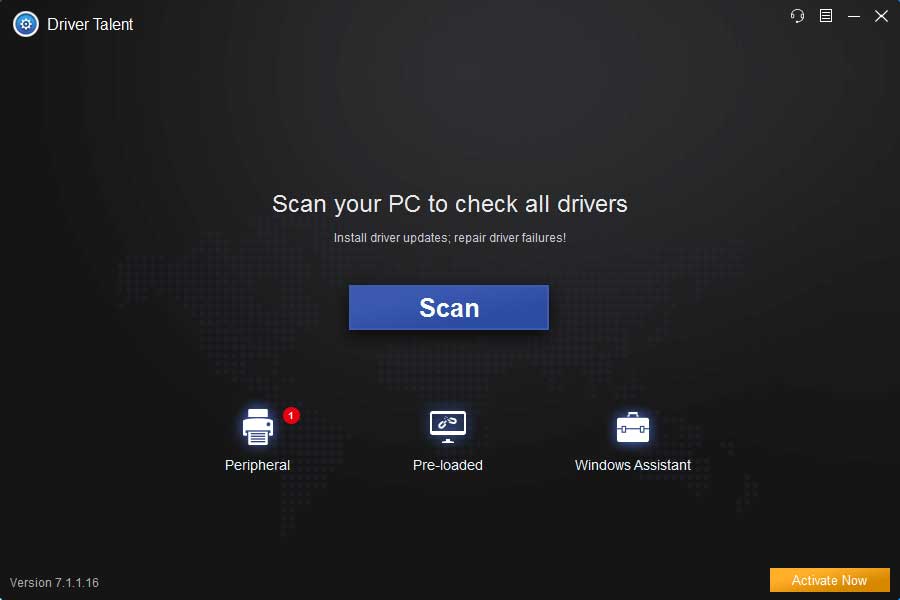 Step 2. Update Printer Drivers for Windows 10 Creators Update
Click "Download" to install the most compatible printer drivers for the Windows 10 CU or "Update" to get the latest drivers for your printer or scanner. For a USB-connected printer, turn to the "Peripheral drivers" selection. And then click "Install" to get the printer driver for the Creators Update.
Notes:Backup your drivers before performing any changes in case you may need to roll back drivers in the future and in the prevention of any unexpected system issues like Blue Screen, Windows 10 cursor disappears etc. And it is not recommended update what aren't broken.
Step 3. Perform a PC Restart
Reboot your Windows 10 computer to make the updated printer drivers come into effect.
Method 3. Install the Printer Driver in Compatibility Mode
This solution requires a full feature Windows 10 CU matched printer driver package file. If you get such a printer driver file, do not run it. Just save it to your desktop or download folder and follow below steps to install the printer driver in compatibility mode.
Step 1. Right-click on the printer driver file and select "Properties".
Step 2. Check the box "Run this program in compatibility mode for" under the "Compatibility" tab and select "Windows 8/8.1".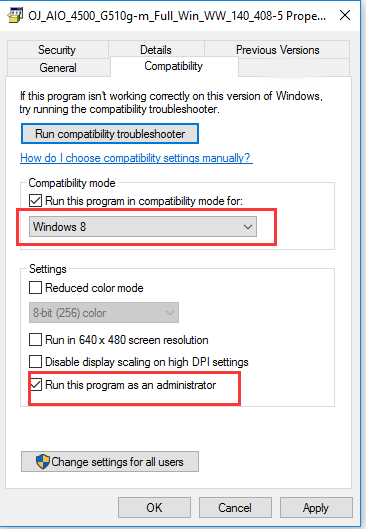 Step 3. Tick the checkbox "Run this program as an administrator".
Step 4. Click Apply and OK save the changes.
Step 5. Double-click the file to install the printer driver.
Method 4. Restore System to Resolve Printer Not Working after Windows 10 Creators Update
If the above methods fail to reconnect the printer to Windows 10 Creators Update and get the printer back into normal functioning, you might as well roll back to a previous Windows OS, like Windows 10 to retrieve the printer driver won't install or printer connection issue. Below is how.
Step 1. Click Win + I to open Settings.
Step 2. Go to Update & Security >Recovery >Advanced startup >Restart now >Troubleshoot.
Step 3. Select the Go back to the previous build option.
Here you can choose which Windows version you want to go back and follow the on-screen instructions to complete the rollback which could help to fix Windows 10 printer not available, the printer can't be recognized or detected issues after the Creators Update.
Other common Windows 10 Creators Update problems you may like to check out:
Hope this post could be helpful for you to get rid of the printer not working after Windows 10 Creators Update and get your printer devices back into normal performance. If you have more workarounds on fixing Windows 10 printer malfunctions, leave us comments or go to the OStoto official forum for further discussion.
Recommended Download