How to Fix Windows 10 100% Disk Usage in Task Manager
Jun. 24, 2022 / Updated by Daphne to News
Netizens often complain that their Win10 is too slow. Open the task manager and the disk usage rate is 100%.In fact, this problem is very common in Win10, and almost every computer has encountered similar embarrassment. So what should we do to prevent the hard drive from occupying 100%? Today, this article will give you 7 methods to get it done.
Top 7 Methods to Fix Windows 10 100% Disk Usage in Task Manager
Method 1. Turn off Diagnostic Tracking
DiagTrack (DiagTrack) is a new feature added in Win8.1. It is mainly used to collect PC information to help Microsoft track and improve its products (Windows).Unfortunately, this service consumes system resources and does not have much practical value for ordinary users.
1. Click the Cortana search box and enter "services" to enter the service panel.

2. Enter "diag" and you will see four service items starting with "Diagnostic".

3. Double-click to open in turn, and modify the startup type to "disabled", and turn off the above four groups of services.

4. In the same way, modify "Connected User Experiences and Telemetry" and set its startup type to "Disabled".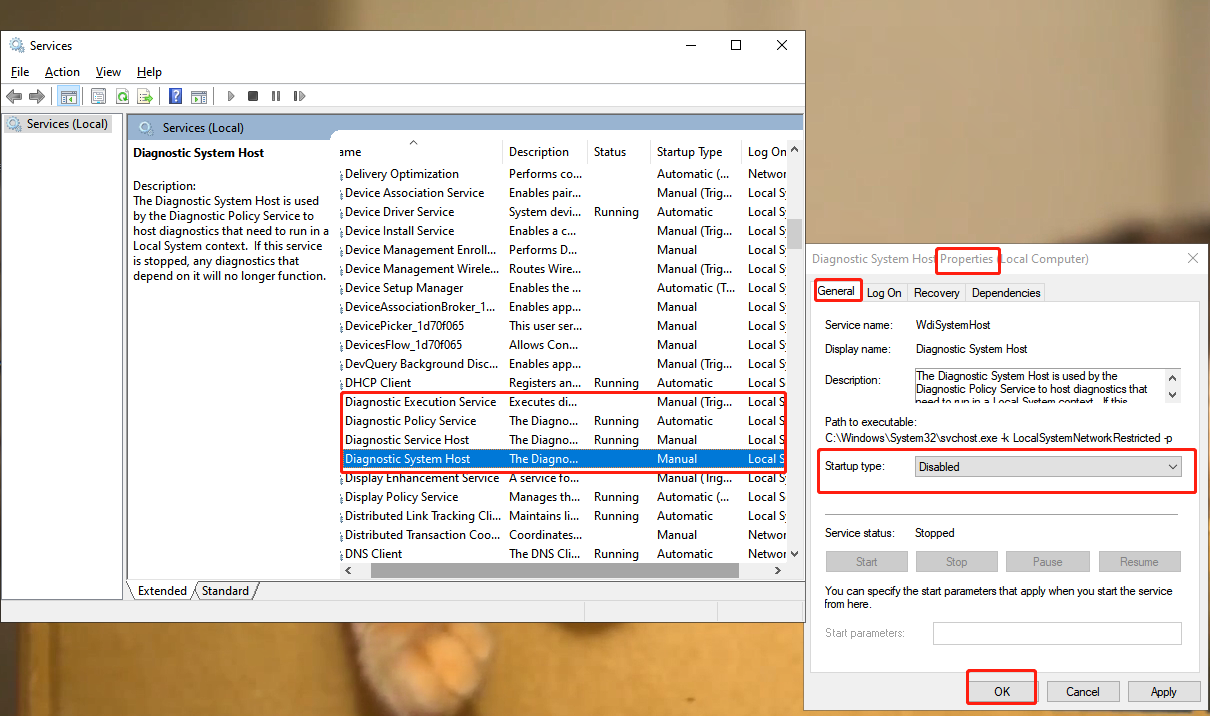 Method 2. Modified to Balance Power Mode
This problem often occurs in mechanical hard disks or systems where mechanical disks and solid state disks are mixed and matched, and the phenomenon is also 100% occupied by hard disks.
Solution:
1. Open Settings → System → Additional power settings.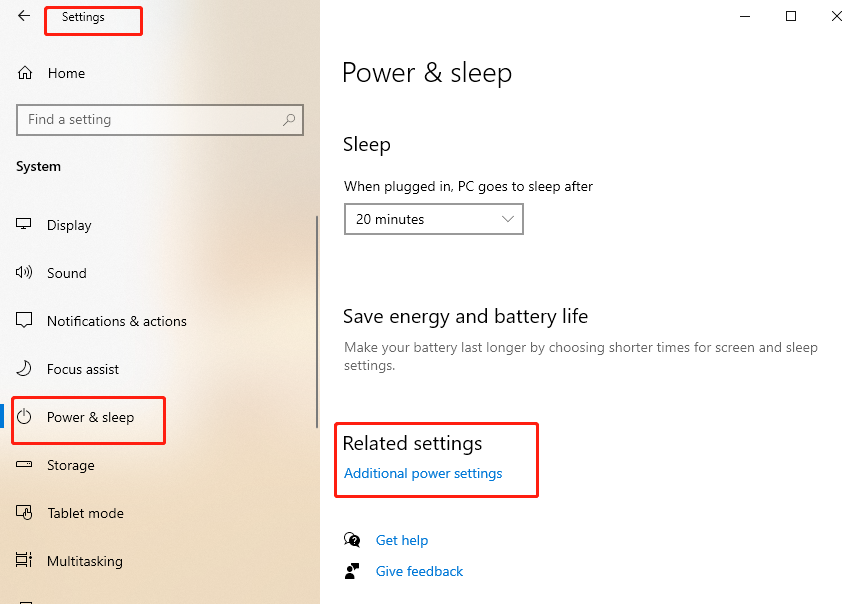 2. Modify the default power plan to "balanced".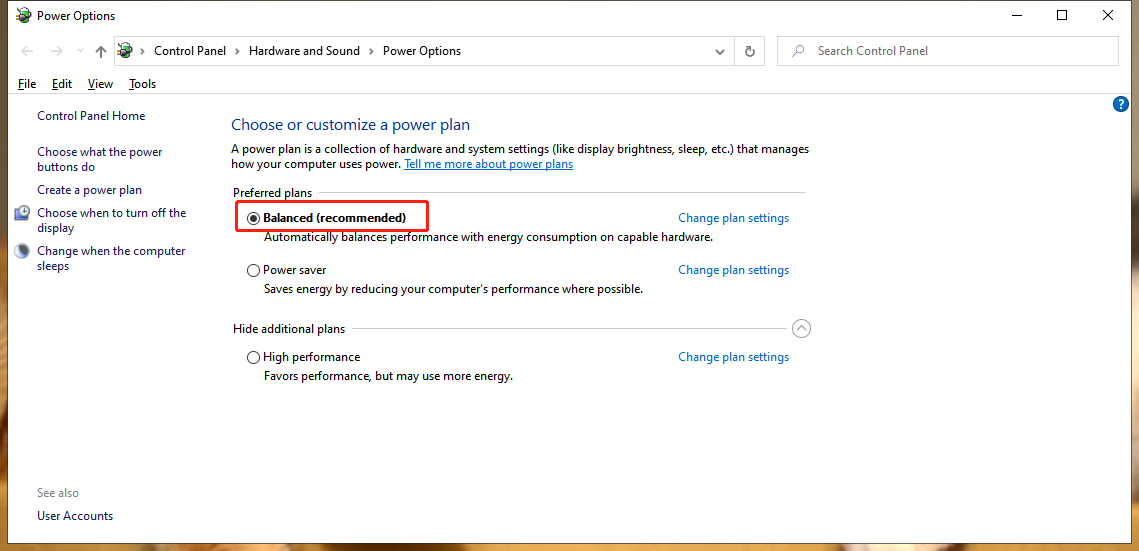 Method 3. Update AHCI Driver to Fix 100% Disk Usage after the Windows 10 Creators Update
Outdated or missing Advanced Host Controller Interface (AHCI) driver can result in 100% disk usage after the Windows 10 Fall Creators Update/Creators Update. So you need to update the AHCI driver with professional driver troubleshooters, like Driver Talent.
Click the button to get it directly.
It is a one-click driver updater that helps find faulty AHCI driver and download the official and the best-match one to solve the issue. Here's how:

1. Click the Scan to detect outdated AHCI drivers on the computer.
2. Click Update to download and install proper AHCI driver.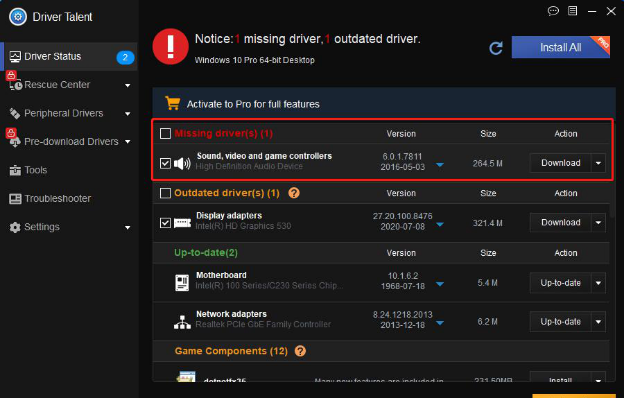 3. Reboot to make the driver changes take effect.
Note: It is better to use Driver Talent to backup drivers before any system changes in case other problems occur.
Method 4. Increase Physical Memory
Although Microsoft has always claimed that Win10 does not have a high demand for memory, in fact, when the 4GB system and the 8GB system run the same version of Win10, the speed is absolutely different.

If your RAM is less than 4GB (or less), add a new RAM to your computer as soon as possible. At the current price of RAM, it's a good time to make a move.
Note: dual-channel performance is higher.
Method 5. Turn off Windows Search and SuperFetch on the Mechanical Hard Disk
If your computer uses a mechanical hard drive, it is recommended to turn off the Windows Search and SuperFetch services, because these two services will significantly increase the daily read and write of the hard drive, which will cause the system to freeze in response.

But for users of solid-state drives, this is absolutely nothing to worry about. First of all, the response speed of solid-state drives is very fast, even if there is reading and writing, it will have little impact on other tasks. Another point is that Windows Search and SuperFetch are essentially a system optimization service, and long-term use can make the system faster.
Close method:
1. Click the Cortana search box and enter "Services" to enter the service panel.

2. Search for "sysmain", double-click to open it, and change the startup type to "disabled" (for older versions of Win10, please search for "Superfetch" service).
3. Treat "Windows search" in the same way, double-click and change the startup type to "disabled".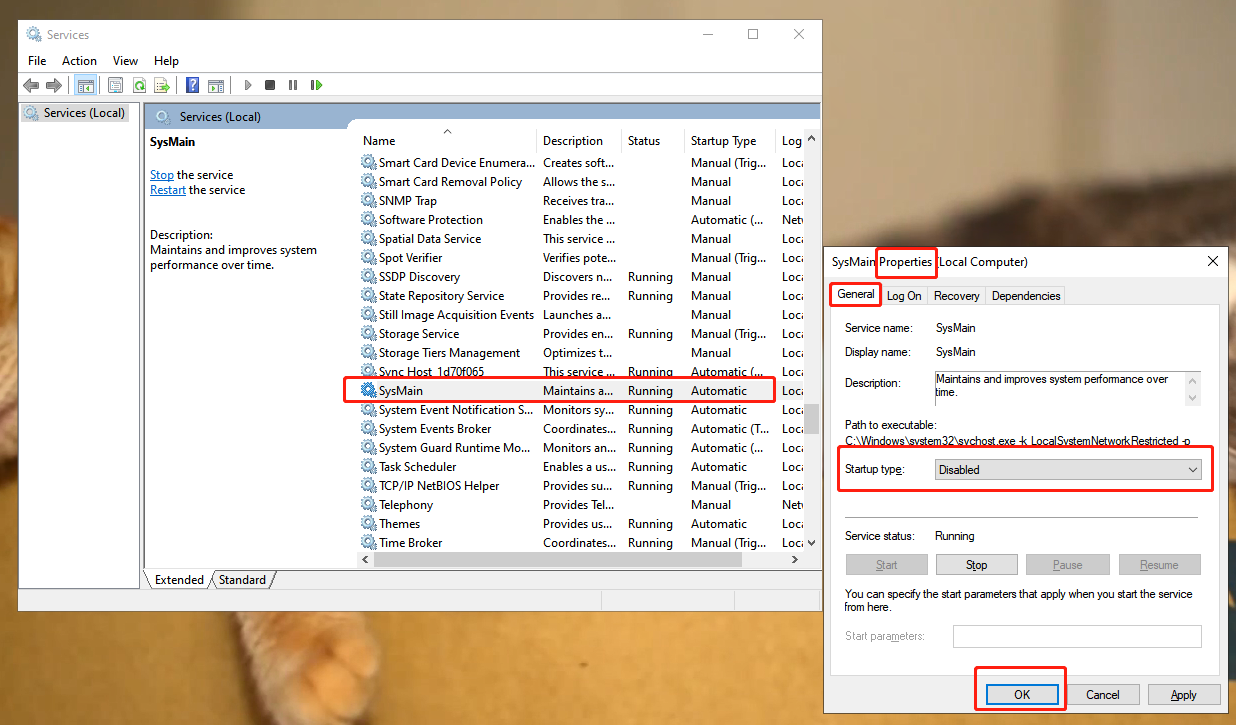 Method 6. Disable "Meltdown" and "Spectre"
In 2018, after the "Meltdown" and "Spectre" two processor vulnerabilities were exposed, Microsoft issued a series of patches in an emergency to temporarily block the security vulnerabilities faced by Intel processors.
However, these patches are at the expense of system performance. According to official statistics from Intel, the overall performance loss of the system is about 2%-8% after patching, and the older the CPU, the greater the impact.

In fact, the threat posed by these two sets of vulnerabilities is far less than we imagined, but the performance drag on the user's computer is real. If your computer is just a home computer for entertainment, you can completely disable this patch to retrieve this part of the lost system performance and make the computer faster.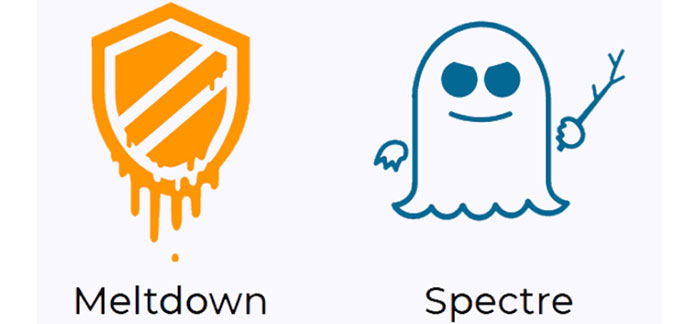 Close method:
1. Download "InSpectre.exe" (click here to download), right click to run as administrator.

2. Click the two buttons "Disable Meltdown Protection" and "Disable Spectre Protection" at the bottom of the main interface.

3. Restart the computer to make the settings take effect, and you can experience that the system responds faster at this time.

4. Click the "Disable Meltdown Protection" and "Disable Spectre Protection" buttons to close the patch.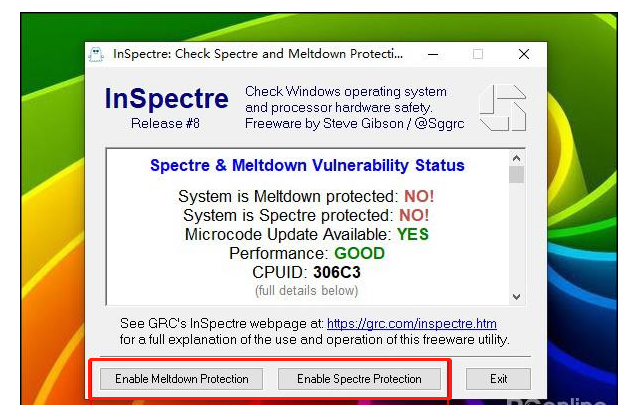 Method 7. Disable Automatic Windows Update
I have been troubled by this problem many times. The system that was originally optimized well, but found that it was abnormally stuck when working, and later discovered that it was Windows 10 that is automatically updating. This problem will especially appear for users who have joined the Windows Insider program. The solution is also very simple. Either change back to slow mode and reduce the frequency of automatic updates of Win10, or directly exit the Windows preview experience program and update manually only when the version is large. And this situation is actually more suitable for those productivity devices.The detailed instruction is in How to Disable Automatic Windows 10 Update in December 2017
All of the above are the possible best workarounds for solving the 100% disk usage problem after the Windows 10 Fall Creators Update/Creators Update. Hope this post is helpful. Also, you can share your methods via the comment section below, the LEFT MENU on this page or our forum if you have more solutions to fix the Windows 10 100% disk usage on Creators Update or the high disk usage problem. Any other Windows 10 Fall Creators Update/Creators Update/Anniversary Update issues please see Windows 10 section on this site.

You may also like to check out:
The issue of 100% disk occupancy rate of Win10 has been widely spread among netizens. Objectively speaking, Microsoft is really not good enough on this poin. At the same time, posts on how to avoid 100% disk occupancy have been circulating on the Internet, such as turning off IPV6, turning off family groups, turning on Skype write permissions.

But in fact, these techniques have been invalidated today, and some of them will affect part of the system's functions. In fact, system optimization is originally a double-edged sword, and turning off a certain service will inevitably affect another function. Therefore, it is most important to treat various "techniques" rationally and optimize according to the actual situation of the computer. This...maybe this is what I want to bring to you the most in this article today!
Recommended Download