How to Free Update/Download HDD, SSD, NAS, USB Flash Firmware Driver
Jun. 24, 2022 / Updated by Bessie Shaw to Windows Driver Solutions
Warning: Update Firmware Unless It's Necessary
Unlike hardware driver update regularly on Windows, most hard drives do not need any firmware update. Performing a firmware update for your HDD, SSD, NAS, USB Flash drive or USB Hard drive is much more of risk. For example, you may lose data from the disk, the firmware update may ruin the drive, and more other firmware problems. Therefore, only when there are bugs or issues should you update the firmware for your HDD, SSD, NAS, USB Flash drive, or other disks.
On the other hand, if your USB drive, or HDD, SSD, NAS is unreadable on Windows desktop or laptop, you may consider downloading a driver for it.
Note: HDD is short for hard disk drive, SSD for solid-state drive, and NAS for network-attached storage.
Where and How to Download or Update Firmware or Driver for HDD, SSD, NAS, USB Flash Drive
Before updating or downloading firmware and drivers for your disks, backup all data first. Here are where you can get the best firmware/drivers and how to install them.
Where to update HDD, SSD, NAS, USB Flash drive firmware and drivers:
Since firmware update or driver download can be more difficult for common users, you'd better get a safe resource, which can guarantee all the firmware or drivers you get are the official or WHQL ones. Visit the validated site: OSToto, which offers firmware update and drivers download of no spyware, no virus, and no spam. All resources you get from it are free and safe.
Updated: Drive The Life Co., Ltd. has been updated to the new official name called OSToto Co., Ltd..
Its Category are the collection of all firmware and drivers for not only HDD, SSD, NAS, USB Flash drive, but also other hardware devices, mobile phones, keyboard & mouse, network card and others. You can also use the search box of the page to find the firmware.
How to download/update firmware and drivers for HDD, SSD, NAS, USB Flash drive
Click the "HDD / SSD / NAS / USB Flash" under the category of OSToto. You will see all brands of the disks (see the table below). Select the firmware or driver you want according to the brands, and download it on your 64-bit or 32-bit Windows 10/8.1/8/7/XP/Vista computer (all Dell, Acer, Asus, HP, Toshiba, Sony, Lenovo, IBM, LG, Samsung and more other computer are supported).
| | | | |
| --- | --- | --- | --- |
| Intel | Hitachi | Crucial | ADATA |
| AMD | Apacer | ATI | Buffalo |
| Iomega | Kingston | LG | Linksys |
| LiteOn | Marvell | Micron | Mushkin |
| MX-Technology | MydigitalSSD | NetApp | NETGEAR |
| OCZ | Patriot | Plextor | QNAP |
| Corsair | D-Link | Freecom | And more |
How to Check Problems on Windows Computer after Firmware Update
If you successfully update the firmware, your HDD, SSD, NAS, or USB Flash drive will work properly on your computer. It's recommended to check whether your computer has good performance – this can ensure whether the firmware update will bring potential harm to your computer. Here is how:
1. Download and install Driver Talent (formerly called DriveTheLife) on your computer. It can scan your computer to check health.
Editor's Note: DriveTheLife has been updated to the new version called Driver Talent with a fresh new look.
2. Run this tool and it will automatically scan your PC to identify whether the hardware or devices are OK. If the hardware or devices got incorrect, incompatible, outdated, or corrupted drivers, it will show you in details.
3. Fix the problems by clicking "Repair", "Update", "Reboot", "Reinstall" or other solutions that Driver Talent provides.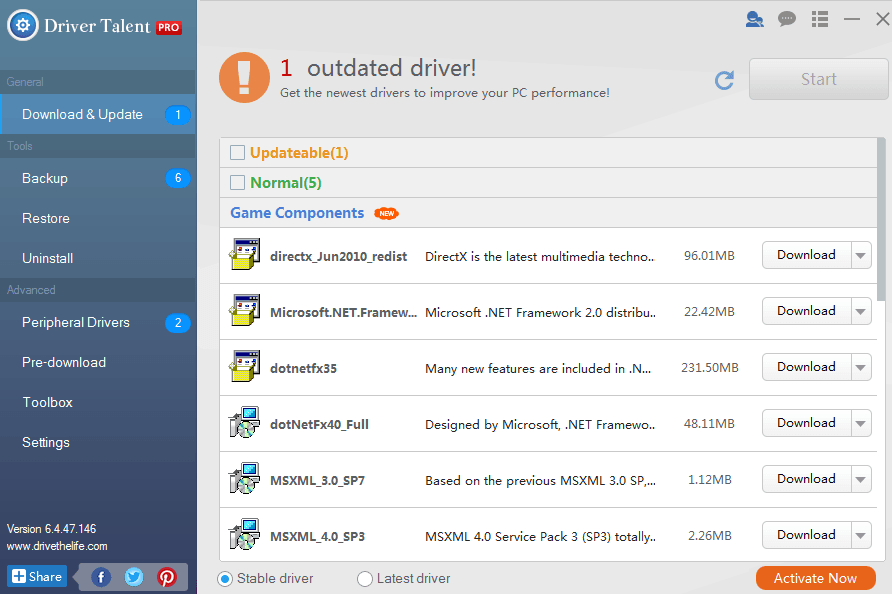 After that, reboot your computer and all problems are solved!
Recommended Download