How to Reduce Lag in Fortnite
Jun. 24, 2022 / Updated by Bessie Shaw to Gaming Solutions
Lag should be the most frustrating thing when it comes to playing multiplayer online battle arena games like Fortnite Battle Royale. Lag in Fortnite always causes a lot of complaints from various game forums. If you also get sucked right into it, there is no need to be alarmed. This post is just for you. Here are some tricks to help you reduce or even fix lag in Fortnite. Read on, and you'll learn something.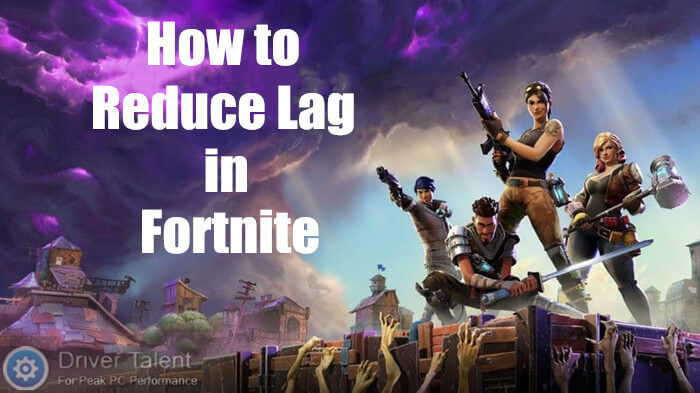 Why is there lag in Fortnite?
There are many causes for lag in Fortnite. Low-end gaming rig, poor network connection and incorrect game settings may be partly to blame for it. They will slow down your game and result in lag. In most cases, it's difficult to find out where the problem lies. But don't panic. The tricks below will help you out.
Way 1. Make sure your computer can handle Fortnite
As we all know, every game has its system requirements. If you want to run the game smoothly, your computer need to meet the game's minimum system requirements. Therefore, to reduce or fix lag in Fortnite, the first thing you need to do is to make sure that your computer can handle Fortnite. Refer to the system requirements for Fortnite in this post and check if your computer is up to par: Fortnite System Requirements: Can I Run It?
If your computer doesn't meet Fortnite's minimum system requirements and you still want to play it, you'd better upgrade your gaming rig. If your Fortnite lag is not due to your hardware devices, keep reading.
Way 2. Check your network's bandwidth
Poor network connection can also lead to lag in Fortnite. If there is any program hogging your bandwidth when you're running Fortnite, lag will occur. So you need to check your network's bandwidth and see if there is any program hogging your bandwidth.
You'd better close the gaming clients like Steam, Origin, and Battle.net that may run in the background during the game as well as the video programs like YouTube.
Way 3. Restart your wireless router
If it isn't the problem with your bandwidth and you are using wireless network, your wireless router may be to blame for the lag. To reduce lag in Fortnite, make sure your router works properly.
Try to restart your wireless router by unplugging it from the power supply and plugging it back after a few seconds. In order to play games under stable network connection, you'd better replace your wireless connection with an ethernet cable. It will reduce lag in Fortnite effectively.
Way 4. Make sure you're playing in the right region
Epic Games like PUBG and Fortnite usually use dedicated servers located around the world to make sure players can play the game smoothly. In order to make sure your game is connected to your local server, you need to ensure your playing region is right when you log in the game.
Head over to the Game tab in Settings and set the game's Matchmaking Region to the area closest to you.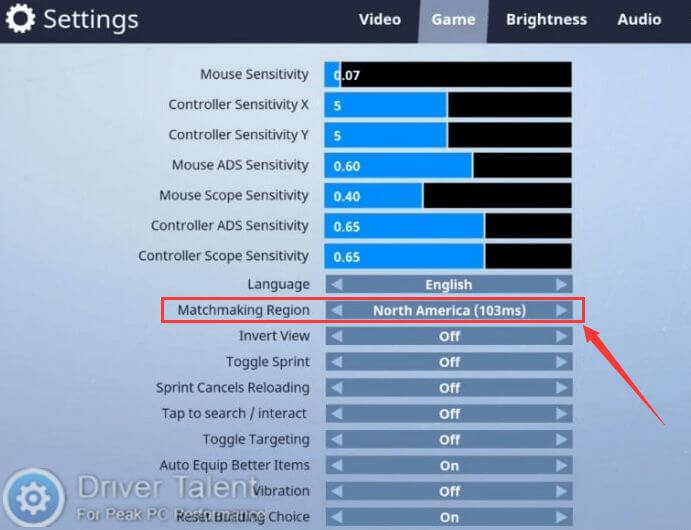 Way 5. Update your display driver and network driver
The outdated display driver and network driver may also result in lag in video games. Therefore, you can try to reduce lag in Fortnite by updating your display driver and network driver.
To update outdated drivers, this post is for your reference: 2 Ways to Update Outdated Drivers in Windows 10.
If you are just a computer novice or if you want to quickly have your drivers updated, you can choose to use a trustworthy driver update utility like Driver Talent. It will automatically find out all the iffy drivers on your computer including the outdated ones. And then help you quickly update them. Click on the Download Now button below to try it at once. Then refer to the following tutorial to update your drivers.
To update drivers with Driver Talent, do as follows.
Step 1. Run Driver Talent and click on the Scan button to perform a full scan on your computer.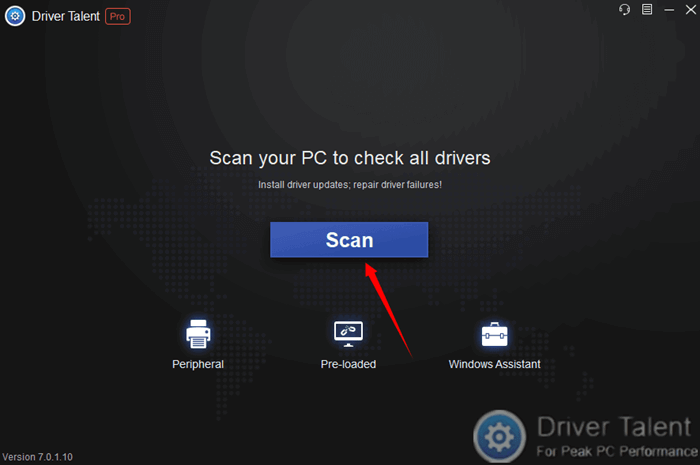 Step 2. If your display driver and network driver are detected as updatable, click on the Update button on their right to update them.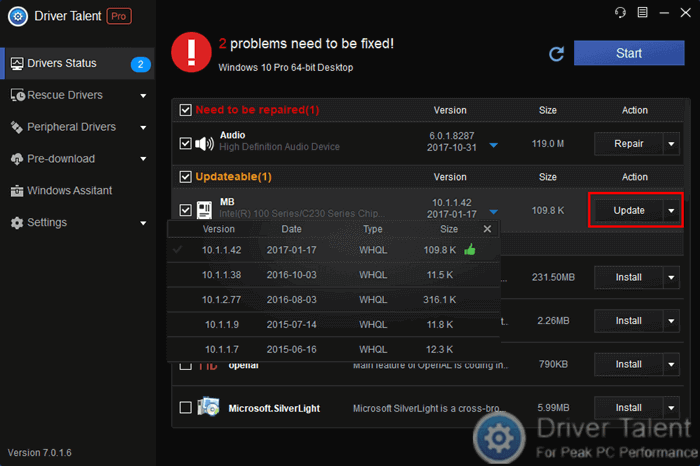 Step 3. Restart your computer to let the updates take effect.
You may also like to check out:
That's all. If the tricks above are helpful for you to reduce lag in Fortnite, leave comments below to let us know. Feel free to share your good ideas as well. More solutions to other gaming issues can be accessed in the Gaming Solutions section on this site.
Recommended Download