What is an audio driver and how does it work?
Jun. 16, 2022 / Updated by Gavin to Windows 10
Post Date: May 31, 2022

What is an audio driver?
An audio driver is a driver on the computer, mainly dealing with sound cards, audio decoders, external optical drives, etc. To make these things work properly, your computer must be loaded with a driver named audio device driver. Its main role is to enable you to listen to music, watch movies and play VCDs on the computer.
Note:
When installing a sound card, you need to pay attention to the corresponding manufacturer's brand as well as the model number of the sound card chip.
Some major sound card manufacturers:
A3D /Abit /Acorp /Add Addonics /ALi /Amax /AMD /Aopen /APAC /ASIO /Diamond /DIYEDEN /Eagle /Ensoniq /ESS /Microsoft /NVIDIA /Octek /OOAOO /OPTi /PcChips /Precision /Philips /Pine /Razer /RealWorld /Rta /SigmaTel /IgmaTel /Soyo /T&W /Taiyanfa /Sunflower /TM
How to detect whether the audio driver is installed or not:
Usually, you can use the computer to directly play an audio or a video, and then check the speaker to see whether the computer can make a sound or not.
A few reasons for computer sound failure:
1. Power supply failure
The sound card is a relatively sensitive device to the power supply, so a good pc power supply is helpful for the improvement of sound quality. When combined with a poor quality power supply, the speaker may sound unclear, especially for those sound cards that carry a power amplifier circuit. A little fluctuation in the power supply will cause noise or unclear sound. If your computer has similar situation, you might need to consider changing your old power source to a new one.
2. Realtek audio manager is not set up properly.
Take Win10 as an example: you need to test whether Realtek audio settings are correct or not. Click the "control panel" item, then click the "Realtek Manager" item, then click the "jack settings", and lastly go back to the desktop to play a song to test. The verifying steps for Win7 and Win8 systems are similar.
3. Output devices or interface connections are abnormal.
I: Replace another new headset or headphone to test. If the sound is normal, then the problem must be in the original output device. Replacing the output device can solve the problem.
II: Check whether the audio device interface and the output port of the chassis (generally the green port) are properly connected. If the front port is invalid, you can use the port behind the PC.
4. The hardware itself is physically broken.
For the damaged hardware, it is recommended to go to the repair store for repair.
5. Audio driver problem
On many occasions the audio card driver is one of the culprits causing the computer no sound. If you do not know how to check the driver, you can download Driver Talent.
Step 1. Click "Download Now" below to download Driver Talent Newest Edition.
Download and install Driver Talent on your PC.

Step 2. After downloading and installing the Driver Talent, run it and click "Scan". Then it will automatically check whether your audio drivers need updating.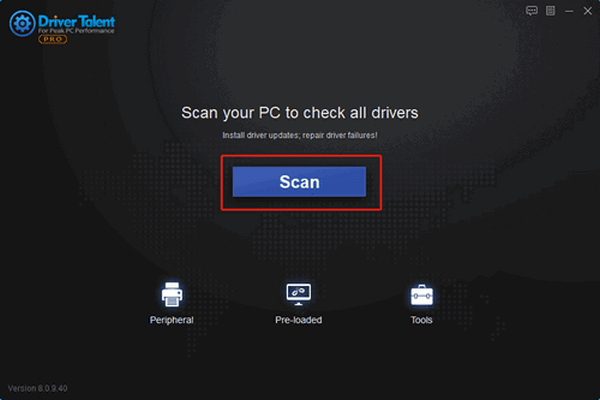 Step 3. Click "Repair", and then wait for Driver Talent to repair the audio driver.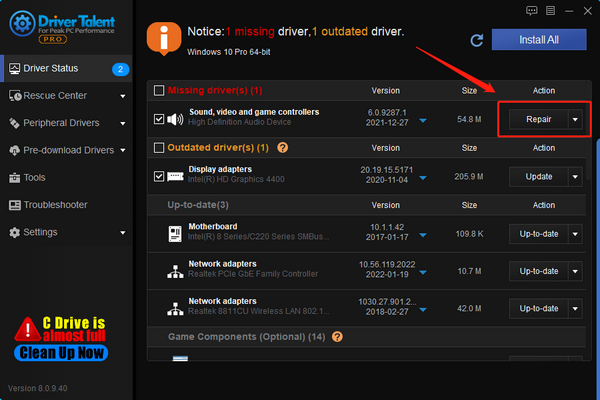 Step 4. Restart the computer to make the updated driver take effect.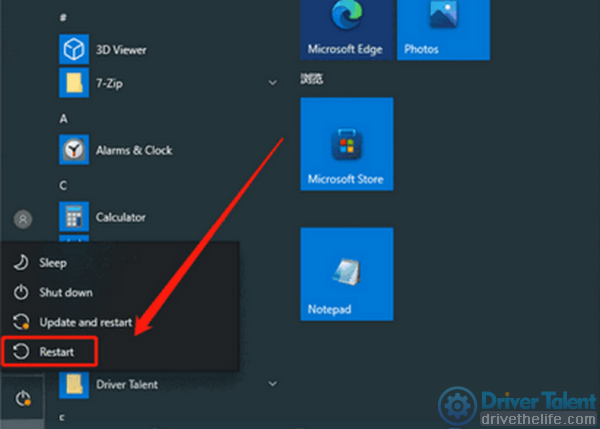 For the free version, you need to download them one at a time, and manually install them.
You can also try the Pro Version:
Step 1. Click here to enjoy Driver Talent Pro Version.
Step 2. Click "Install All" to automatically update all drivers.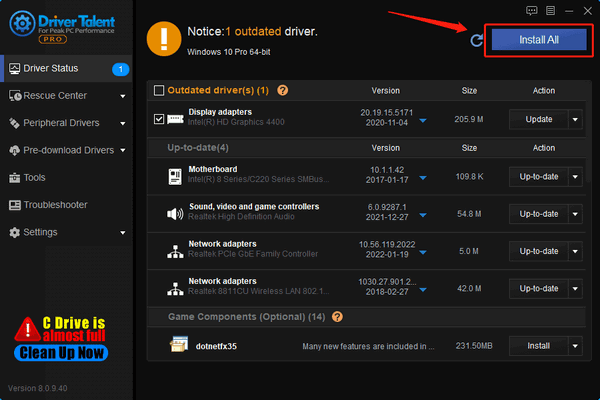 Pro Version can solve all the following problems with one click:
1. The audio driver is not showing in the Device Manager.
2. The audio driver is installed but no sound.
3. The audio driver can't be installed successfully.
4. Realtek high definition audio driver error.
5. Realtek audio driver download error.
6. Install error of audio driver for Windows 10/ Windows 7 /Window XP.
7. Audio driver missing in Windows 10/ Windows 8/Window XP.
8. Unable to find out what current audio driver is being used.
9. Outdated audio drivers affect sound quality.
Recent updates:
What are graphics drivers? How to update graphics drivers in Windows 10?
Why do laptops run so slowly? How to update laptop drivers?
Recommended Download