Windows 10 Drivers for iMac Free Download, Update and Install
Jun. 24, 2022 / Updated by Bessie Shaw to Windows Driver Solutions
If you've got the new Windows 10 install or update on your iMac, the first and also the most important thing you should do is to see if the Apple iMac drivers for Windows 10 are installed or if the iMac drivers are compatible with Windows 10. Computer problems are always caused by drivers, like iMac sound driver will cause no sound after Windows 10 install, wireless driver will lead to no Wi-Fi (no internet connection) on Windows 10, Bluetooth driver will result in Bluetooth not available or wireless mouse and keyboard not working, graphics driver will bring about low or limited resolution, flickering or seeing horizontal lines, etc.
If the iMac Retina drivers for Windows 10 or iMac drivers for Windows 10 are outdated, corrupted, missing, or incompatible, you will have bad experience with Windows 10 on your iMac. Get Apple driver downloads and updates for Windows 10, including the Windows 10 bootcamp drivers, iMac sound drivers for Windows 10, audio drivers for iMac, Bluetooth drivers, Wi-Fi drivers, USB drivers, Apple support drivers for iMac Windows 10, and all other latest iMac drivers 2015.
Also read: Windows 10 Drivers for MacBook, MacBook Pro, and MacBook Air
Steps to Free Download, Update or Install iMac Drivers for Windows 10 64 bit or 32 bit
If you prefer one click to download and install all necessary Windows 10 iMac drivers, try Driver Talent (formerly called DriveTheLife), which is a professional Windows drivers download utility for Mac computers. It is free, safe and easy to use. You can download and install it on your iMac to download all official drivers, update to the latest drivers, and fix the corrupted drivers for Windows 10, either 64 bit or 32 bit.
Updated: DriveTheLife has been updated to the new version called Driver Talent with a fresh new look.
Here are the steps on how to use Driver Talent to get Windows 10 drivers for iMac (Retina 5k, 27-inch), and other iMac laptops or desktops.
Step 1. Perform a Safe Scan of All Drivers
Driver Talent will scan your iMac computer to find out the driver problems, including the outdated drivers, corrupted drivers, damaged drivers, missing drivers, and incompatible drivers. It will show you which drivers need to be repaired, updated and downloaded.
Step 2. Download, Install or Update iMac Drivers for Windows 10
After the scan, you can download or update all iMac drivers. Just 1 click the button and Driver Talent will help to automatically get the iMac drivers download, install, and update. You can also 1 step to fix the driver issues.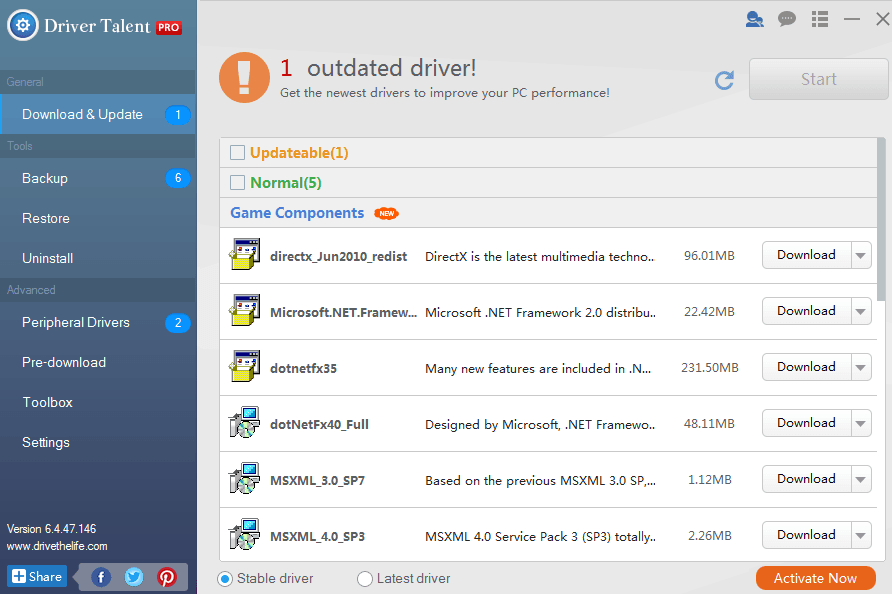 Step 3. Restart iMac
Driver Talent will ask you to reboot your iMac. Do as it shows. This will help to complete the driver install processes. Now all the latest iMac drivers are installed on Windows 10.
Note: You can also open Apple Software Update for Windows to see if there are available updates, but this will takes you much longer time and some of the drivers may not be available. Driver Talent is much more expeditous and efficient.
The Most Common Windows 10 Drivers for iMac
You will need some of the iMac drivers after installing Windows 10. Here are the most common Windows 10 drivers for Apple iMac. Driver Talent can help to download all of them. If you want iMac drivers for Windows 8.1/8, Windows 7, Windows XP or Vista, go to Mac drivers for Windows 10/8/7/XP/Vista.
| | | |
| --- | --- | --- |
| Windows 10 drivers for iMac (Retina 5k, 27-inch, Mid 2015) | Windows 10 drivers for iMac (Retina 5K, 27-inch, Late 2014) | Windows 10 drivers for iMac (21.5-inch, Mid 2014) |
| Windows 10 drivers for iMac (27-inch, Late 2013) | Windows 10 drivers for iMac (21.5-inch, Late 2013) | Windows 10 drivers for iMac (27-inch, Late 2012) |
| Windows 10 drivers for iMac (21.5-inch, Late 2012) | Windows 10 sound driver for iMac | Windows 10 audio drivers for iMac |
| Windows 10 support drivers for iMac | Windows 10 drivers for Apple magic mouse | Bootcamp drivers for Windows 10 on iMac |
| USB drivers Windows 10 on iMac | Windows 10 laptop drivers for iMac | Windows 10 desktop drivers for iMac |
| Windows 10 printer drivers for iMac | Windows 10 Intel drivers for iMac | Windows 10 Nvidia drivers for iMac |
| Logitech iMac drivers for Windows 10 | iMac keyboard drivers for iMac | Windows 10 mouse drivers for iMac |
| iMac graphics drivers for Windows 10 | iMac trackpad driver for Windows 10 | iMac touchpad driver for Windows 10 |
| iMac Wi-Fi drivers for Windows 10 | iMac Bluetooth drivers for Windows 10 | Windows 10 game drivers for iMac |
| Windows 10 Cannon drivers for iMac | Windows 10 HP drivers for iMac | Windows 10 Asio drivers for iMac |
| Windows 10 ntfs drivers for iMac | Xbox 360 controller iMac driver for Windows 10 | And more |
Recommended Download