Windows 11 Insider build introduces a new way to repair your computer
Jul. 20, 2023 / Updated by Eloise to News
Microsoft has introduced a new feature in the latest Canary build of Windows 11 that can help you fix major issues on your PC. It's called the Recovery option, located in the Settings app under Update & Security > Recovery. You will see a "Fix problems using Windows Update" option. With this feature you can install a " repair version" of Windows 11, which applies default settings to the operating system while not resetting any personal programs or storage. This is less traumatic than the Windows Reset. In this article, we'll show you what new Recovery option in Windows 11 can do for you.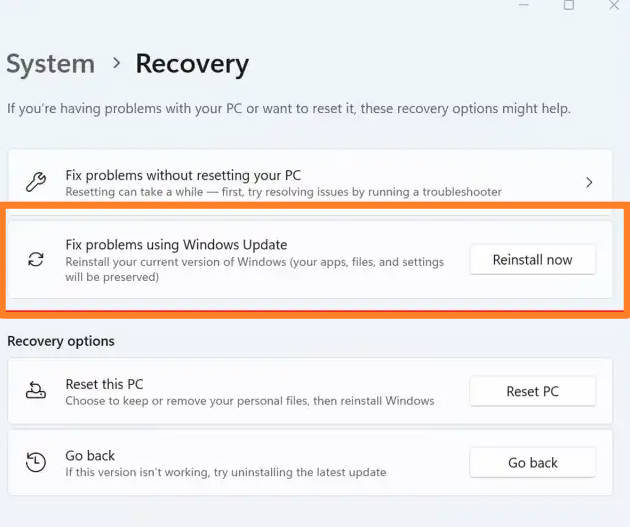 What's new in the The latest Canary build of Windows 11
The latest Canary build of Windows 11 is build 25905, which was released on July 12, 2023, bringing the new Recovery option in the Settings app. This will help users to solve various problems with drivers, such as startup conflicts and system crashes. The essence is to reinstall Windows without erasing system programs and files, thus keeping your system safe and up-to-date.
The new Recovery option has three sections:
1. Reset this PC: This section lets you reinstall Windows 11 without losing your personal files or apps. You can choose to keep your files or remove everything, and you can also change some settings such as whether to restore preinstalled apps or erase your drive.
2. Advanced startup: This section lets you boot your PC from a device or disc, change your firmware settings, or access other advanced options such as Startup Repair, System Restore, Command Prompt, Uninstall Updates, or Go back to previous version.
3. More recovery options: This section lets you learn more about other ways to recover your PC, such as using installation media or a recovery drive.
To sum up, the new Recovery option is designed to make it easier for you to fix your PC without losing your data or settings. It also gives you more control over how you want to restore your PC.
What else can I do to fix a system driver problem?
As we mentioned above, the new Recovery option provides users with a gentler option for fixing driver-related startup conflicts. But if it doesn't work well, is there another way to troubleshoot a driver problem?
The answer is an absolutely Yes. You can use Driver Talent to fix all the driver problems on your PC.
Driver Talent is a free and professional driver updater tool that can scan your PC for outdated, corrupted, missing, or incompatible drivers and download and install the best-matched ones for your system. One of the most useful features of Driver Talent is its driver repair feature. This feature enables you to repair any broken or problematic drivers that are causing errors or issues on your PC. You can choose to update or reinstall the drivers that need to be fixed, or restore a previous version of the drivers if the latest one is not working well. Driver Talent also works if you intend to fix any peripheral devices that are not functioning properly, such as printers, scanners, keyboards, mice, etc.
See also Top 3 Ways to Uninstall/Remove a Driver on Windows 10/8.1/8/7/XP/Vista
Step 1: Launch Driver Talent and click on Scan to detect all the driver problems on your PC.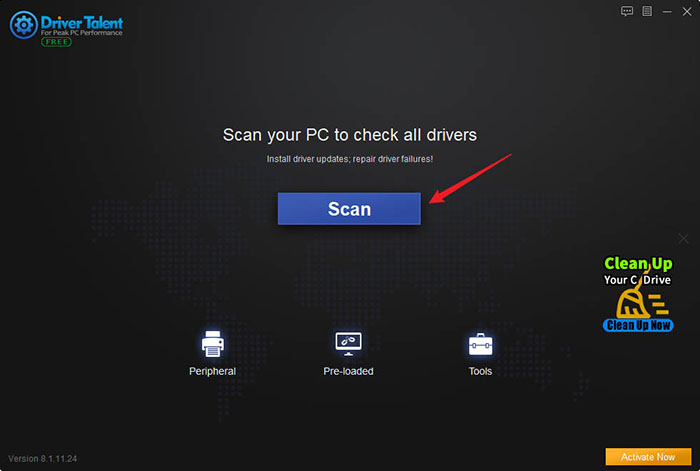 Step 2: Review the scan results and click on Update to download and install the latest or most stable drivers for your devices.
You can also safely remove the drivers that are already installed but not working properly.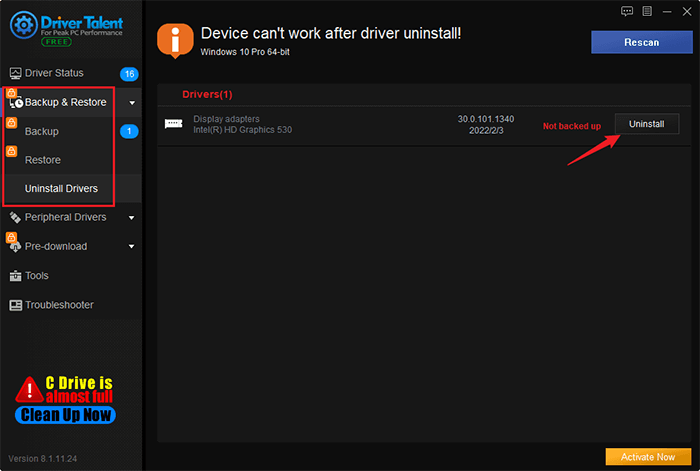 Step 3: Restart your PC to save new changes.
You may also like
Recommended Download