Windows Vista Drivers for MacBook, iMac, Mac mini/Pro Free Download, Install or Update
Jun. 24, 2022 / Updated by Bessie Shaw to Windows Driver Solutions
You are a brave man or woman if you have Windows Vista installed on your Mac computer. That's not only because it's a very very low Windows OS that most users, manufacturers and even Microsoft forsake, but also because it's hard to get the correct and the latest Windows Vista drivers through installer CD or Bootcamp Assistant. But it's totally Okay if you really like it on your Mac, and most importantly you can easily download the correct Windows Vista drivers for your Mac with the solution we recommend, so that you can always keep this Windows OS running well on your Mac computer.
In general cases, when you need to install Windows Vista drivers on a Mac, you need to make a driver CD with the Bootcamp Assistant (Applications/Utilities), or you need to go to the manufacturer's website to search for the correct drivers. It's much of difficulty, and more over, most of the Apple Mac drivers for Windows Vista are not available any more.
If you prefer one-stop and also one-click solution, try Driver Talent (formerly called DriveTheLife), which is a professional Windows drivers download and update utility. It has all Windows Vista drivers for Mac free and available on database and helps you to find the best-matched ones, drivers including Windows Vista drivers for MacBook Pro, Windows Vista drivers for MacBook Air, Windows Vista drivers for MacBook, Windows vista drivers for iMac, Mac Pro drivers for Windows Vista, Mac min drivers for Windows Vista, Windows Vista drivers for Xbox 360 controller on Mac, sound drivers, graphics drivers, WiFi drivers, network drivers, Bluetooth drivers, etc.
Free download and install Driver Talent on your Windows Vista MacBook, MacBook Pro, MacBook Air, iMac, Mac mini or Mac Pro.
Updated: DriveTheLife has been updated to the new version called Driver Talent with a fresh new look. Tell us if you like it.
Driver Talent can also help to download Mac drivers for Windows 10/8.1/8/7/XP/Vista, especially Windows 10 drivers for Mac.
How to One-click Download, Install or Update Mac Drivers for Windows Vista for Free
We recommend Driver Talent because it's workable and effective. It only takes you a few seconds to a few minutes to download the correct 64-bit or 32-bit Windows Vista drivers for a Mac. Use it to download Windows Vista drivers for Mac without installer CD/DVD and without Bootcamp Assistant. Now here you go.
Step 1. Scan Mac to Check Driver Issues
Launch Driver Talent and it will automatically have a safe scan on your computer to check all driver issues. It will show you which drivers have problems in detail.
Step 2. Download, Install or Update Vista Drivers for Mac
After the scanning, click on the "Repair" button to one-click download and install the drivers. You can also update to the latest drivers, but it's not recommended to do so. If the drivers are running well, do not update them. Only fix the drivers that have issues.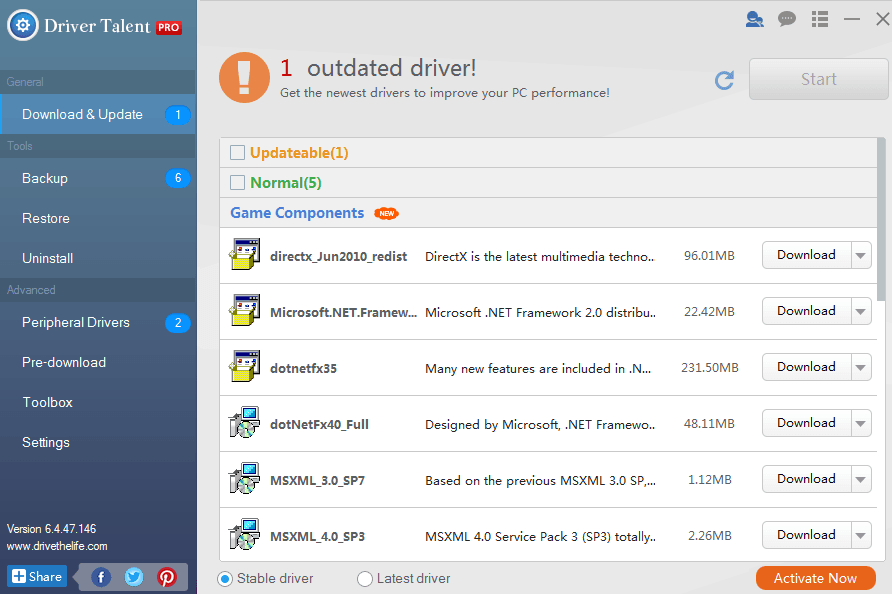 Step 3. Restart Your Mac Computer
Restart your Mac laptop or desktop to complete the process. After the reboot, all drivers will work properly.
How to Correctly Install Windows Vista on a Mac
Not all Windows Vista versions can be installed on a Mac, and only Windows Vista Home Basic, Home Premium, Business, or Ultimate, Service Pack 1 or later (Boot Camp 3) are fit in Mac. You can perform a totally new install of Windows Vista. Refer to the post on Apple's official website: How to Install Windows Vista on Your Mac with Boot Camp.
Recommended Download