How to Fix Bluetooth Issues after Windows 10 Creators Update
Jun. 24, 2022 / Updated by Wendy to Windows 10
Bluetooth mouse not working, Bluetooth driver can't install, Bluetooth LE device connection issues, Windows 10 Bluetooth disappearing and other more Bluetooth issues after Windows 10 Creators Update/Fall Creators Update have brought negative impact on the user experience of Windows 10 Creators Update.
Microsoft says that it confirmed the Windows 10 Bluetooth issues with Broadcom and Realtek radio after Windows 10 Creators Update. Typical affected Bluetooth LE devices like mice and keyboards, taking much longer to reconnect than before the install of the Windows 10 Creators Update or even losing connection. And they are working on fixes to resolve Bluetooth LE device connection issues after upgrading to Windows 10 Creators Update. Before they release any workaround, you might as well have a try with below solutions to troubleshoot Bluetooth issues after Windows 10 Creators Update.
Method 1. Use Troubleshooter to Fix Bluetooth Issues after Windows 10 Creators Update
The first thing you should think when coming across Bluetooth bugs such as Bluetooth not available, Bluetooth not working in Windows 10,Bluetooth can't be connected to Windows 10 after Creators Update is to use the Bluetooth troubleshooter to figure out those Bluetooth problems.
1.Click the Start button, and then select Settings > Update & security >Troubleshoot.
2.Under Find and fix other problems, select Bluetooth >Run the troubleshooter.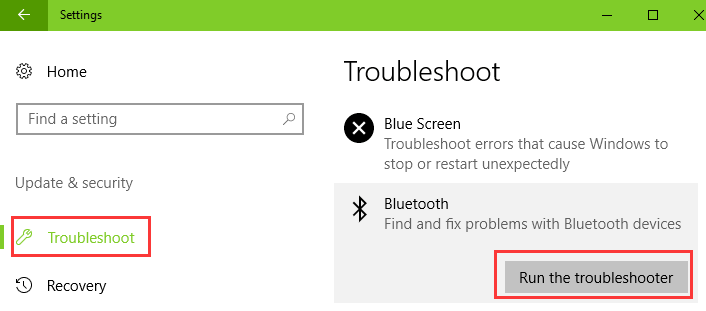 3.Windows 10 Creators will then start to detect and fix the Bluetooth problems automatically. Follow the on-screen instructions and wait for the troubleshooting process to complete.
Method 2. Enable the Bluetooth Support Service to Troubleshoot Bluetooth Problems for Windows 10 Creators
You may need to proceed this Bluetooth device bugs troubleshooter with the Administrator privilege.
1. Press Win + R to open the Run box. Type services.msc into it and then hit Enter.
2. Locate the Bluetooth Support service on the Services dialog and right-click it to select Restart.
3. Then double click the Bluetooth Support service. Change the Startup type to Automatic under the General tab.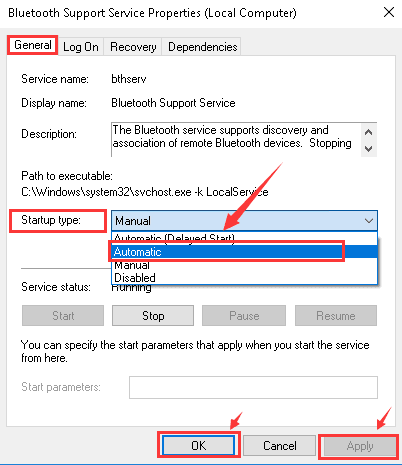 4. Then click Apply and OK to save and then exit the service dialog.
Method 3. Update Bluetooth Drivers for the Bluetooth Devices on Windows 10 Creators Update
Windows 10 Bluetooth not available error, can't find Bluetooth on windows 10 or Bluetooth can't connect Windows 10 Creators computer hitch could be triggered by software and driver compatibility issues. That is to say, the Windows Update may fail to install the Bluetooth driver for the Creators Update or Fall Creators Update.
To update the drivers for your Bluetooth devices to match the Windows 10 Creators Update. You have the following two channels. If you prefer a quick way to do so, please skip to Option 2 directly.
Option 1. Reinstall Bluetooth Device Drivers in Device Manager
1. Go to Control Panel > Programs and Features. Locate your Bluetooth device and Right click it to choose Uninstall.
2. Press Win + X to choose Device Manager. Expand the category Bluetooth and then right click your Bluetooth device to Uninstall.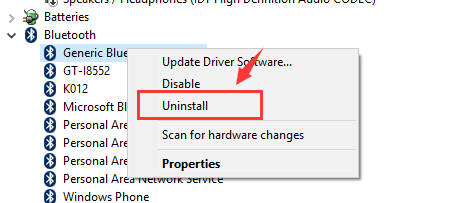 Notes: Leave the "delete the driver software for this device" box unchecked. And if you have more than one driver listed for your Bluetooth device there, you should repeat this step for each of the devices.
3. Restart your computer and Windows will then help to reinstall the Bluetooth device driver automatically.
If you can't find the Bluetooth devices in Device Manager or the Bluetooth doesn't appear in Device Manager after Upgrading to Windows 10 Creators Update, you can take a look the post how to fix can't find Bluetooth in control panel on windows 10 Issue to get the Bluetooth icons back in Device Manager.
Option 2. Update Bluetooth Drivers with Driver Talent
To get the compatible Bluetooth drivers for Windows 10 Creators Update, a professional driver update is highly recommended saving your energy, say Driver Talent. Favored by millions of people worldwide, Driver Talent detects your problematic drivers and then fixes them with 1 click in a flash.
Click the button below to get Driver Talent immediately.
Follow the 3 steps to update your Bluetooth driver and resolve the Bluetooth issue with the Windows 10 Creators Update.

1. Click "scan" and Driver Talent will scan for Bluetooth drivers and other drivers for the Windows 10 Creators Update. All the problematic drivers will show to you.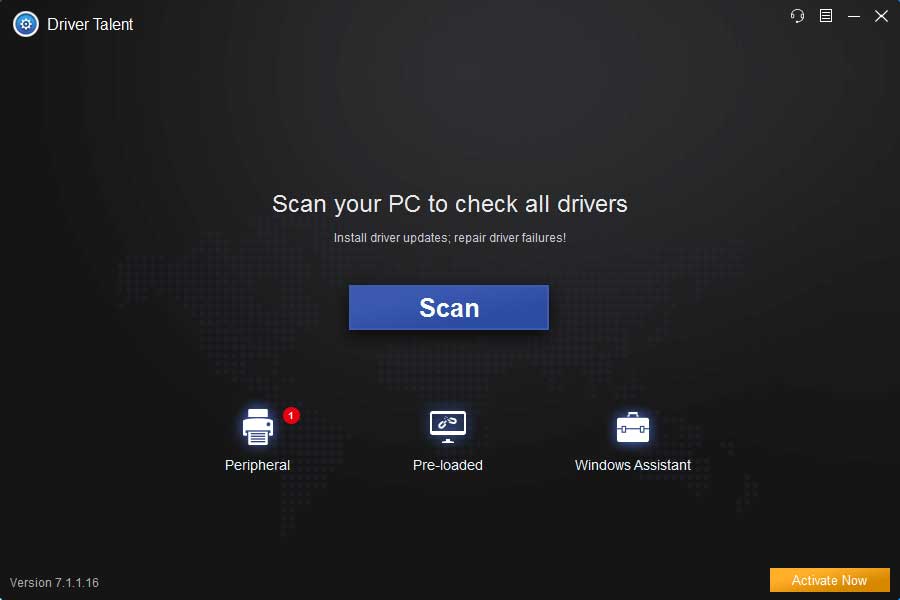 2. Click "Download" or "Update" to install the best-matched display drivers and solve Start Bluetooth not working or Bluetooth driver won't install malfunction for Windows 10.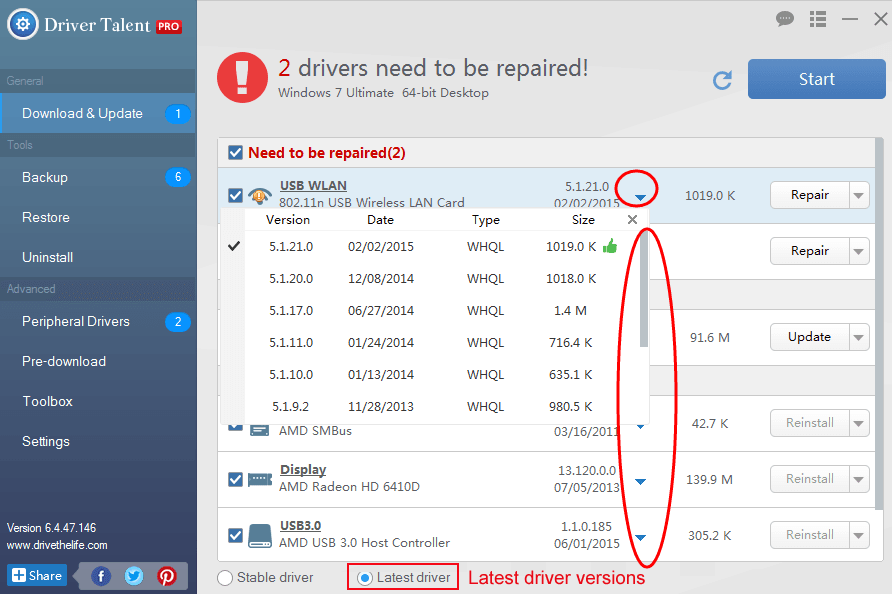 Notes: Backup your drivers in advance in case you want to roll back drivers in the future.
3. Restart your Windows 10 Creators Update laptop or desktop PC to make the updated Bluetooth drivers come into effect.
See Also:
Method 4. Roll Back to a Previous Windows OS to Solve Windows 10 Bluetooth Issues after Creators Update
Should all of the above methods fail to reconnect the Bluetooth to Windows 10 Creators Update or other Bluetooth issues on Windows 10, you might as well revert back to a previous Windows OS, like Windows 10 to retrieve the Bluetooth LE device connection. Below is how.
1. Click Win + I to open Settings.
2. Follow the path Update & Security >Recovery >Advanced startup >Restart now >Troubleshoot.
3. Select the Go back to the previous build option.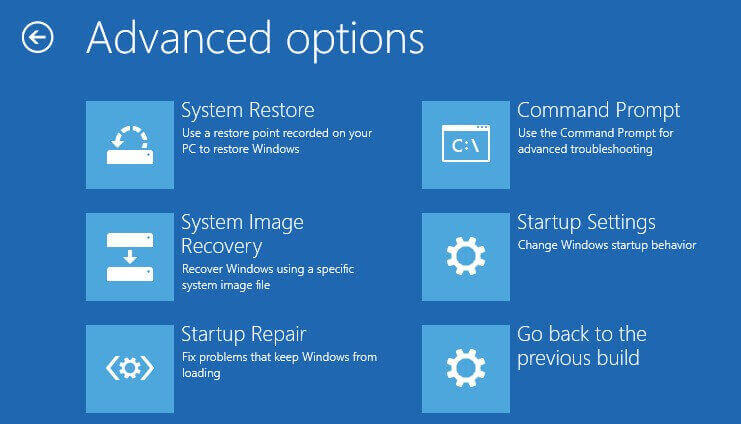 Here you can make your choice which Windows version you want to go back and just follow the on-screen tutorials to complete the rollback which could help to fix Windows 10 Bluetooth not available, Bluetooth losing connection or other Bluetooth issues after the Creators Update.
For more clear operation steps, refer to the video: How to Fix Bluetooth Not Working on Windows 10
Hope this post could be useful for you to get rid of the Bluetooth issues after Windows 10 Creators Update and get your Bluetooth devices and the corresponding drivers back into normal functioning. If you have more workarounds on fixing Windows 10 Bluetooth malfunctions, please share with us in below comments section or go to the OStoto official forum for further discussion.
Recommended Download