Fix Blue Screen of Death in Windows 10/11
Jul. 19, 2022 / Updated by Vivi to Windows 11
The Blue Screen of Death (BSOD), also known as Stop Error screen, is not uncommon in Windows 10 and Windows 11. When you encounter blue screen error, you can try to solve it with the Top 7 Solutions to Fix Blue Screen. Usually the blue screen problem can be sloved successfully with these 7 solutions. If it still occurs, follow the steps in this tutorial so that we can fix the tricky error for you.
First of all, download Driver Talent and buy Pro version. Scan the drivers on your computer with Driver Talent. If there's any outdated drivers, please update them to a newer or the latest version.

Then, follow the steps below to provide the relevant documents for us so that we can figure out the causes of the blue screen error on your computer.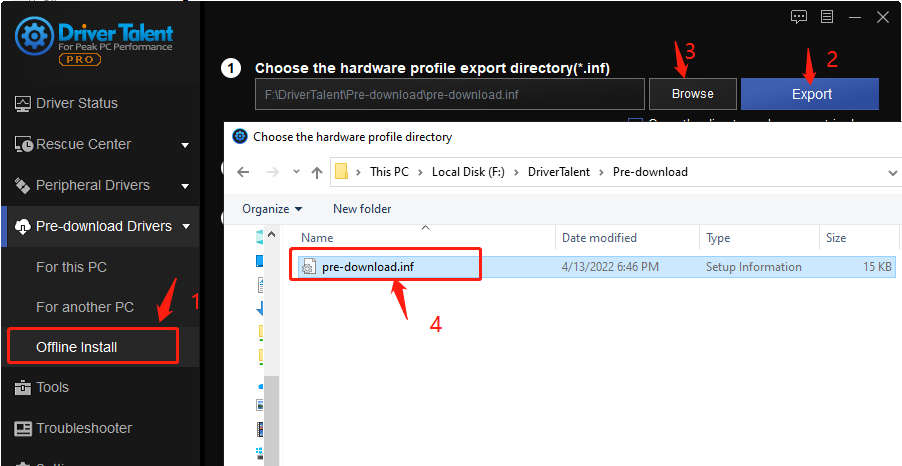 1. Launch Driver Talent, open the "Pre-download Drivers" tab, click "Offline Install".
2. Click on the "Export" button to export the information to X:\DriverTalent\Pre-download\pre-download.inf. Send the "pre-download.inf" file to us.
3. Click on the Browse button to go to C:\Windows\INF, find "setupapi.dev.log" and "setupapi.setup.log". Send these two log files to us.

4. The steps below can help to record more information about the causes of blue screen error in your Windows when it happens again.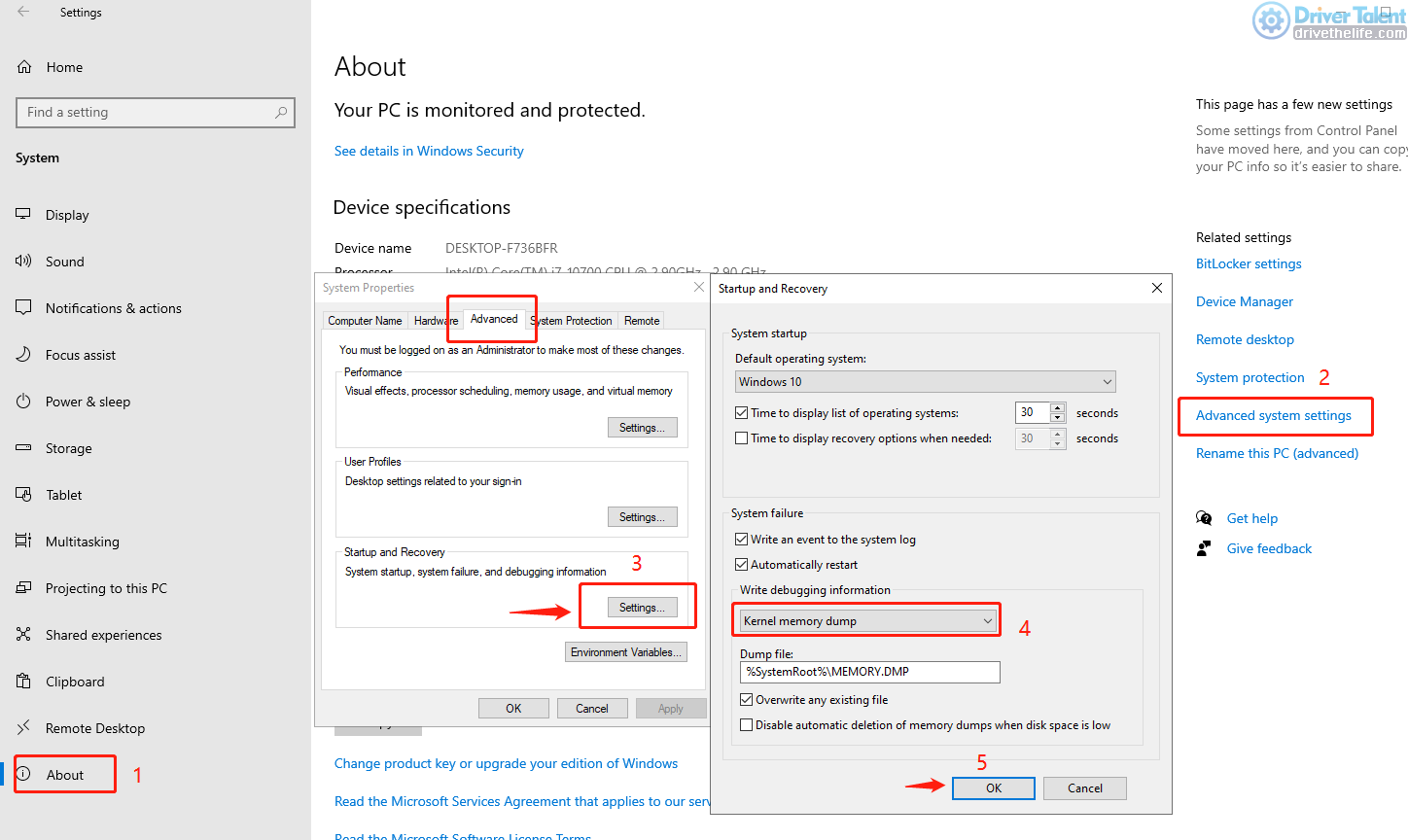 4.1) Open "Start" menu in your Windows, click on "Settings", click on "System".
4.2) Click on the "About" tab on the left side, and then click "Advanced system settings" on the right side.
4.3) Open "Advanced" tab under the "System Properties", and find "Startup and Recovery". Click on the "Settings..." button to open it.
4.4) Find "Kernel memory dump" in the list under "Write debugging information".
4.5) Other settings can remain as the system default, or change according to the settings in the screenshot.
4.6) Click on the OK button to save changes.
Note: After completing the Step 4.1 to Step 4.6, Windows will record the blue screen information under the C:\Windows\MEMORY.DMP when the blue screen of death error happens again. You can send the MEMORY.DMP file to us so that we can analyze the causes of the error and fix it for you for free.
Read more:

1. How to fix This Device Is Not Configured Correctly (Code 1)
2. How do I fix Bluetooth driver errors (Code 43) in Windows 11?

3. How to Fix Unable to Connect to NVIDIA to Update Driver in Windows?

4. Top 3 Ways to Update Dell Drivers for Windows 11

5. Download AMD Software Adrenalin 22.4.1 for Unreal Engine 5.0

6. How to Update Drivers in Windows 11 for Free
Recommended Download