How to Fix CHKDSK /F/R Not Working after Windows 10 Creators Update
Jun. 24, 2022 / Updated by Wendy to Windows 10
There are more and more complaints on CHKDSK /F/R not working after Windows 10 Creators Update, version 1703 in major forums and social platforms. CHKDSK /F/R doesn't run at endless reboots. Neither does the CHKDSK /F /R/X command and other parameters.
CHKDSK (check disk), as the Microsoft's hard disk scanning and repair utility, facilitates Windows users for many years on scanning and fixing logical file system errors. CHKDSK /F, F (fix) parameter tells CHKDSK to fix any errors it finds. When running CHKDSK /R, R (repair) tells it to scan the entire disk surface for bad sectors and attempt to repair them. As for X, it forces the drive to dismount before the process starts. For more parameters details, please check Microsoft's TechNet site.
Read More: How to Use CHKDSK Command to Check Disk Error in Windows
How to Fix CHKDSK /F/R Not Working Issue for Windows 10 Creators Update
To get rid of CHKDSK /F/R doesn't working dilemma and get the CHKDSK function back, you could follow the tricks as below.
1. Check the Registry Entries to Fix CHKDSK /F/R Doesn't Run Bug
Before you modify the registry entries, it is recommended that you back-up your registry first, just in case of any further computer issues like Blue Screen of Death, black screen, etc.
• Use the Windows shortcut keys Win+R to open Run command, type regedit and then hit Enter.
• Locate the values:
HKEY_LOCAL_MACHINE\SYSTEM\ControlSet\Control\Session Manager\Bootexecute
• Check whether the BootExecute is Autocheck autochk* as it should be by default. If not or it might shows Autocheck autocheck /?? C: Autocheck autochk*, right-click on BootExecute and choose Modify to change it.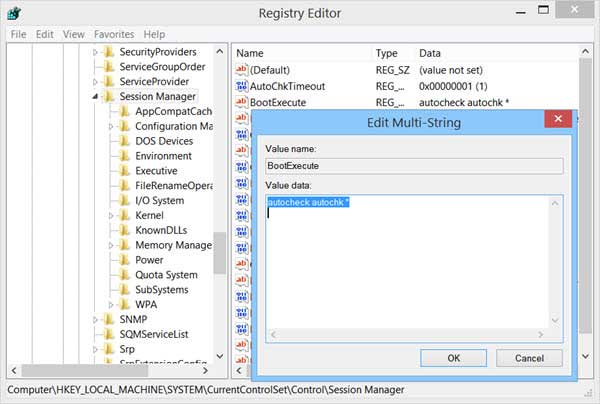 • Change the value to its Default, and click OK.
Now try running Check Disk command again to checkout if the problem fixes.
2. Run SFC to Troubleshoot CHKDSK Issues on Windows 10 Creators Update
There is also likelihood that your autochk.exe file situated in the system32 folder gets corrupted which causes the CHKDSK /F/R or CHKDSK /R not working status. RunSystem File Checker could help to find the corrupted autochk.exe file and then replace it with a good one automatically.
• Launch Command Prompt (Admin) from the Jump List.
• Type SFC /scannow into the dialog box and hit Enter.

• System Files Checker will then scan all protected system files. If there are corrupted autochk.exe files, it will replace them with a cached copy located in a compressed folder.
3. Replace the Corrupted Autochk.exe File
If the SFC command fails to repair corrupted autochk.exe, you can copy the old autochk.exe file package from previous Windows OS and replaced the new one (the new one refer to the one installed on Creators Update). In this case, you will have to modify ownership .
4. Run System Restore to Fix CHKDSK Not Working Issue
If after all the above efforts, CHKDSK /F/R not working issue still persists, you could consider using system restore as the troubleshooter. System Restore helps you to fix your CHKDSK malfunction problems by recovering system files and settings to the normal functioning state. If you don't know how to perform system restore, refer to How to Use System Restore to Fix Windows 10 Issues.
Note: It is recommeded to back up your drivers before performing system restore with Driver Talent in case of any unexpected driver issues. Follow below steps.
Click below button to get Driver Talent first.
• Turn to the Backup menu on Driver Talent.
• Check the drivers you need to backup.
• Click Start to backup the drivers.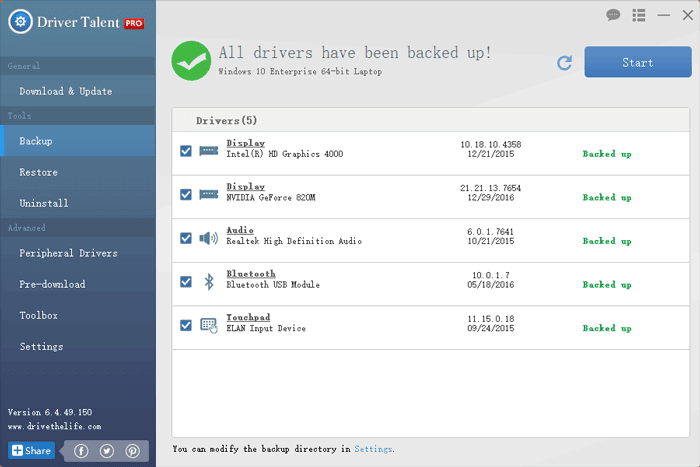 Hope you find the 4 methods above helpfully for you to get rid of CHKDSK /F/R not working after Windows 10 Creators Update. Your supplementary fixes on resolving CHKDSK hitches on Windows 10 are warmly welcomed. Please share us in below comment section or in our OStoto official forum.
Recommended Download