Top 5 Ways to Repair Driver Error Code 31 on Windows 10/8/7
Jun. 24, 2022 / Updated by Bessie Shaw to Windows Driver Solutions
Driver code 31 error is one of scores of device manager errors that will appear in the device status in device properties. The full error message is "This device is not working properly because Windows cannot load the drivers required for this device. (Code 31)". It caused by reasons that prevent Windows loads the drivers for the hardware properly.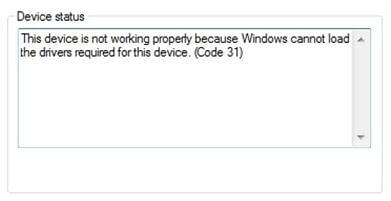 Any of your devices could experience this code 31 error. But it appeared more frequently on network adapters, display adapter and optical drives such as CD and DVD drives. If it happened to your network adapter, please go to this article to fix your network driver error code 31. The methods demonstrated in this article is applied to Windows 10, Window 8.1/8, and Windows 7.
How to Fix Driver Error Code 31?
The code 31 error is mainly related to driver problems. Common driver issues such as outdated driver, missing/corrupted driver, and driver configured incorrectly could result to this issue. To resolve the code 31 error, you have different ways. For different causes, the method may vary. Try the methods one by one.
Method 1: Update/Reinstall the Device Driver
You can update/reinstall your driver using the Windows Update wizard or driver update software.
Update/Reinstall driver using Hardware Update wizard:
1. Click Start menu, search for device manager and press enter to open Device Manager.
2. Locate the device and right-click it in the list.
3. Choose "Update Driver Software" to start the Hardware Update wizard.
Note: If you are asked to provide the path of the driver and you do not have it, you can try to download the latest driver from the hardware manufacturer's website.
Update/Reinstall driver using Driver Update Software:
Here we take Driver Talent as the example to illustrate the steps of updating/reinstalling your device driver.
1. Download and install Driver Talent on your computer.
2. Click Scan to check your driver status.
3. Click the corresponding button on the software to update or reinstall the driver for your problematic device.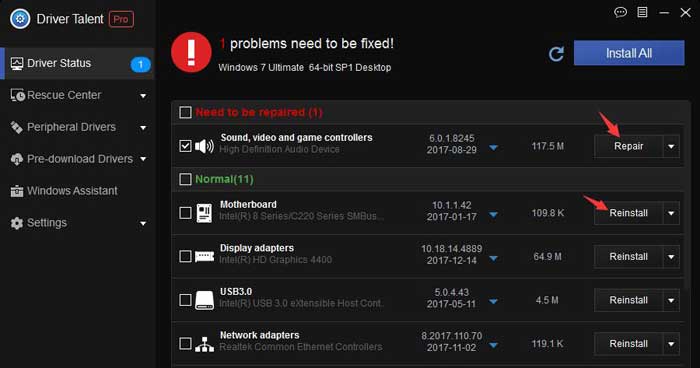 4. Reboot your computer to let the driver change take effect.
Method 2: Repair Registry Entries to Fix Error Code 31
To manually repair your Windows registry, first you need to create a backup by exporting a portion of the registry. Follow the steps below:
1. Press Win logo key and R key simultaneously to open the Run box.
2. Input "regedit" and press Enter key to open Registry Editor.
3. Navigate to HKEY_LOCAL_MACHINE\SYSTEM\CurrentControlSet\Control\, and next choose the device that you want to make changes. For example, if you need to change registry entries for display adapter, you may choose Video, and right click it. Choose "Export", name and save it.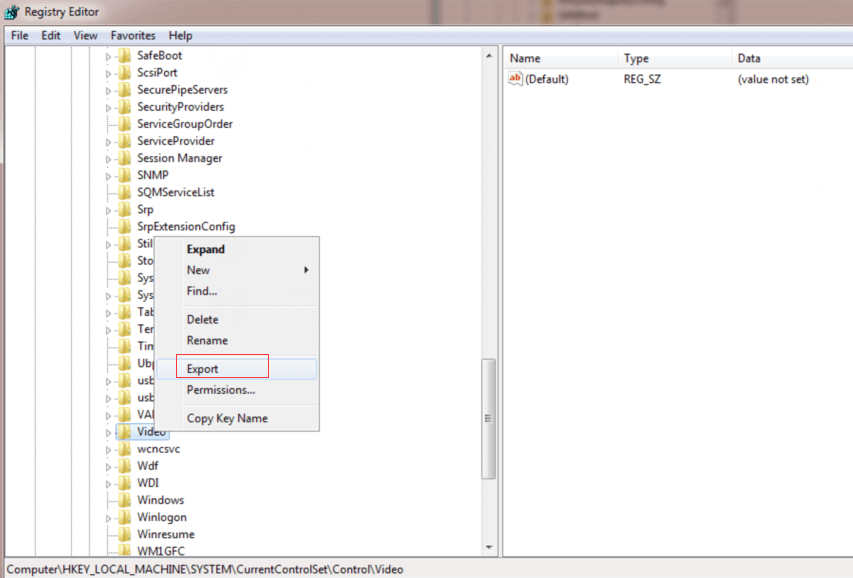 Note: If you are not sure what to backup, choose to backup the entire registry entry.
Please note that incorrectly editing your registry can stop your PC from functioning and bring irreversible damage to your operating system. So be careful if you edit the registry by your own. If you need to edit the registry, follow the steps demonstrated on the method 2 of this page: Fix Error Code 39. And please be sure that you do the operation at your own risk.
Method 3: Undo Recent Changes Using Windows System Restore
If you made system restore point before, you can restore your computer to the point before the error code 31 occurred. It takes your computer back to the time when everything was working fine.
Refer to this article to use system restore to fix Windows issues.
Method 4: Reinstall the Windows Operating System
If the driver code 31 error still persists after trying the methods given above, you may try to do a clean install of your Windows. A clean install of Windows is the right way to go when all other troubleshooting you've tried has been unsuccessful and you want to install or reinstall a "clean" copy of Windows back on your computer. Refer to this guide to do a clean install of Windows.
Method 5: Replace the Hardware
The worst thing is that a whole reinstall of your Windows cannot even fix the code 31 error. Then you may consider buying a new device or sending your computer to repair store.
Warm tip: If your computer is in guarantee period, you can contact the vendor for help for free.
If you fixed the issue with one of the methods, or discover other fix for the driver code 31 error, please don't hesitate to share it with us in the comments below. Of course, if you have any questions or concerns, please feel free to tell us and we'll see what we can do to help.
Recommended Download