How to Fix USB Device Code 47 Error in Device Manager
Jun. 24, 2022 / Updated by Bessie Shaw to Windows Driver Solutions
Code 47 error is one of the common device manager code errors generated for peripheral devices. The full error message is Windows cannot use this hardware device because it has been prepared for "safe removal", but it has not been removed from the computer. (Code 47) To fix this problem, unplug this device from your computer and then plug it again.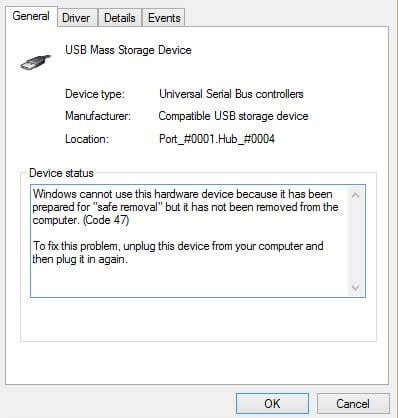 What Caused Error Code 47?
Normally, it is a safe and correct operation to use the "Safely remove hardware and eject media" option when you want to disconnect a plugged USB device off your computer. Contrarily, it is not recommended to directly pull a USB device out since it may corrupt your files or lose data.
However, sometimes the process to "safely remove" device itself causes a problem when it becomes hung, and Windows will generate a code 47 error for it. Any reasons that would make the device hung would be a cause of the code 47 error. Some common causes are listed as below:
1. Incorrectly configured or corrupted device driver.
2. Corrupted Windows registry entries due to a recent read-and-write change (incomplete software install or uninstall).
3. Faulty hardware device.
How to Fix Error Code 47 on Windows?
Like any other device manager error codes, it is easy to fix the code 47 error. The first fix should be the one explained in the error message "To fix this problem, unplug this device from your computer and then plug it again".
Method 1 - Unplug and Replug the Device
Unplugging and plugging the USB device will help refresh the system. When you plug the device to your computer again, Windows will load the driver files for this device. So there is a chance that all the files configured correctly and your device functioned properly after that.
Method 2 - Uninstall and Reinstall the Device Driver
You can uninstall the device driver easily from device manager. Just open device manager locate the device in question, and right click it to "Uninstall".
After that, you may restart your computer to automatically reinstall the driver, manually download the driver from manufacturer's website, or use 3rd party driver updating software to reinstall the driver. Let's take Driver Talent as the example to show you how to reinstall the software with third party driver updating software.
Step 1: Download Driver Talent, and install it on your computer.
Step 2: Click "Scan" to check all your drivers.
Step 3: All the drivers should be listed by status "Need to be repaired", "Updateable", and "Normal". Find the device in question.
Step 4: If the device in question is not listed in the "Driver Status" tab, please go to "Peripheral Drivers > USB Drivers" tab.
Step 5: Click the button to repair, update or reinstall the driver.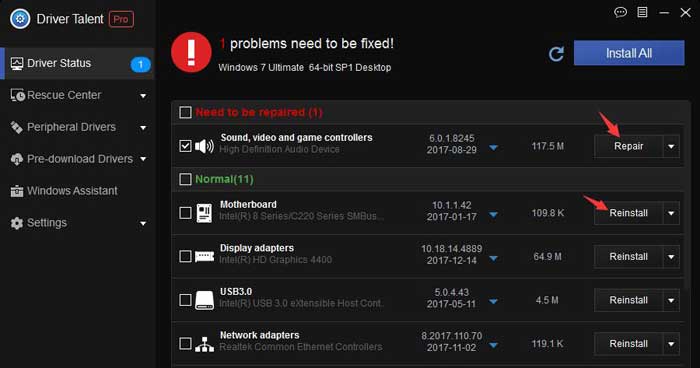 Method 3 - Check If the Device is Broken
If the problem persists after you tried the above 2 methods, you may need to check if it is a broken USB drive. To make it clear, you can plug your device to another working computer. If there is no error on that computer, your USB device is not broken.
That's all. I you find other fixes to repair the error code 47 for your USB flash drives, please don't hesitate to let us know in the comments below.
Below are some other error codes related articles:
Fix "This Device Is Not Configured Correctly (Code 1)"
[Fixed] Error Code 12 Generated by Device Manager
3 Ways to Fix Network Adapter Error Code 31 in Windows 10
More: Error Code Archives
Recommended Download