Fix STATUS_SYSTEM_PROCESS_TERMINATED BSOD Error
Jun. 24, 2022 / Updated by Bessie Shaw to Windows Driver Solutions
"The STATUS_SYSTEM_PROCESS_TERMINATED bug check has a value of 0xC000021A" error on Windows 10, Windows 8.1, Windows 8, Windows 7, Windows Vista and Windows XP indicates that an error has occurred in a crucial user-mode subsystem.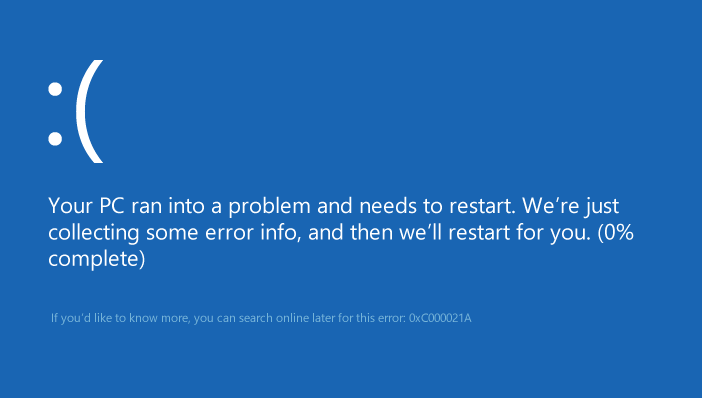 In What Circumstances Does Stop 0xC000021A Error Occur
The Stop 0xC000021A error which always comes with Blue Screen of Death (BSoD) appears when Windows switches into kernel mode and a user-mode subsystem, say Winlogon.exe or Client Server Runtime Subsystem (Csrss).exe fails to run. Since Windows can't run without Winlogon or CSRSS, it stops the system and raises the Stop message, 0xC000021A.
STATUS_SYSTEM_PROCESS_TERMINATED stop 0xC000021A error message may also pop when a PC reboot is performed after the system administrator permission has been modified. Then the System account no longer has permissions to access specific system files which lead to STATUS_SYSTEM_PROCESS_TERMINATED situation eventually.
Read more: Fix Blue Screen after Windows 10 Update Issues
What Causes the STATUS_SYSTEM_PROCESS_TERMINATED Error on Windows 10/8.1/8/7/Vista/XP
This status system process terminated problem may be caused by various factors. Among them are the following most common ones.
• Incompatible third-party programs.
• Mismatched, missing or corrupted system files.
• Outdated, broken or corrupted device drivers.
• Driver conflict after Windows operating system upgrade or installing new hardware.
How to Resolve STATUS_SYSTEM_PROCESS_TERMINATED Error
Since the STATUS_SYSTEM_PROCESS_TERMINATED malfunction arises in a user-mode process, it can't be solved by using the kernel debugger. Following the below solutions to wipe out the annoying 0xC21A error.
Reinstall/Remove Third-party Programs
In most case, stop 0xC000021A message is caused by incorrect third-party applications since the software or drivers may have compatibility issues. Try to reinstall, remove or uninstall them if the blue screen death error STATUS SYSTEM PROCESS TERMINATED occurs after you install or update any new software, devices drivers, system service, etc..
See Also: Fix Driver or Software Compatibility Issues
Use System File Checker with the Scannow Option (SFC/Scannow) to Check System Files
Mismatched system files can also cause 0xC000021A error. This happens quite often if you restore your hard disk from a backup, for sometime backup programs might skip restoring system files which are in use.
If you are happened to have restored your hard disk from a backup, turn to the manufacturer of the backup or restore programs and check if there is any updated version for them.
To check up and fix missing or corrupted system files, you could use Windows System File Checker to scan for corruptions in your system files that may trigger in STATUS_SYSTEM_PROCESS_TERMINATED status. See How to Fix Corrupted System Files with SFC /scannow in Windows 10/8.1/8/7/Vista/XP.
Update Drivers to Fix STATUS_SYSTEM_PROCESS_TERMINATED Error
Drivers issues (outdated, missing, faulty or incorrect drivers) can often lead directly to various computer problems, the blue screen stop message STATUS_SYSTEM_PROCESS_TERMINATED is undoubtedly included. To rule out that the problematic drivers result in headache 0xC000021A error, you'd better make sure all your drivers are well-matched with each corresponding devices.
To save your time from finding the exact device drivers that induces status system process terminated trouble and fix them, it is recommended you update drivers with a reliable driver updater utility, like Driver Talent, a popular driver update and management tool, fix all the drivers related computer issues in a flash.
Click the button to grab Driver Talent and follow the 3-step below to get rid of 0xC000021A error.
1. Identify Driver Issues
Launch Driver Talent to scan for the problematic drivers. All the incorrect driver issues will show to you within seconds.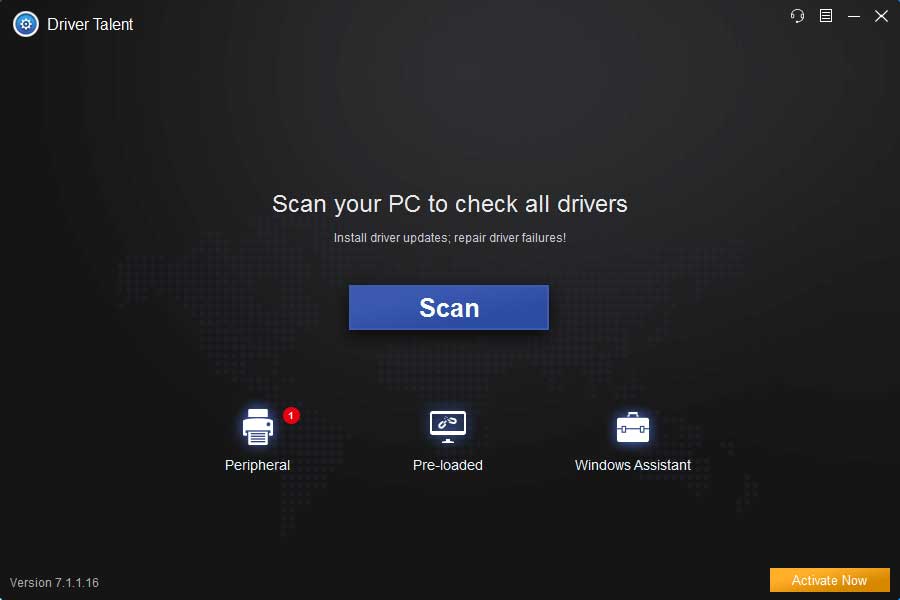 2. Download and Update the Best-matched Drivers
Click "Repair" to download and install the best-matched driver automatically. Or update them to the latest version by clicking "Update".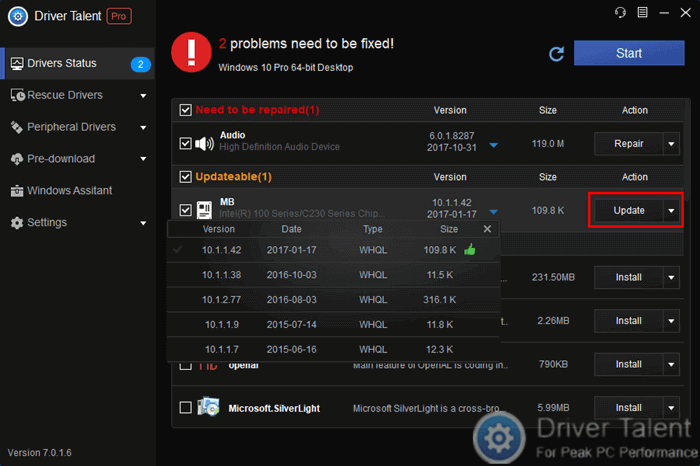 Notes: It is NOT recommended to keep the drivers up-to-date all the time, for doing so may lead to driver conflicts.
In case you need to roll back to a specific driver version later, you'd better back up drivers and create a restore point with Driver Talent before updating any driver.
3. Reboot Your PC
Restart your computer and reinstall Dolby Digital Plus or Dolby Home Theater software to make the updated Dolby audio drivers take effect.
Note:Apart from drivers downloading and updating, Driver Talent comes with more advanced features, such as drivers download for another computer, PC speed up, VR support check, etc..
Use System Restore to Troubleshoot 0xC000021A Error for Windows 10/8.1/8/7/Vista/XP
System Restore helps to fix your Error 0xC000021A problem by recovering system files and settings to the normal functioning state. You might as well have a try to troubleshoot the STATUS_SYSTEM_PROCESS_TERMINATED malfunction. You can refer to system restore to make a system restore point.
Wish this post hopefully helps you dispose of 0xC21A STATUS_SYSTEM_PROCESS_TERMINATED Error for Windows 10/8.1/8/7/Vista/XP. Leave comment below for further assistance if you still have confusions about the stop 0xC000021A error.
Recommended Download