4 Fixes for Whea Uncorrectable Error BsoD in Windows 10
Jun. 24, 2022 / Updated by Bessie Shaw to Windows 10
The whea uncorrectable error (error code: 0x00000124) is one of the annoying BSoD bug checks after you have your OS upgrade to Windows 10. In this case, you often get a blue screen whenever you're using the computer or wake up the device from sleep. Sometimes, you cannot enter the desktop when you get the whea uncorrectable error.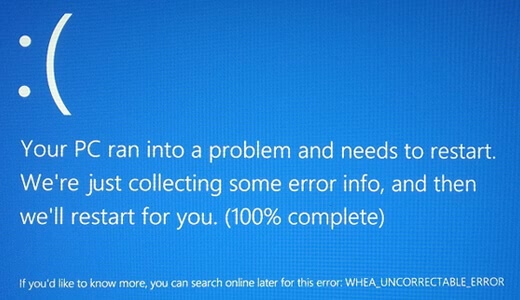 Main Causes of Whea Uncorrectable Error
There are two main reasons that cause the BSoD whea uncorrectable error in your Windows 10.
Hardware Issues
Defective or hardware, like damaged hard disk, incompatible drivers, failed processor, etc. can result in this bug check. For example, after the Windows 10 upgrade, the improper graphics card or driver doesn't support the OS and has to notice you this by a blue screen.
Uncalculated System Overclocking
Components running at a higher speed than it was designed to run will overheat the machine and cause the whea uncorrectable error blue screen.
Solutions for Windows 10 Whea Uncorrectable Error
We've had some tips for you to resolve this bug check.
Note: If you fail to enter the Windows 10 desktop normally, you can enter the Safe Mode with following method:
1. Hold the power button to shut down from the blue screen. Repeat this over 3 times until you see the Recovery screen.
2. Click on the button See advanced repair options >Troubleshoot >Advanced options >Windows Startup Settings >Restart.
3. Press F4/F5 to Enter Safe Mode (with Networking).
Method 1. Use Check Disk Utility to Fix Hard Drive Disk Errors
You can use CHKDSK command to check disk error in Windows 10. This will scan the disk volume and its sectors for logical file system errors and bad sectors.
1. Use Windows shortcut keysWin + X to launch the Jump List. Then select Command Prompt (Admin).
2. Type the command line CHKDSK /F into the dialog box.
3. Hit the Enter key.
Then it will run the CHKDSK program to check and fix the current drive. After the checking finishes, restart to see if the whea uncorrectable error blue screen still persist. If so, go on the reading.
Method 2. Perform a Windows Memory Diagnostic
Windows Memory Diagnostic is a built-in feature in Windows 10. You can run this utility to identify and diagnose problems with memory and fix whea uncorrectable error bug check.
1. Use shortcut keys Win + R to launch Run.
2. Type into mdsched.exe and press Enter.
3. Click Restart now and check for problems.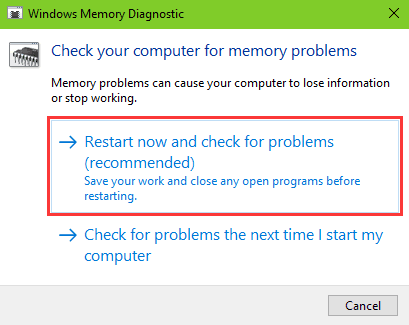 Windows Memory Diagnostics will automatically run and perform a memory test. If there are any errors, search for solutions and fix it.
Read More:How to Fix 100% Disk Usage after Windows 10 Upgrade
Top 10 Ways to Fix High CPU/RAM//Memory Usage after Windows 10 Update
Method 3. Repair Faulty Drivers to Fix Whea Uncorrectable Error Blue Screen
The whea uncorrectable error BSoD can be caused by incompatible drivers. Besides, improper drivers also result in system problems like graphics error 43, random restarts, Windows 10 slow boot, etc. If you suspect it is some faulty drivers that cause the blue screen, you can go to Device Manager and check whether there are yellow exclamation marks beside the device names. Or you can just use Driver Talent to help you fix the driver problem in Windows 10. Click the button and follow the steps bellow to fix the issue.
1. Click on the Scan to detect all the faulty drivers on your PC.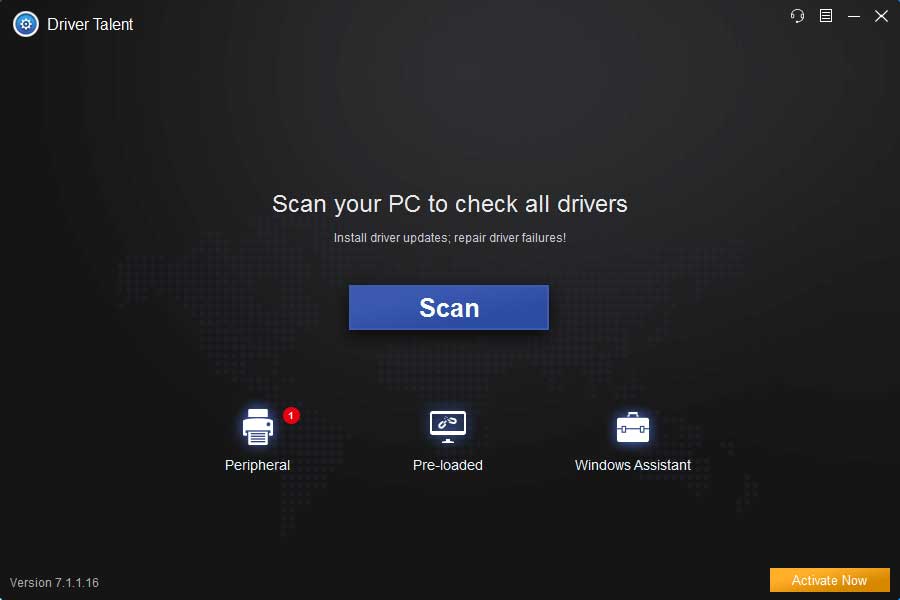 2. Click Repair to fix defective drivers. It will reinstall the best-match drivers for your Windows 10.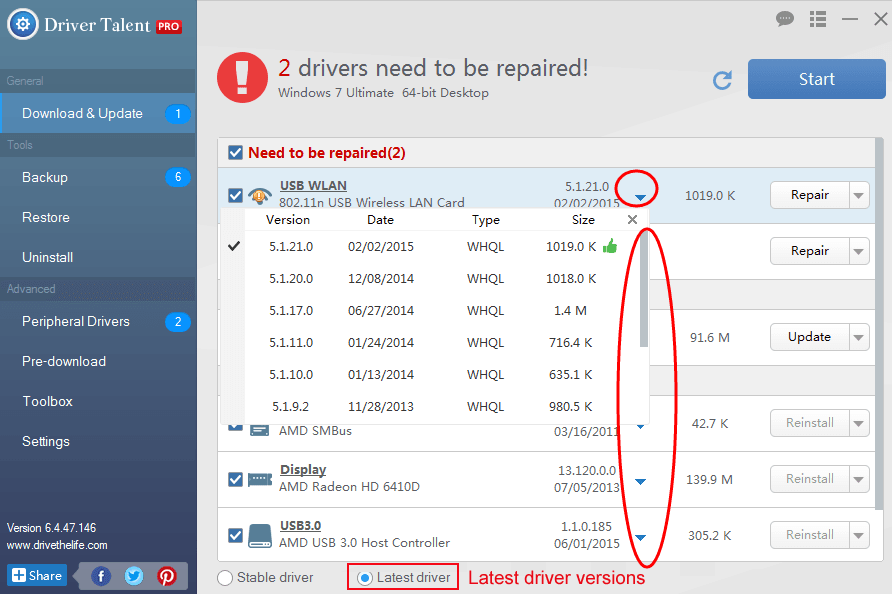 3. Restart the computer to make the driver changes take effect properly.
Note: It is better to backup drivers before any driver changes in case system crashes occur suddenly.
Method 4. Modified System Overlocking
If it is the overlocking issue that causes the whea uncorrectable error in Windows 10, then you can follow the steps below to fix the issue.
1. Enter BIOS. (Click here to see how to enter the BIOS configuration.)
2. Go to the Advanced tab and then navigate to Performance.
3. Find Overlocking and disable it.
4. Hit F10 to save the changes and then exit BIOS to boot into Windows 10.
This will help you get rid of the BSoD whea uncorrectable error.
That's it. Hope at least some of these workarounds are helpful for you to fix the Windows 10 whea uncorrectable error blue screen issue. If you have any questions or other solutions for this BSoD problem, just reach for the comment section below and tell us. Check for more solutions in Windows 10 Issues and Fix if you encounter other Windows 10-related issues.
Recommended Download