How to Fix Windows 10 Anniversary Update Failed Installs
Jun. 24, 2022 / Updated by Bessie Shaw to Windows 10
A number of Windows users have been reporting the Windows 10 Anniversary Update failed installs issue. If you happen to meet failing installation of Windows 10 Anniversary Update, error codes like 0xa0000400, 0x80070057, 0x80070005, or if the upgrading process simply freezes, you may use the methods below to troubleshoot these issues till them fixed.
Method 1. Run Microsoft's Troubleshooter to Fix Windows 10 Anniversary Update Failed Installs
Microsoft's Troubleshooter, the built-in Windows program, which can help to fix updates error in a simple way.
1.Type Troubleshooting in the search box.
2.Select View all.
3.Select Windows Update.
4.Run the troubleshooter.
Method 2. Delete Downloaded Windows 10 Anniversary Update Folder Files to Fix Installation Fails
If Windows 10 Anniversary Update gets stuck or refuses to install, something goes wrong with the file itself. Thus you should clean the folder thoroughly where all the Windows 10 Anniversary update files are stored to force Windows Update to download a fresh version.
1.Go to driver C: \Windows\SoftwareDistribution\Download
2.Press Ctrl + A and choose Delete to remove all the files inside the folder (but don't delete the folder itself).
3.Restart your computer.
4.Download the Windows 10 Anniversary Update build again to install it.
Method 3. Use the System File Checker Tool to Fix Windows 10 Anniversary Update Failed Installs
Hard disk or Windows operating system errors can also lead to Windows 10 Anniversary Update stuck in the midway or installation failure. To rule out that possibility, you can use the Check Disk Command, DISM, and System File Checker utilities. Besides, run the System File Checker utility to scan your system to fix possible broken Windows operating system files:
1.Press the Windows shortcut keysWin + X >Command Prompt (Admin).
2.Type CMD and right click on it.
3.Choose "Run as Administrator".
4.Type sfc or scannow at the Command Prompt.
5.Restart your computer after the scan completes.
If the Windows 10 Anniversary Update still stuck around or failed to install, repeat the above steps to try a few more commands as below:
•Dism /Online /Cleanup-Image /CheckHealth
•Dism /Online /Cleanup-Image /ScanHealth
•Dism /Online /Cleanup-Image /RestoreHealth
Method 4. Update Your Drivers before Upgrade to Windows 10 Anniversary Update
Driver issues can always affect or damage the performance of your computer, any outdated, missing or corrupt drivers may possibly result in Windows 10 Anniversary Update stuck or installation failure.
A professional driver updater utility like Driver Talent is highly recommended to download and update your drivers in a flash.
Click the download button below to get Driver Talent directly.
Step 1. Scan Your Problematic Drivers
Click "Scan" to let Driver Talent make a safe driver's detection.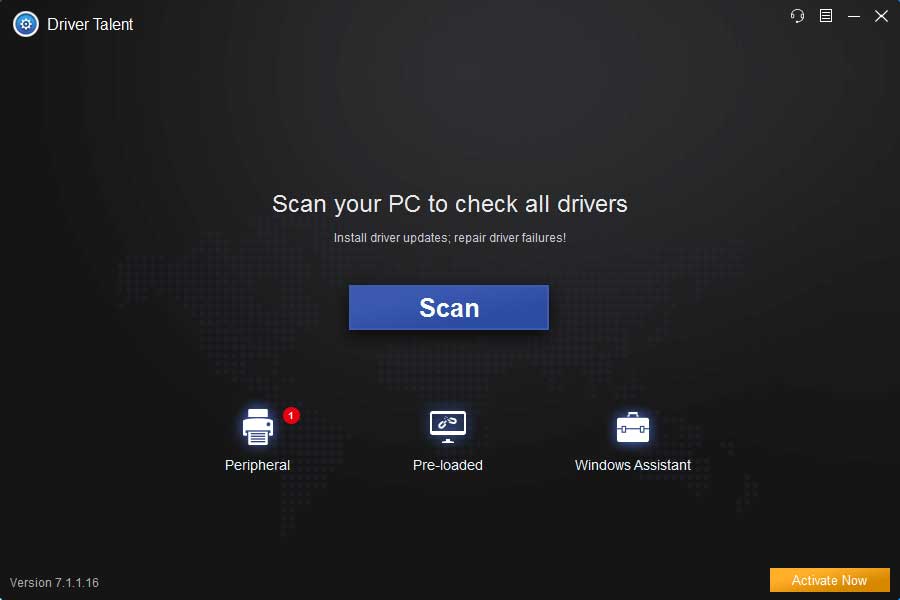 Step 2. Repair and Update Drivers
After the scan, all the faulty drivers will be listed. Click "Repair" to download and install the appropriate drivers on Windows 10 Anniversary Update or click "Update" to keep drivers up to date. But it is suggested that don't update drivers when they are not broken.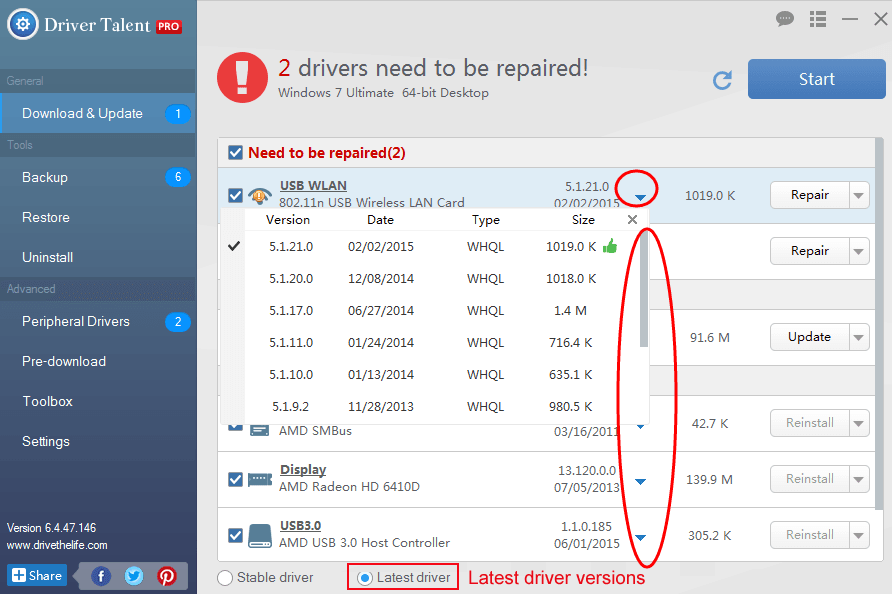 Step 3. Reboot Your PC
Perform a PC restart to make new drivers on window 10 Anniversary Update come into effect.
Note: To avoid possible driver crashes, you'd better backup drivers before installing new drivers.
Moreover, Driver Talent comes with more functions, such as drivers restore, system restore, hardware detection, PC speed up, VR support check, etc.
Method 5. Disable Antivirus Program before Windows 10 Anniversary Update
Antivirus programs or software can trigger Windows updating errors. Therefore, bear in mind that always keeps your anti-virus software disabled before updating to new Windows OS.
You may also want to check out:
Windows 10 Update Failed – Top 10 Windows 10 Upgrade Failure Errors and Fix
How to Use Windows 10 Clean Boot to Fix PC Errors
Any complementary fixes on Windows 10 Anniversary Update stuck or installation failure issue are welcomed. Pease comment below to share with us.
Recommended Download