Top 5 Methods to Fix XINPUT1_3.DLL Missing on Windows10/8.1/8/7/Vista/XP
Jun. 24, 2022 / Updated by Bessie Shaw to Gaming Solutions
XINPUT1_3.DLL missing circumstances, error prompt "The program can't start because MSVCP120.DLL is missing from your computer. Try reinstalling the program to fix this problem", appears frequently when you are trying running a game or other software program. You may also receive the pop-up notification as below:
• The xinput1_3.dll is missing.
• Xinput1_3.dll error loading
• Xinput1_3.dll Not Found
• Xinput1_3.dll could not be located
• Xinput1_3.dll Access Violation
• Cannot register xinput1_3.dll

Why Xinput1_3.DLL Errors Occur
Xinput1_3.DLL missing errors often caused by Microsoft DirectX related issues. You may suffer missing Xinput1_3.DLL problems if you haven't installed Microsoft DirectX on Windows 10, Windows 8.1, Windows 8, Windows 7, Windows Vista or Windows XP.
The xinput1_3.DLL file is a subset belongs to DirectX software collection. And DirectX is utilized by most Windows based games and advanced graphics programs like Photoshop. Thus xinput1_3.DLL not found errors show up when these programs are started.
How to Fix XINPUT1_3.DLL Not Found Error on Windows OS
To fix the Xinput1_3.DLL missing or not found errors, there are 5 top solutions as below step-by-step instruction lists. You can adopt either of them to repair Xinput1_3.DLL file and Microsoft DirectX software package.
Method 1. Update Microsoft DirectX on Windows
As mentioned above, the deficiency of DirectX setup files are the most common causes for XINPUT1_3.DLL loading error. Microsoft releases DirectX updates from time to time without updating the version number or letter. Thus make sure to install the DirectX latest release from there to overlay the old one even if the version is technically the same.
Note: There is no difference among Windows 10, 8, 7, Vista, XP, etc., DirectX installation package supported Window OS all the same.
Method 2. Reinstall Microsoft DirectX
Assuming the latest DirectX version from Microsoft doesn't work for troubleshooting the XINPUT1_3.DLL error, you might as well turn to your game's developer or the application CD or DVD. Since performing based on DirectX, they usually include a copy of DirectX on the installation disc. Look for the DirectX installation program from them to figure out the annoying XINPUT1_3.DLL issues.
Method 3. Update Your Graphics Driver to Fix XINPUT1_3.DLL Missing Problem
Broken, outdated drivers may lead to XINPUT1_3.DLL related hitches, especially incorrect video card drivers, for that issue often shows up in a video game or other program.
To rule out that likelihood, you might as well update your graphics drivers. Driver Talent, a professional automatic driver management utility, could help to fix all the driver-related computer issues. Click the button below to get that free fix.
Follow the 3 easy steps to download and update display drivers.
Step 1. Scan for Problematic Drivers
Click "Scan" and Driver Talent will find all the incorrect Windows drivers.

Step 2. Download and Update Graphics Drivers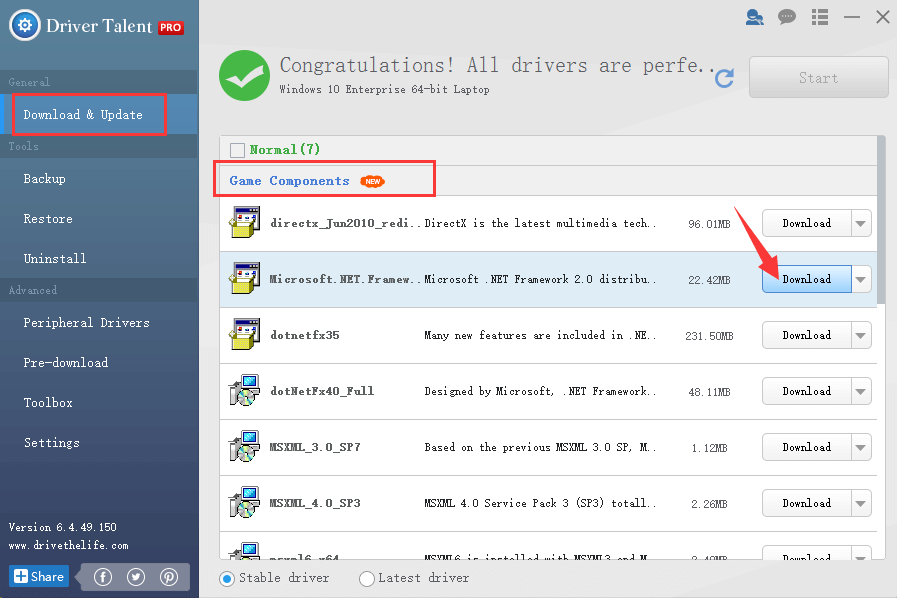 Click "Repair" to download and install the best-matched display driver or click "Update" to get the latest version. Both of the two choices will replace the old incompatible drivers which cause XINPUT1_3.DLL missing glitches.
Step 3. Reboot Your PC
Restart your computer to make the updates take effect.
Notes: Apart from downloading DLL file, Driver Talent comes with more premium features, such as drivers backup, create a restore point before installing new drivers, PC speed up, VR support check, drivers download for another computer, etc.
If Driver Talent shows no problematic drivers to you, implement below solution.
Method 3. Download XINPUT1_3.DLL to Repair the XINPUT1_3.DLL File Missing Bug
Notes: Before you searching for XINPUT1_3.DLL download file from any website, please try restarting your computer first and then reopen the program with which you met missing XINPUT1_3.DLL issue, for that error could be an accident and simple reboot could hopefully clear it up.
To get the free XINPUT1_3.DLL download, you can Google for XINPUT1_3.DLL file which is not alway that safe to do so. What's more, you need to copy the file to the installation folder or the Windows system folder. Be careful not to download the DLL file infected with the virus. Reboot your computer and then check whether the XINPUT1_3.DLL issue persists.
If you prefer am easier way to do so, Driver Talent can help you to repair XINPUT1_3.DLL file missing glitch. Follow below steps.
• Select "Dll File Helper" under the "Toolbox" menu and then click "continue" to download the Dll file helper tool.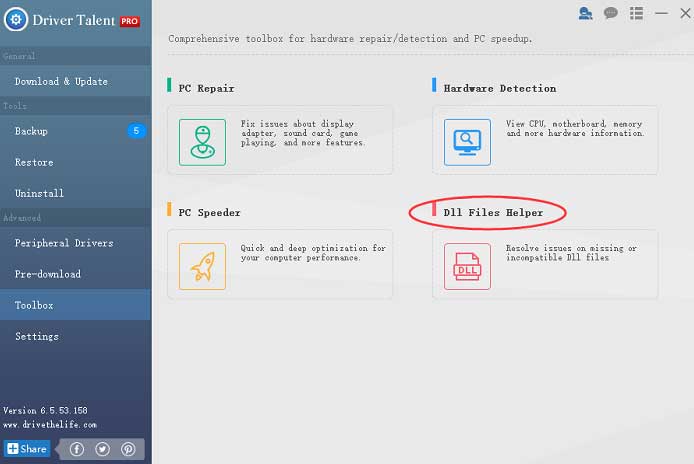 • Type in the name of the missing .dll file, XINPUT1_3.DLL and then click "Search".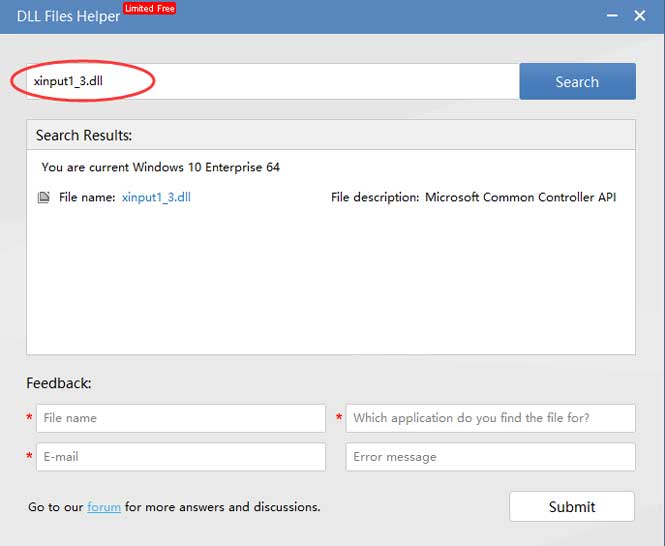 • Then click "Repair" to fix the missing XINPUT1_3.DLL error.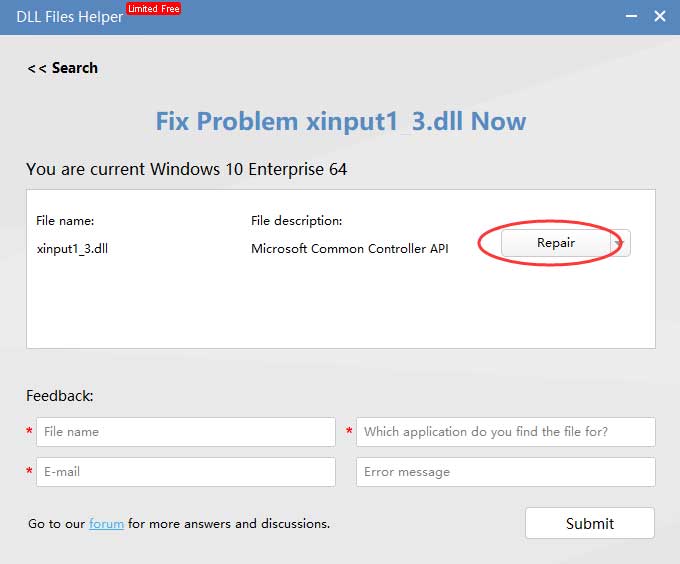 Note:
Apart from repairing XINPUT1_3.DLL not found issue, Driver Talent fixes more missing .dll file , such as the openAL32.dll, physXloader.dll, ATL80.dll, mfc80.dll, mfc80CHS.dll, mfc80CHT.dll etc.
If there is no "Missing XINPUT1_3.DLL" item, expand "Game components" section under "Download & Update" menu to find the XINPUT1_3.DLL file package. And then Click "Download" to get it. Copy the file to the install directory of the program.
Method 5. Uninstall the Game or Software Program and then Reinstall
If above ways failed to resolve XINPUT1_3.DLL malfunction, try uninstalling the game or software program and then reinstalling it.
With the above 5 fixes, your program or game should be running normally then. Leave us comments in the commenting section below or via OStoto official forum if the missing XINPUT1_3.DLL malfunction Windows10/8.1/8/7/Vista/XP still exists. We will come to you in the first time.
Recommended Download