How to Disable Cortana in Windows 10 Completely
Sep. 12, 2018 / Updated by Bessie Shaw to Windows 10
Cortana, the Windows 10 built-in digital assistant, function intelligently from searching the web, showing notifications to setting calendar reminders and other specialties. While how to disable Cortana in Windows 10 after Windows 10 Update aroused quite a stir since Microsoft has removed the ability to turn off Cortana on. Security-conscious users might be wary of the AI assistant, Cortana, gathering too much personal data although it does bring convenience. It feels like someone keeps spying on you. Luckily, still there are some workable solutions to disable Cortana process completely on Windows 10. Below is how.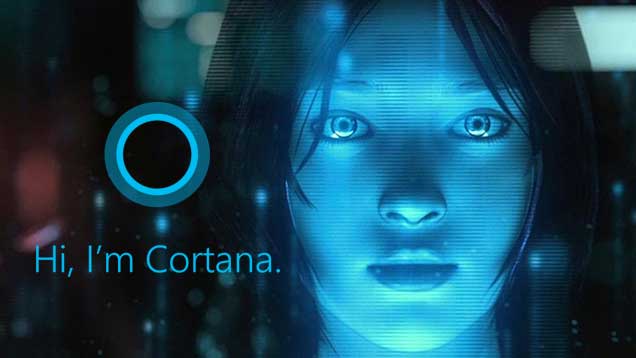 See Also:How to Upgrade to Windows 10 from Window 8.1/8/7/Vista/XP
How to Free Download and Upgrade to Windows 10 Creators Update
Notes: If you want to remove Cortana on Windows 10 Home, refer to method 1.
If you are Windows 10 Professional or Enterprise users, aiming to turn off Cortana notifications disable Cortana services you should go directly to method 2.
Method 1. Disable Cortana in Windows 10 Home via Registry
If you are using Windows 10 Home, disabling Cortana in Windows 10 Home through Windows Registry might be the best way. Now follow the instructions to turn off Cortana for Windows 10 Home computer.
Notes: It is highly RECOMMENDED to backup your registry and other important data before modifying Registry Editor in case of system crashes, which could lead to Blue Screen of Death , black screen , etc.
You'd better create a restore point in advance. Since Windows will probably install the Anniversary Update automatically, you could roll back to Windows 10 if you don't like it.
• Use the Windows shortcut keys Win+R to open Run command, type regedit and then hit Enter.
• Follow the path:
HKEY_LOCAL_MACHINE\SOFTWARE\Policies\Microsoft\Windows\Windows Search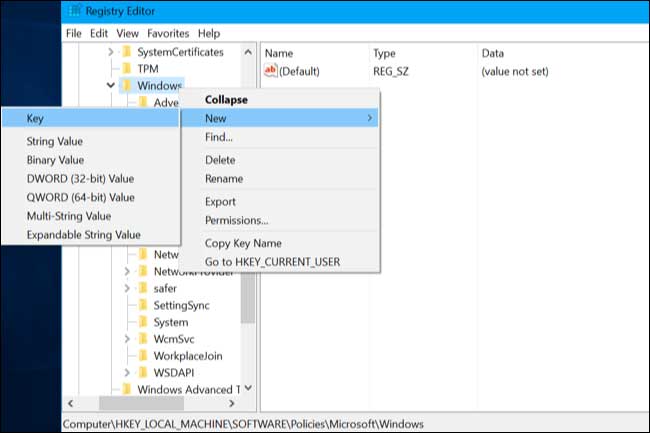 Note: If there is no "Windows Search" key (folder) under the Windows folder, right-click on Windows folder and select New >Key. Name it "Windows Search".
• Right-click on the "Windows Search" key (folder) in the left pane and then choose New > DWORD (32-bit) Value.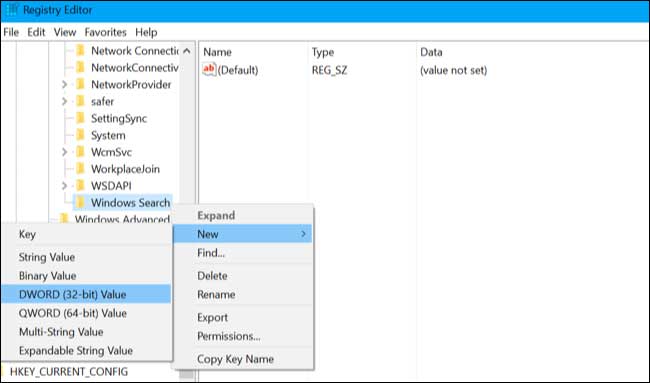 • Name the value "AllowCortana". Double-click it and set the value as "0".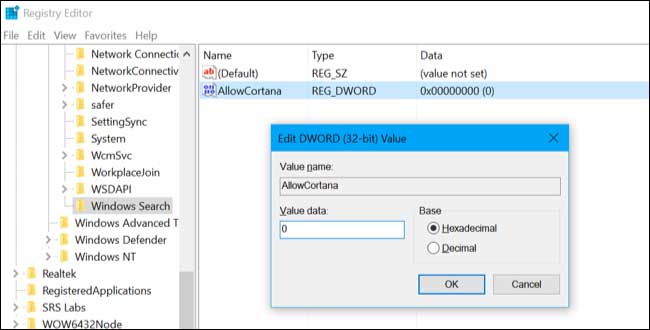 • Close the Registry Editor and then restart your computer (or log out and log in) to make changes take effect.
Note: If you want to get the Cortana back in the future, you can navigate back here, locate the "AllowCortana" value, delete it or set the value data to "1".
After those steps, Cortana service should be hopefully disabled on your Windows 10 Home. Now you successfully hide Cortana in the background and disable the popup box.
Method 2. Disable Cortana on Windows 10 Professional/Enterprise through Group Policy
For Windows 10 Professional or Windows 10 Enterprise users, modifying the Local Group Policy Editor could be the most efficient way to uninstall Cortana. Follow below guides to remove Cortana service.
• Press Win + R, type "gpedit.msc" and then hit Enterto open Group Policy.
• Go to Computer Configuration ->Administrative Templates ->Windows Components ->Search.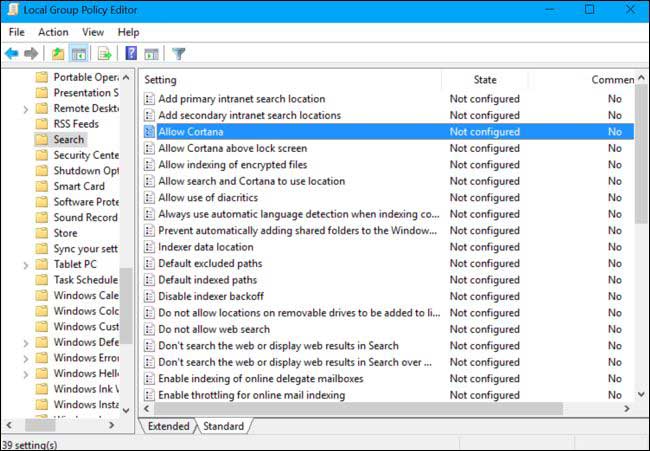 • Locate the "Allow Cortana" setting in the right pane.
• Double-click it to set the "Allow Cortana" as "Disabled" and then click "OK".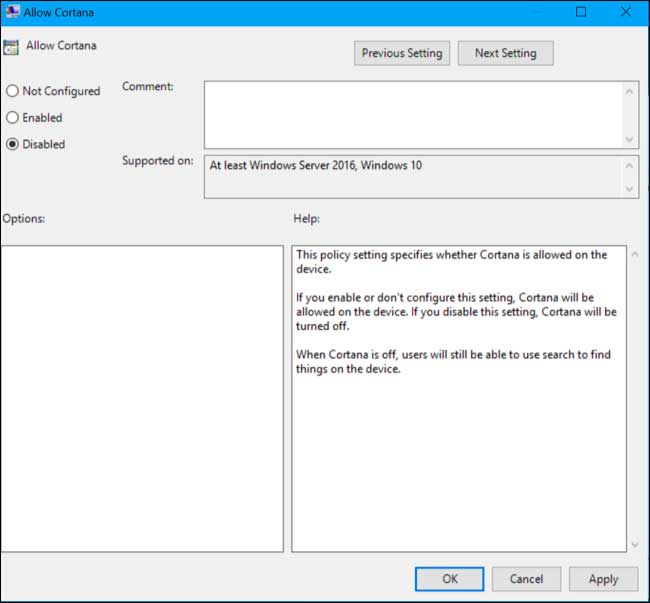 • Close the Group Policy Editor. Log out and log in or restart your computer to save the changes.
If you need to re-enable Cortana again, just return here, double-click the "Enable Cortana" setting and change it to "Not Configured" or "Enabled".
You may also like to checkout:
How to Fix Cortana not Working in Windows 10 Anniversary Update.
Windows 10 Related Computer Issues.
Hope you find the two methods above helpfully for you to disable Cortana in windows 10, either the Windows 10 Professional or Windows 10 Home. Your supplementary fixes on removing Cortana on Windows 10 are warmly welcomed. Please share us in below comment section.
Recommended Download