Top 5 Easy Ways to Save Laptop Battery on Windows 10, 8, 7, Vista, XP
Jun. 24, 2022 / Updated by Helia to Windows Driver Solutions
Some users reported that their laptop took a large toll on battery after upgrading the system to Windows 10 Fall Creators Update/Creators Update/Anniversary Update. Some others complained a quick battery drain on their Windows 8 or 7. They all want some tips for a maximizing laptop battery life for their Windows 10 (Fall Creators Update/Creators Update/Anniversary Update), Windows 8.1, Windows 8, Windows 7, Windows Vista or Windows XP.
Newly annoying issues crop up every day in Windows Operating System, but you don't need to be worried. Here are the top 5 ways to save laptop battery on Windows 10, 8, 7, Vista or XP.
Method 1: Update the Drivers to Maximize Windows Battery Life
It is your initial work to check whether the associated drivers on your PC are up-to-date when you encounter system problems. Outdated battery drivers are not compatible with the new-installed Windows system and will cause annoying issues such as screen flickering, a quick battery draining, driver power state failure blue screen error, battery icon missig, Windows 10 laptop overheating, etc. So you need to get a laptop battery drivers update.
You could use Driver Talent to find the outdated and incompatible drivers in the Windows system, which is an excellent driver troubleshooter that can help to fix and update the old version battery drivers.
Download the smart tool directly and follow 3 easy steps below for updating the associated drivers to achieve a long laptop battery life.
Step 1: Scan the PC for Problematic Drivers
Click "Scan" and the Driver Talent will find all the outdated drivers automatically, which may be the causes of laptop battery drain.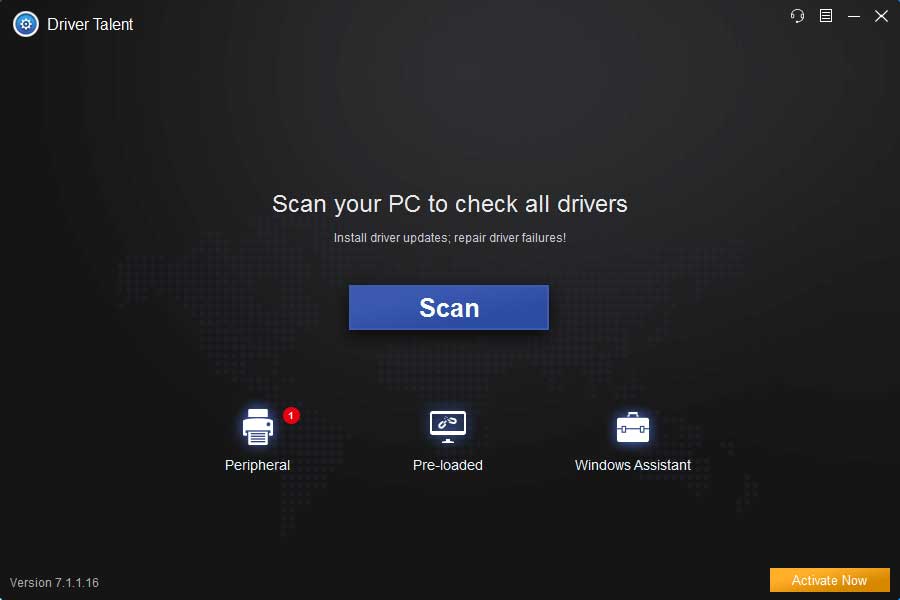 Step 2: Update the Drivers
Click "Update" to download and install the latest or the stable drivers.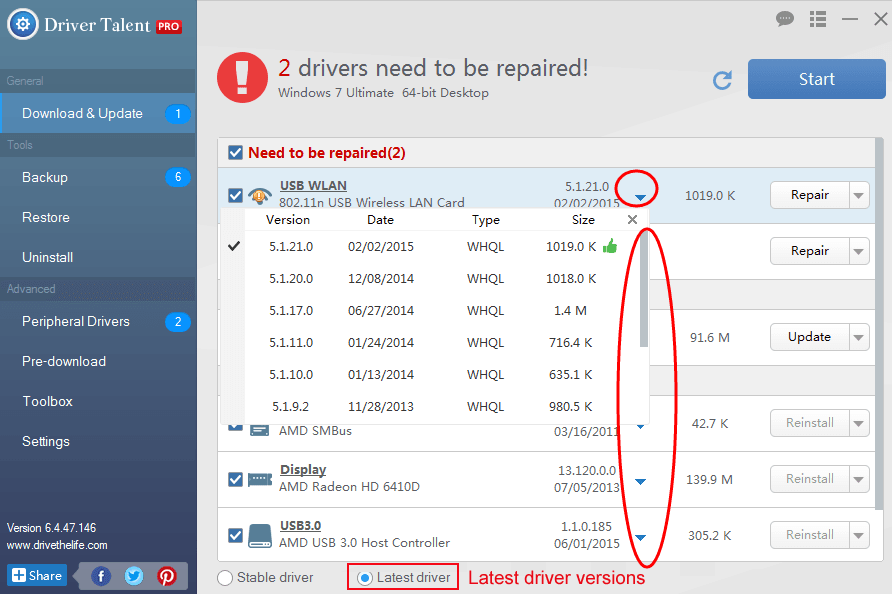 Step 3: Restart the PC
Rebooting the machine will make the new-installed drivers take effect.
If the drivers are fully updating but didn't fix the laptop battery problem, please read the content below continually.
Method 2: Turn off the Updates-sharing in Windows Update
Windows Update is one of the causes that drop the laptop battery, especially Windows Update in Windows 10, which can update silently but share what you have downloaded with PCs on the network.
Here are steps to turn the feature off in Windows 10:
Step 1. Click Start and select Settings.
Step 2. Choose Update & Security.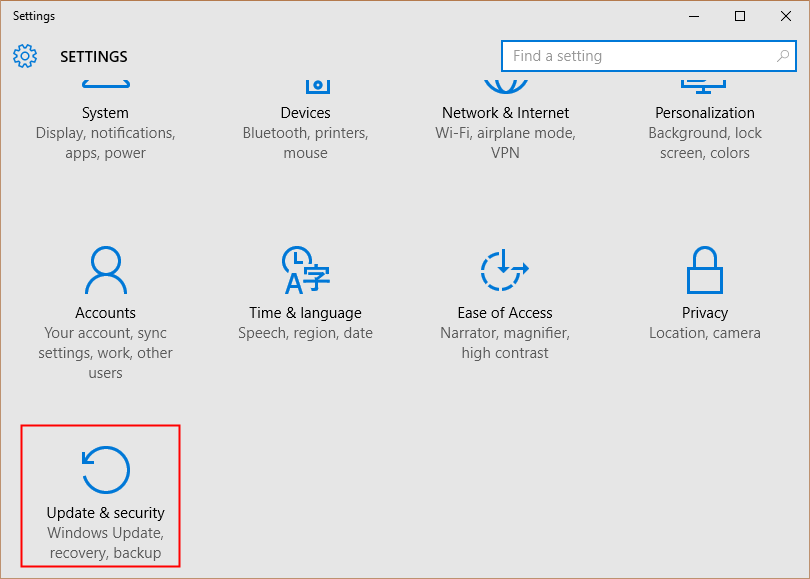 Step 3. Click Windows Update in the left column.
Step 4. Select Advanced Options in the dialog.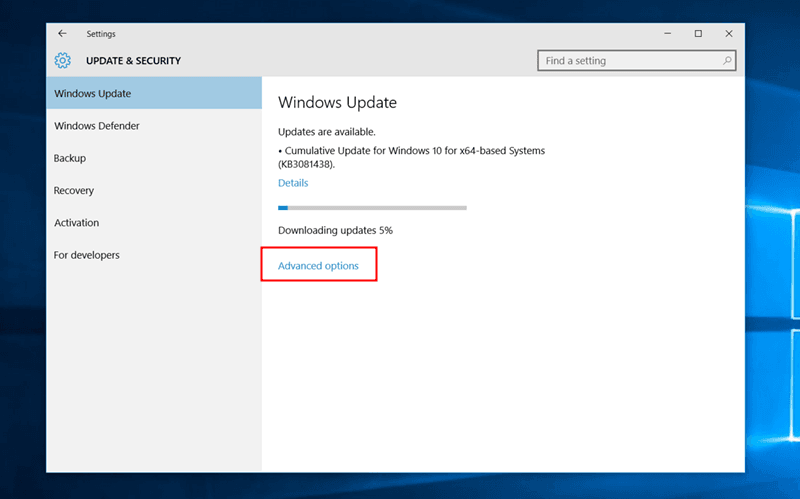 Step 5. Select Choose how updates are delivered.
Step 6. Turn off the feature in the settings of Update from more than one place.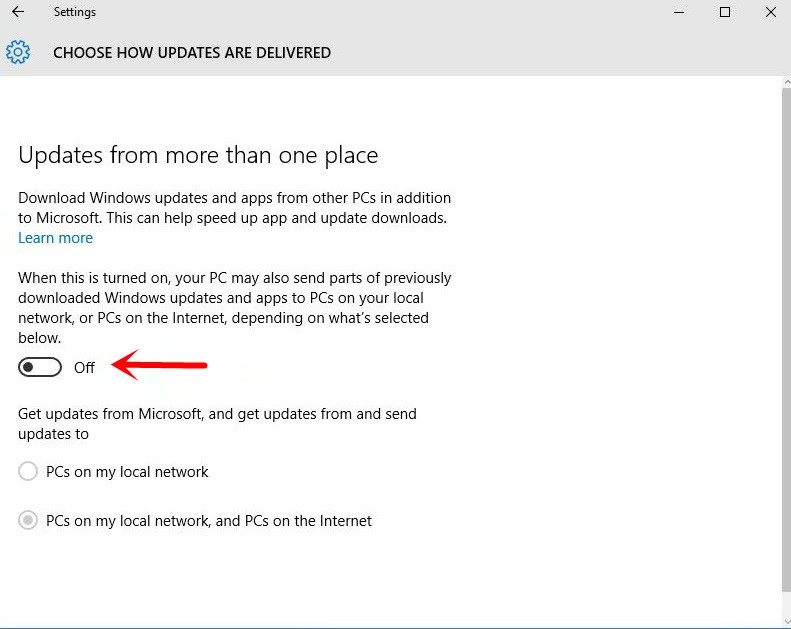 Read More: How to Fix Windows Update Errors in Windows 10, 8, 7, Vista, XP
Method 3: Disable Power-consuming Services in the Background
Some programs or apps running in the background automatically would also cause serious battery drain. Stopping the unnecessary but power-consuming processes, such as Adobe reader, Google desktop search, MSN messenger, etc. is helpful to minimize power consumption.
You could follow the steps below to halt the unnecessary services:
Step 1. Use Win + R on your keyboard to open Run.
Step 2. Type msconfig.
Step 3. Press Enter to open System Configuration.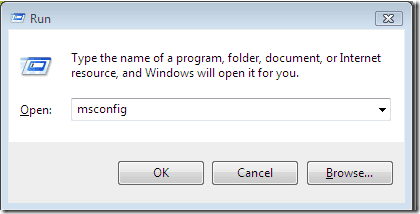 Step 4. Select Startup tab and find all the startup programs.
Step 5. Check those programs you seldom use and disable them.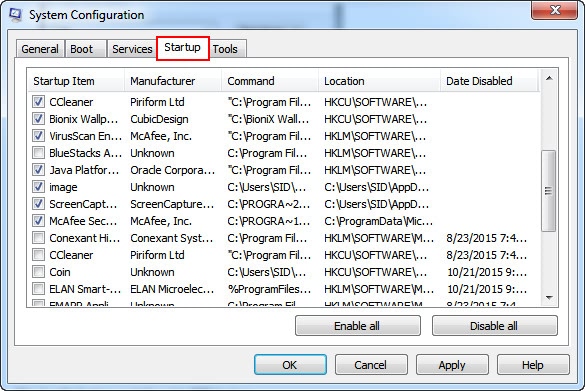 Note: Don't stop the unknown programs that may be important to Windows running, or it may cause system issues such as 100% disk usage, black screen, slow boot, etc.
Method 4: Lower the Screen Brightness
A highly bright screen will consume the battery seriously. You could right click the battery icon on the taskbar to set the brightness of the display screen.
If there is problem with Windows display, please read: How to Fix the "Display Driver Stopped Responding and Has Recovered" Error on Windows.

Method 5: Use Battery Saver
Battery save mode in Windows can also help to save laptop battery. Here are the steps for setting the mode.
Step 1. Click Start and select Settings.
Step 2. Choose System.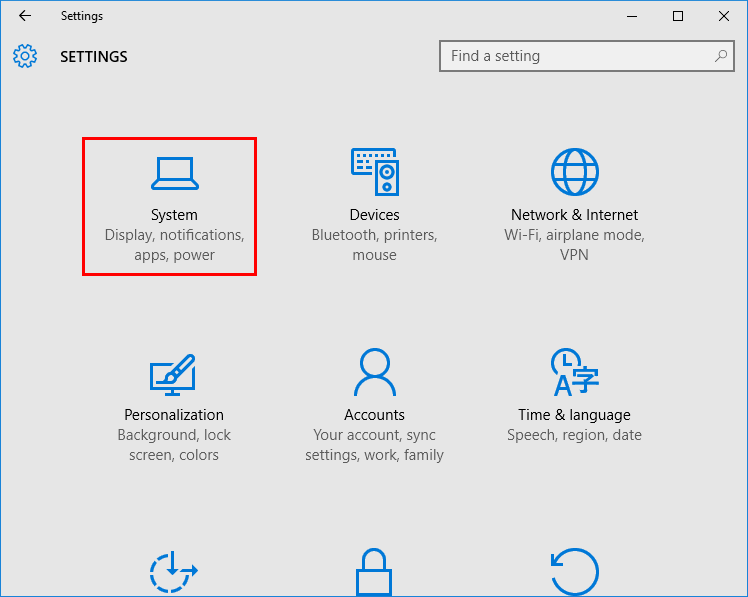 Step 3. Click Battery Saver in the left column.
Step 4. Select Battery saver settings.
Step 5. Activate the 1st and the 3rd options, and you could add some apps if you don't want them to stop running when the batter save mode is on.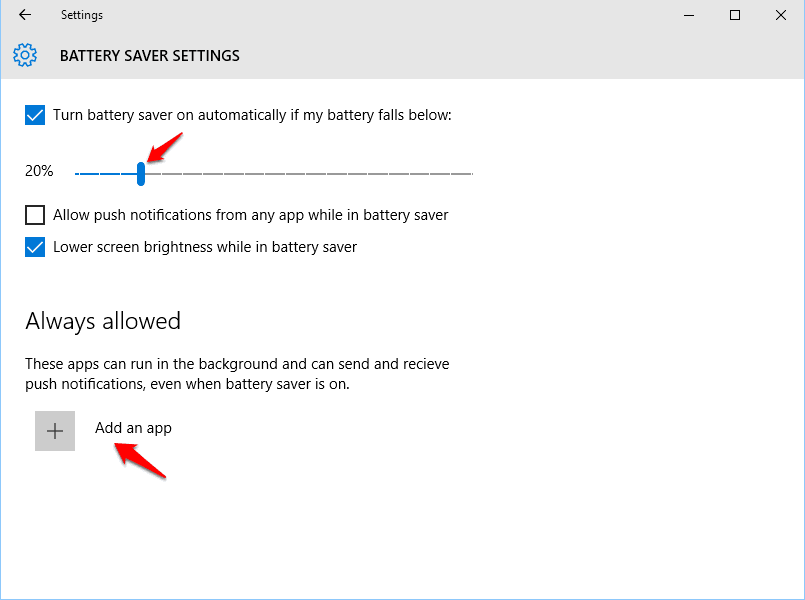 If this article is useful, please share it with your friends. If you have any questions of saving laptop battery for your Windows 10 (Fall Creators Update/Creators Update/Anniversary Update), Windows 8.1, Windows 8, Windows 7, Windows Vista or Windows XP, you can comment in the section below or click the LEFT MENU on this page. Any other Windows-related issues, see Resource Center section.
Recommended Download