Lenovo ThinkCentre Drivers Download and Update on Windows 10, 8.1, 8, 7, Vista, XP
Jun. 24, 2022 / Updated by Bessie Shaw to Windows Driver Solutions
Your Lenovo ThinkCentre computer may suffer common isssues, such as No Wi-Fi available, no sound, USB device not recognized or bluetooth not available, if there are outdated or damaged drivers. To avoid these computer problems, you'd better regularly download and update Lenovo ThinkCentre drivers for your Lenovo desktops or all-in-ones. Below are two common methods that you can try to get the relevant Lenovo ThinkCentre drivers for your Windows system.
Method 1. Download Lenovo ThinkCentre Drivers via Lenovo Website
You could go to theLenovo Official Support page to search for and download the suitable Lenovo ThinkCentre drivers, such as Lenovo ThinkCentre E73 drivers, Lenovo ThinkCentre M900 drivers, Lenovo ThinkCentre X1 drivers, Lenovo ThinkCentre M900 drivers, Lenovo ThinkCentre M700 drivers, Lenovo ThinkCentre M93P drivers, Lenovo ThinkCentre A70z drivers, Lenovo ThinkCentre A58 drivers, etc.
Follow the step-by-step tutorial to download your required Lenovo ThinkCentre drivers. Take Lenovo ThinkCentre E73 drivers as an example, as below:
Step 1. Type your product model number in the search box.

Step 2. Select "Desktop" or "All-in-One".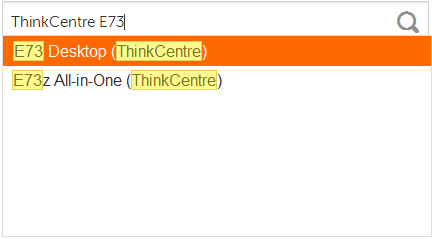 Step 3. Pick a component and select your operating system.
Choose the Lenovo ThinkCentre drivers you need. The drop-down menu includes ThinkCentre audio drivers, ThinkCentre BIOS drivers, ThinkCentre Bluetooth and modem drivers, ThinkCentre camera and card reader drivers, ThinkCentre chipset drivers, etc.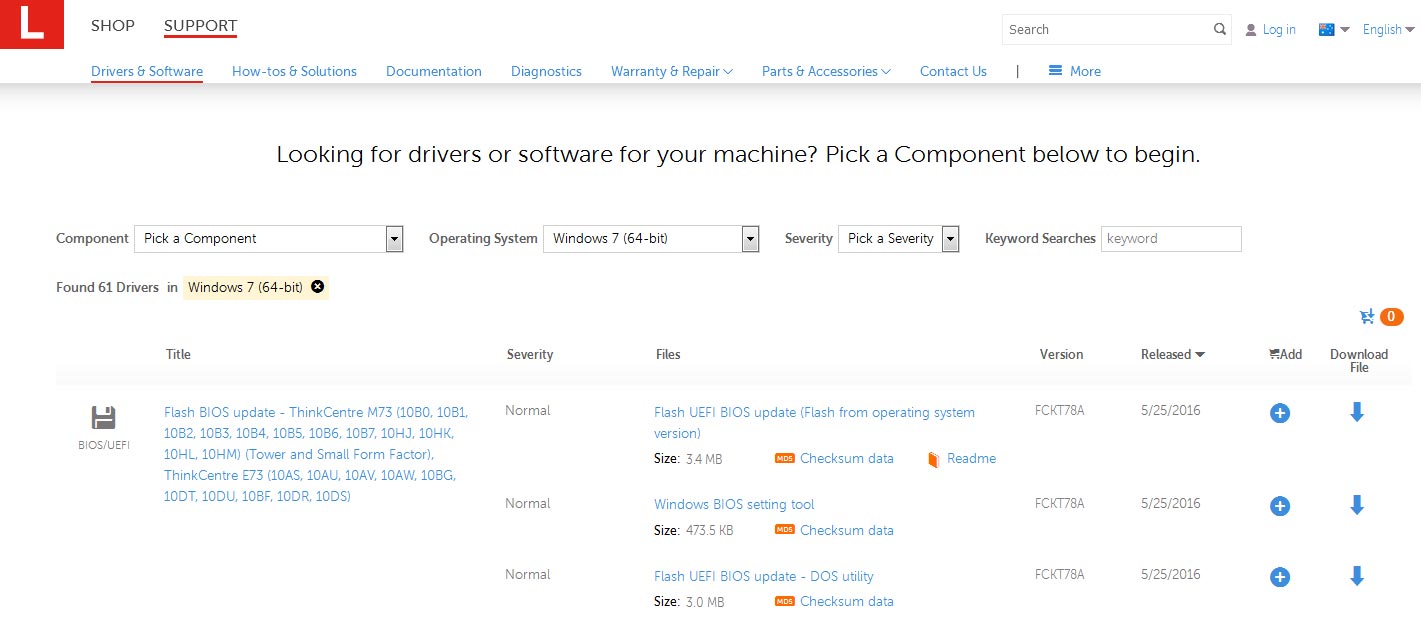 Step 4. Click "Download File".
Step 5. Save the file (.exe) and then double-click the downloaded driver file to install it.
Step 6. Make a PC reboot once the drivers installation is done.
See Also:Free Lenovo Drivers Download & Update for Windows 10, 8.1, 8, 7, Vista, XP
Method 2. Lenovo ThinkCentre Drivers Download Utility
You can also download and update Lenovo ThinkCentre drivers by an automatic drivers download utility, such as Drive Talent. Driver Talent is a professional and reliable Lenovo ThinkCentre drivers download and update tool, which can help you instantly get the Lenovo drivers that fit your needs easily and quickly. You even don't need to know your model or serial number.
Click the button below to free download Driver Talent.
3 Easy Steps to Download and Update Lenovo ThinkCentre Drivers for Windows 10, 8.1, 8, 7, Vista, XP
You could use Driver Talent get the right Lenovo ThinkCentre drivers for Windows 10, Windows 8.1, Windows 8, Windows 7, Windows Vista and Windows XP in minutes. Follow the 3 easy steps below to download and update your ThinkCentre drivers.
1. Scan Your Lenovo ThinkCentre PC
Start a free scan, all the outdated, corrupted, broken or missing drivers will be found out in seconds.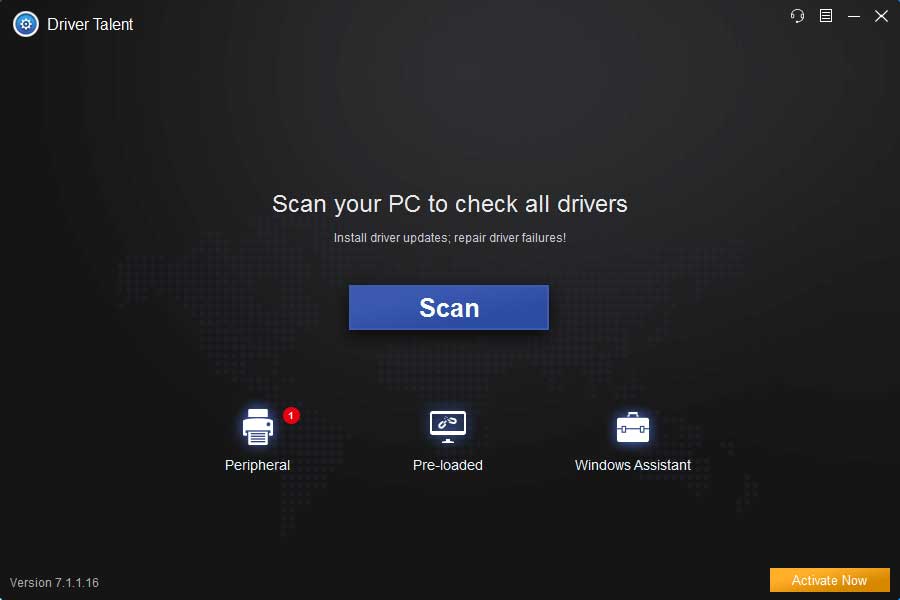 2. Download and Install Lenovo ThinkCentre Drivers
Click "Repair" to fix all your faulty drivers issues by automatic drivers download and update. You are also able to click "Update" to update your Lenovo ThinkCentre drivers to the latest version. But we don't recommend you to update the drivers that ain't broken.
3. Reboot Your Desktop or All-in-One
After installing the drivers, restart your Windows to make all changes take effect.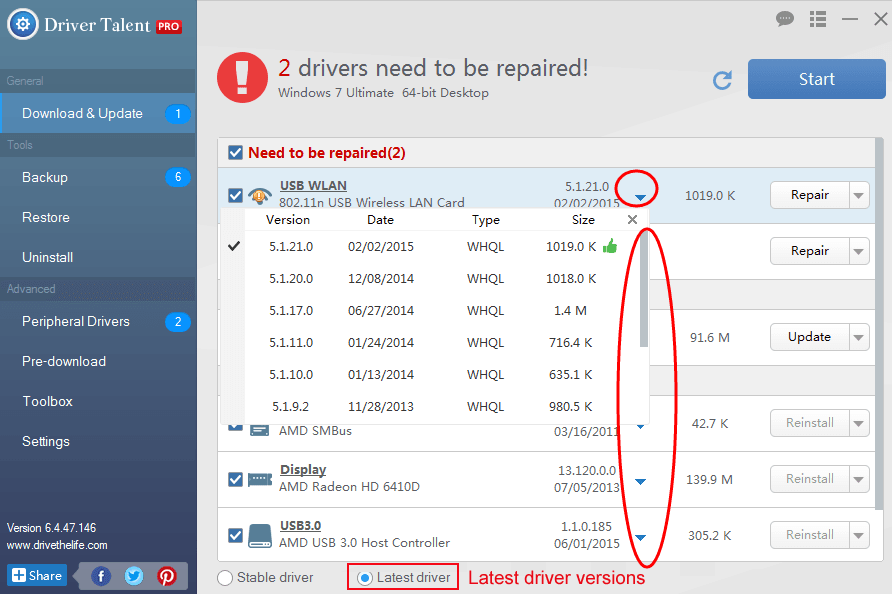 Note: Driver Talent provides more advanced features like driver backups, driver restores and system restore, in addition to Lenovo ThinkCentre drivers download and update.
For other types of Lenovo drivers download, please refer to this article: Free Download and Install Lenovo Drivers after Windows 10 Upgrade.
Download Popular Lenovo ThinkCentre Drivers
Below is a list of the most popular Lenovo ThinkCentre drivers that Driver Talent could download, including:
| | | |
| --- | --- | --- |
| Lenovo ThinkCentre drivers for Windows 10 | Lenovo ThinkCentre drivers for Windows 8.1 | Lenovo ThinkCentre drivers for Windows 8 |
| Lenovo ThinkCentre drivers for Windows 7 | Lenovo ThinkCentre drivers for Windows Vista | Lenovo ThinkCentre drivers for Windows XP |
| Lenovo ThinkCentre audio drivers | Lenovo ThinkCentre a70z drivers | Lenovo ThinkCentre a58 drivers |
| Lenovo ThinkCentre a70 drivers | Lenovo ThinkCentre a62 drivers | Lenovo ThinkCentre a57 drivers |
| Lenovo ThinkCentre Lan drivers | Lenovo ThinkCentre m93p drivers | Lenovo ThinkCentre m73 drivers |
| Lenovo ThinkCentre 8910 drivers | Lenovo ThinkCentre m93p drivers | Lenovo ThinkCentre b11 drivers |
| Lenovo ThinkCentre BIOS drivers | Lenovo ThinkCentre 6072-bvg drivers | Lenovo ThinkCentre CD drivers |
| Lenovo ThinkCentre Ethernet controller drivers | Lenovo ThinkCentre 8808-cto drivers | Lenovo ThinkCentre 6072-cto drivers |
| Lenovo ThinkCentre 8811-cto drivers | Lenovo ThinkCentre e73 drivers | Lenovo ThinkCentre edge drivers |
| Lenovo ThinkCentre graphics drivers | Lenovo ThinkCentre g41 drivers | Lenovo ThinkCentre m92p drivers |
| Lenovo ThinkCentre m91p drivers | Lenovo ThinkCentre m82 drivers | Lenovo ThinkCentre m58 drivers |
Recommended Download