Announcing Referral Hunt Campaign for Driver Talent
Jun. 24, 2022 / Updated by Bessie Shaw to News
Los Angeles, Calif. - March 25, 2020 - Recently, the leading software company OSToto Co., Ltd. started a referral program for its best-seller Driver Talent, which is called Referral Hunt. Now the campaign is in full swing. Let's take a closer look at it.
Referral Hunt Campaign for Driver Talent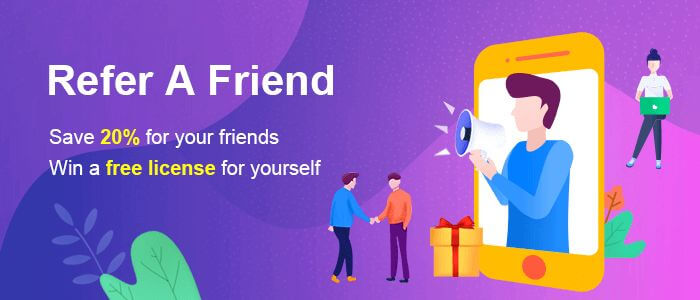 As a driver updater utility, Driver Talent has won the trust of tens of millions of users. These users are located in more than 200 countries and regions around the world. Now the world is in the midst of the coronavirus pandemic. Many people are forced to work from home. Computer issues can greatly affect their work efficiency. To help more users deal with these annoying issues, OSToto launched the Referral Hunt campaign. It brings more benefits to users and lets more people know Driver Talent through word of mouth.
How the Referral Hunt Campaign Works?
The Referral Hunt campaign was launched with the latest version of Driver Talent. According to OSToto, the campaign is carried out to reward loyal users and encourage potential users. Any user can participate.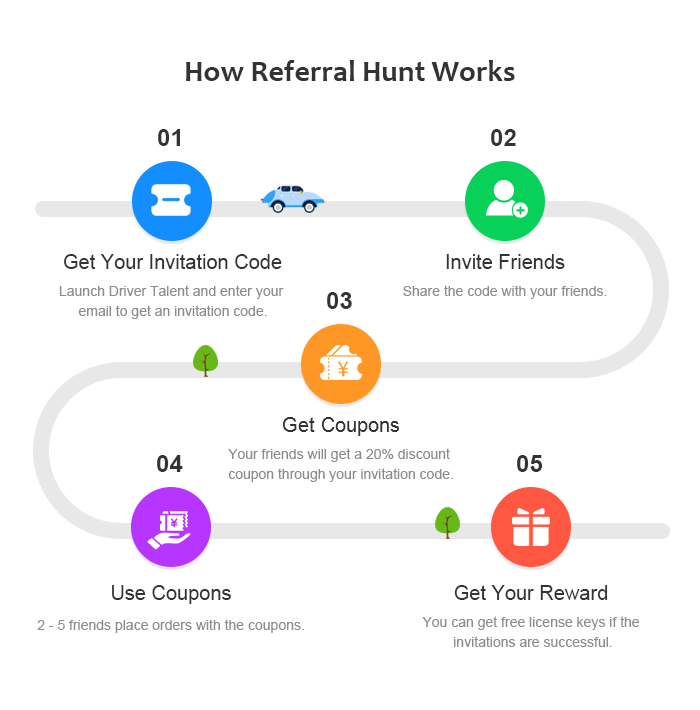 Inviters need to generate an invitation code on Driver Talent first. Then share the invitation code with their family or friends or anyone they know. The invitee can get a 20% discount coupon for purchasing Driver Talent Pro through the invitation code.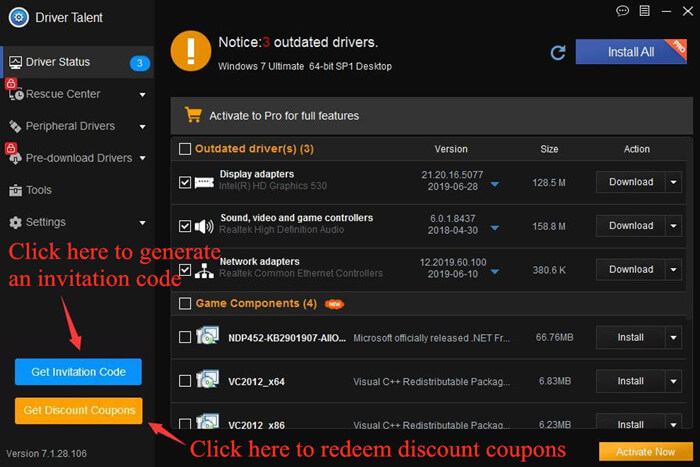 What Are the Rewards for the Referral Hunt Campaign?
It will be considered as a successful invitation once the invitee succeeds to place an order with the coupon. Inviters can get corresponding rewards based on the number of people they successfully invited. The rewards are as follows.
Get a 1-month license key for Driver Talent Pro if 2 people are successfully invited.

Get another lifetime license key for Driver Talent Pro (1 PC) as the ultimate reward when the number of people successfully invited reaches 5.
Frequently Asked Questions
Here are some frequently asked questions and corresponding answers about the Referral Hunt campaign for your reference.
Of course you can. Anyone, whether regular or potential users of Driver Talent, can take part in this campaign.
No, it doesn't count. If your friend cancels the order, requests a refund or a chargeback, the invitation is not counted. To curb scalping and make sure every invitation is real and valid, OSToto will pay attention to the behavior of each inviter. Once willful misconduct is discovered, the inviter will be restricted from participating in the campaign and his rewards will be canceled.
Yes, there is. An invitation code can redeem up to 20 coupons. Please redeem as needed.
Generally the redeemed coupons are valid for about a week. There will be a prompt when redeeming. The specific valid time limit shall be subject to the prompt information.
Follow our Facebook and send us a private coupon request. You'll be surprised.

The 20% discount coupons can be used for purchasing lifetime license keys for Driver Talent Pro (1 PC/3 PCs/5 PCs) or Driver Talent for Network Card Pro (1 PC/3 PCs/5 PCs).
Notice: The 1-month license is not included in the coupon use.

About Driver Talent
Driver Talent is a powerful, professional and easy-to-use driver updater tool for Windows PC, which can keep your computer from any driver conflict issues. It will find out all faulty drivers on your computer in seconds and then fix them by downloading and installing the best-matched drivers in minutes. In addition, the game components detection function is available now, along with the Game Repair and Audio Repair tools to help improve the gaming experience. It's friendly to gamers.
There is a free trial version for it. You can click on the Download Now button below to try it right now.
About Driver Talent for Network Card
Driver Talent for Network Card is the supplement of Driver Talent, which is specifically designed to help you fix network issues. All network drivers are included in its database. With Driver Talent for Network Card, you are able to install network drivers without Internet connection to access the network again.
About OSToto Co., Ltd.
OSToto Co., Ltd., formerly called Drive The Life Inc., is the leading computer software provider that is dedicated to developing powerful and user-loving software on Windows device driver management and file management. Over years of development, OSToto Co., Ltd. is now favored by a majority of users and becomes quite popular all over the world.
Press Contact
Website:www.drivethelife.com
Contact email:contact@drivethelife.com
The Referral Hunt campaign has started. What are you waiting for? If you have any questions about the campaign, please leave a comment below. OSToto Co., Ltd. reserves the rights to the final explanation of the campaign.
Recommended Download