Solved: Adobe After Effects not working/crashing on Windows
Mar. 08, 2023 / Updated by Renata to Windows Driver Solutions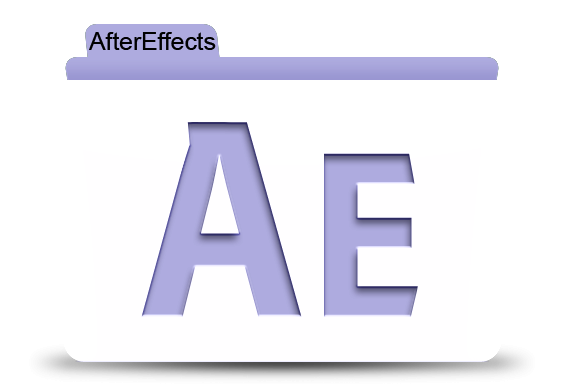 Adobe After Effects is a digital visual effects, motion graphics, and compositing application and used in the post-production process of film making, video games and television production. Among other things, After Effects can be used for keying, tracking, compositing, and animation. Therefore, to run the After Effects requires a higher computer configuration.
If your computer crashed or After Effects crashed frequently, you can check your computer configuration first:
System requirements for After Effects



Minimum specifications

Recommended specifications

Processor

Intel or AMD Quad-Core Processor

(8-Core or above for Multi-Frame Rendering recommended)

Operating system

Microsoft Windows 10 (64-bit) V20H2 or later

Microsoft Windows 10 (64-bit) V20H2 or later

RAM

16 GB of RAM

32 GB recommended

GPU

2 GB of GPU VRAM




For systems with NVIDIA GPUs, Windows 11 requires NVIDIA driver version 472.12 or later.




4GB or more of GPU VRAM recommended




Hard disk space

15GB of available hard-disk space; additional free space required during installation

(cannot install on removable flash storage devices)

Additional disk space for disk cache (64GB+ recommended)

Monitor resolution

1920 x 1080

1920x1080 or greater display resolution
If your computer configuration meets the require, please try to restart the computer or reboot AE. If both solutions failed, continue to the below solutions.
Page contents:
System requirements for After Effects
Solution1. Update After Effects
Solution2. Update the Graphics driver
Solution3. Disable hardware acceleration
Solution4. Launch the Windows Explorer
Solution5. Media Cache and RAM Settings
Solution1. Update After Effects
This is the next thing that you should try to fix your After Effects crashing issue. Some programs crashing issue might happen with particular version. You can fix them by download former software version or update it. As for fixing After Effects crashing problems, you can either download the latest version setup file from Adobe's official website, or you can choose the update option available in the Creative Cloud Application Manager.
Solution2. Update the Graphics driver
After Effects is a software for rendering video and pictures, and the operation of the entire software requires high configuration. For file export, if the computer configuration is low, or the storage space is insufficient, the software will also crash. Expect to replace another graphics card, you can update the graphics driver to improve computer performance.
If you are not familiar with computer operation, no matter what brand of your graphics card is, you can download a driver updater on the computer for scanning and updating.
Driver Talent is a free software for everyone who come up with tricky drivers issues and incompatible device drivers. Once you install the Driver Talent, it can scan the computer for only one click within seconds.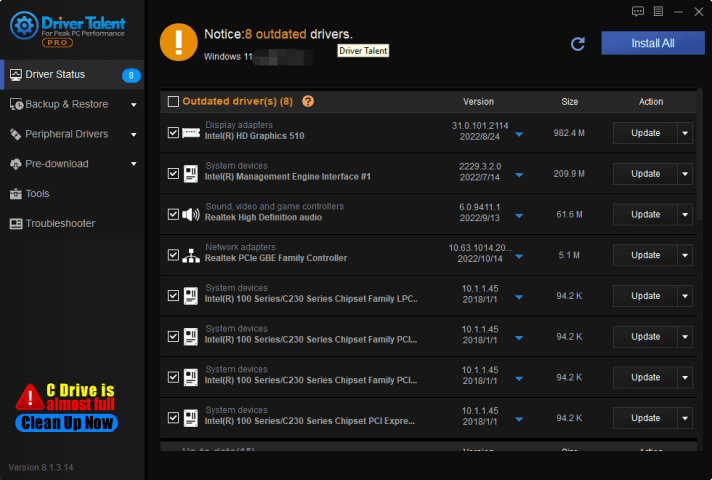 After auto scanning Driver Talent will show all driver state on a list and provides free updates.
You don't have to check you graphics card state and update the driver by yourselves
Tips:
Graphics card driver problems will cause:
1. The Windows system is obviously stuck, but not crash.
2. The gaming performance is bad, not smooth, and even can not enter to the game.
3. When running Photo Shop or post-production process software, it will run extremely slow.
4. You will come up with Blue Screen, Black Screen, Green Screen and White Screen of Death,etc.
Solution3. Disable hardware acceleration
Depending on your system, you can actually use the graphics card to offload the CPU for some really difficult tasks. But disabling some of them allows you to test if this is the root cause of any bugs and crashes. Go to Preferences Display. Choose hardware accelerated compositing layers. Go to file project settings. Under Video Rendering and Effects, select the Non-GPU Accelerated option. This will slow down the overall speed of the system, but may also prevent the system from crashing. Trying some or all of these should help you narrow down the cause of any issues:
Launch After effects and navigate to Edit and choose Preferences, Display.
Uncheck the box net to "Hardware Accelerate Composition, Layer, and Footage Panels"
Solution4. Launch the Windows Explorer
One of the important reason causing After effects crashed is that it is unable to access or load files from this temp folder.
Launch the Windows Explorer.
Navigate to C:\Users\[Username]\AppData\Roaming\Adobe.
Delete the After Effects folder.
Open After effects again.
If the crashing still exit, try the next solution mentioned below.
Solution5. Media Cache and RAM Settings
As the above mentioned, running After Effects need large memory space so that clear the media cache is an important part to quit After Effects crashing issues.
The media cache can be found in the After Effects preferences menu.
You can clear the media cache as the following steps:
1. Launch the After Effects
2. Choose Preferences
3. Click Media Cache menu, and select Empty Media Cache
From the same menu, you can also purge the RAM by clicking Edit > Purge > Memory & Disk Cache.
Also Read:
Recommended Download