Windows 10 Insider Build 18282 (19H1) Brings New Light Theme
Jun. 14, 2022 / Updated by Bessie Shaw to News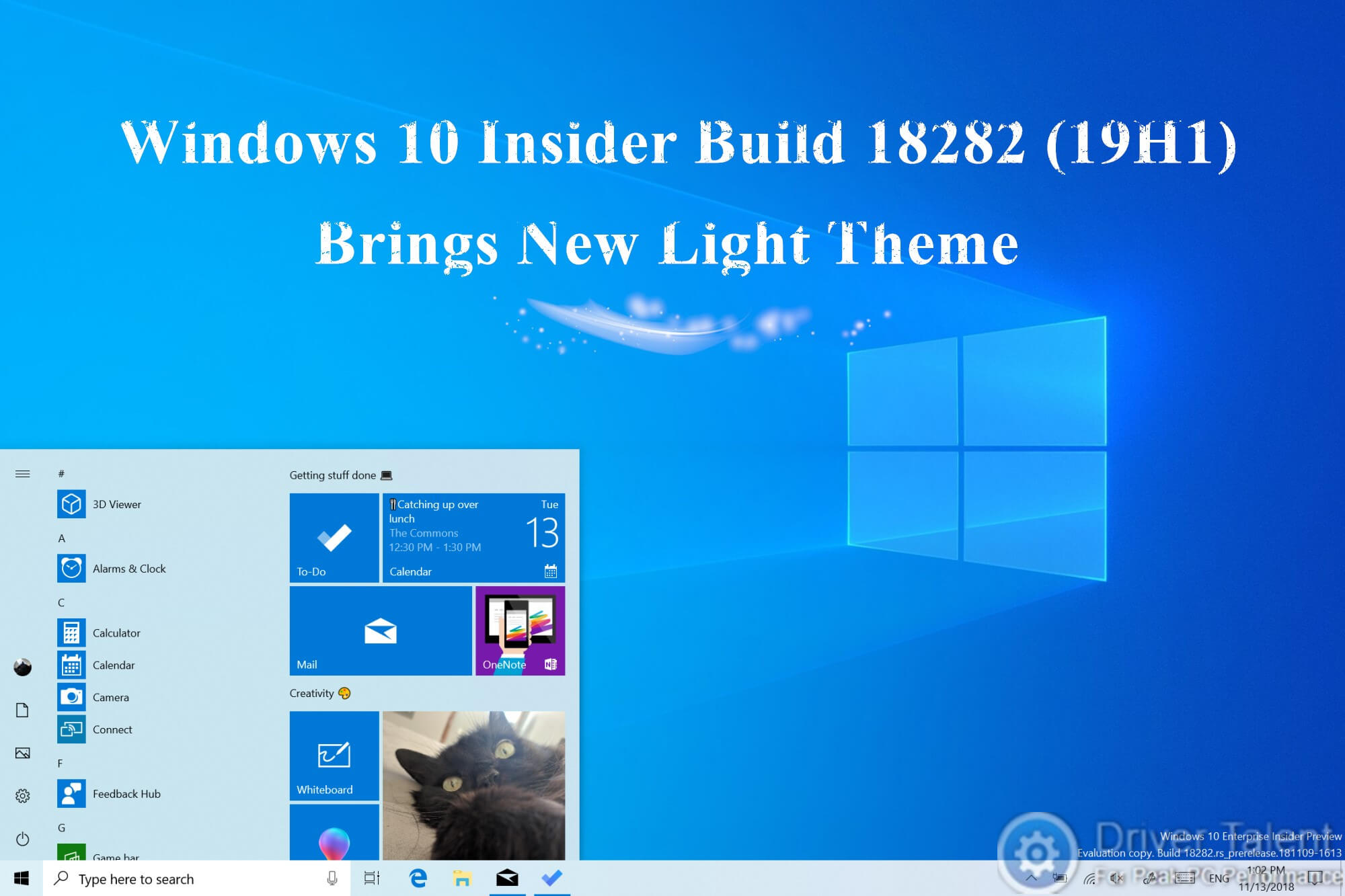 Microsoft has rolled out Windows 10 Insider Preview Build 18282 (19H1) to insiders in the Fast ring. This build is the development branch of Windows 10 19H1 that is expected to be released in the spring of 2019.
As usual, there are also a series of improvements and new features brought by Build 18282. One of the highlights is the brand new Windows Light Theme. Now let's take a quick look at what's new in Windows 10 Insider Build 18282 (19H1).
What's New in Windows 10 Insider Build 18282 (19H1)?
Below are the main improvements and new features in Windows 10 Insider Build 18282 (19H1).
Brand New Light Theme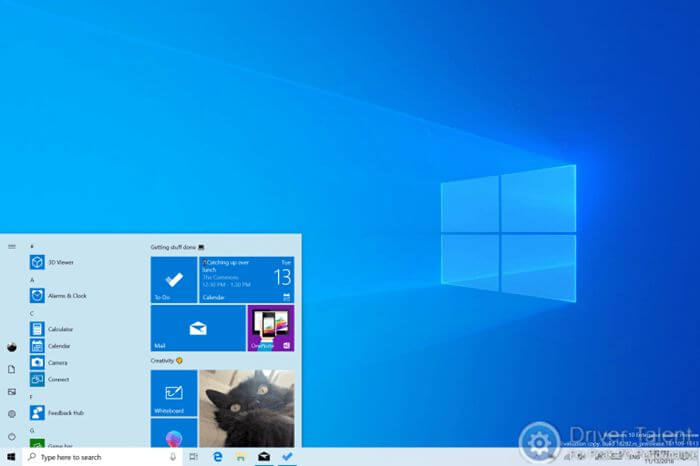 As mentioned before, there has already been dark theme for File Explorer in Windows 10 October 2018 Update. And in the past, when you selected the light theme in Windows Settings, the taskbar and many other things like Start menu, Action Center and touch keyboard stayed dark. But it's different this time. Now, if you are in the brand new light theme brought by Build 18282, all the system UI including the taskbar, Start menu, Action Center, touch keyboard, and more will be light as well. Besides, a new default wallpaper is added to fit the new light theme. And your system color won't automatically change to the new light system color any more if you update to this build. The choice is up to you. What a cool feature!
Select Light under Settings > Personalization > Colors to try the full light experience right now. If you want to try the new wallpaper as well, go to Settings > Personalization > Themes and select Windows Light.
Available Window Snip Option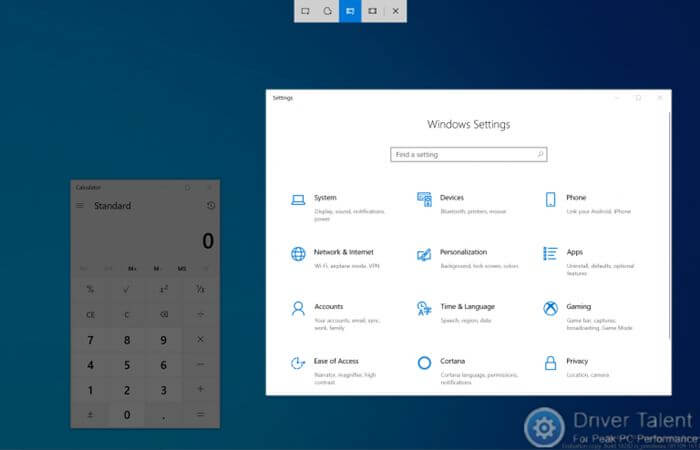 To improve the snipping experience, Microsoft is trying to add the delay snip and window snip option to Skip & Sketch. As we know, the delay snip option has been added in Build 18234. And this time, the window snip option is available for 50% of insiders who are in Windows 10 19H1 Build 18282. The new window snip option will allow you to select a window when sniping. Start your snip by pressing Windows + Shift + S and click on the window snip option at the top to try it at once.
Improved Printing Experience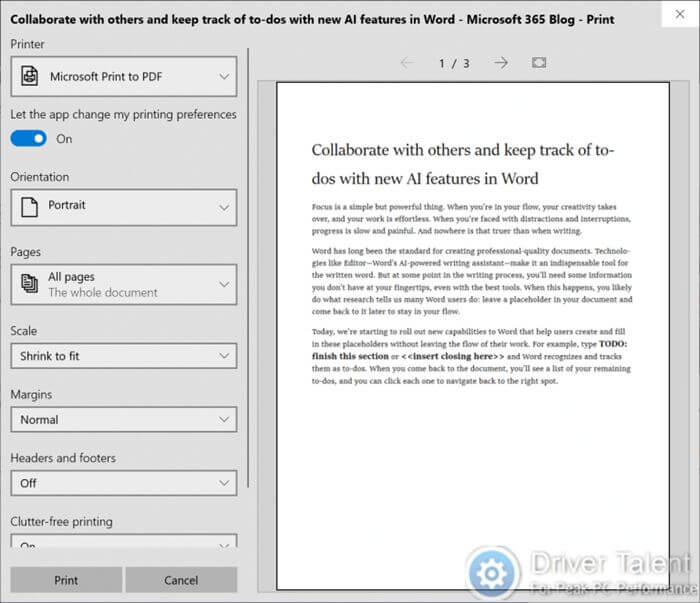 If you are in Windows 10 Insider Build 18282, you may notice these improvements when printing:
The modern print dialog now supports light theme.

New icons of the printing options are added to help you easily and quickly identify the one you're looking for. A line of description to some of the dropdown settings is also added.

If you have a long printer name, it will wrap rather than being cut off.
Improving Windows Update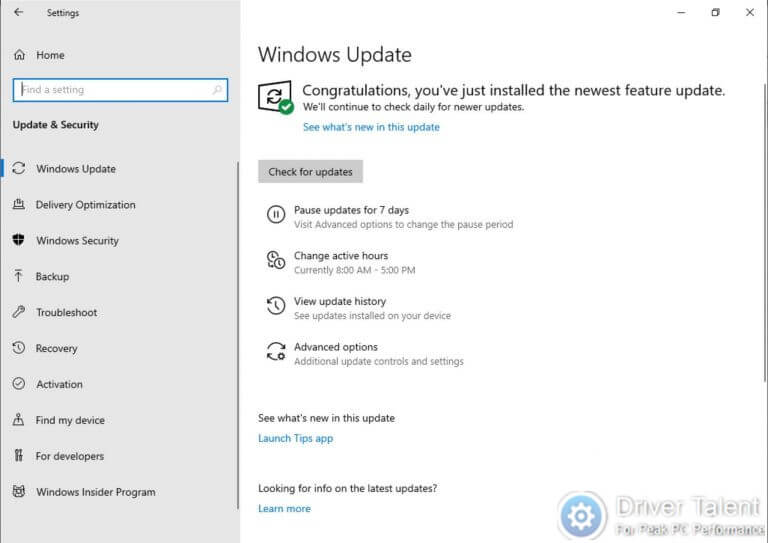 In Build 18282, the Pause Updates feature will be much easier to be found. You can see it on the Windows Update page now. Pause can be enabled for either a pre-defined number of days or until the specific day (The day selector is available on the Advanced options page).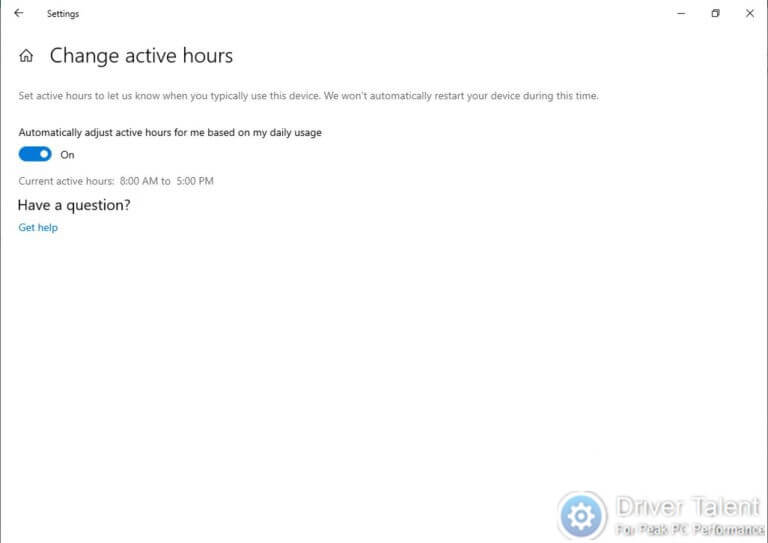 In addition, Windows can automatically adjust active hours for you based on your device activity now. You just need to turn on this setting on the Change active hours page. And the reboot will not disrupt your productive time.
More Consistent Display Brightness in Battery Power Mode
When the power supply of your device was transitioned from a battery charger to battery power, the display would be brighter in the past. But now, in Windows 10 19H1, this will no longer happen. Once you adjust your display brightness, the brightness will be remembered as your preferred brightness whether your device is on battery or connected to a charger. This will not affect your battery saver mode settings. If you choose to lower the screen brightness in battery saver mode, your display will still dim when the battery is below the threshold selected.
Dark Theme Available on the OneDrive Flyout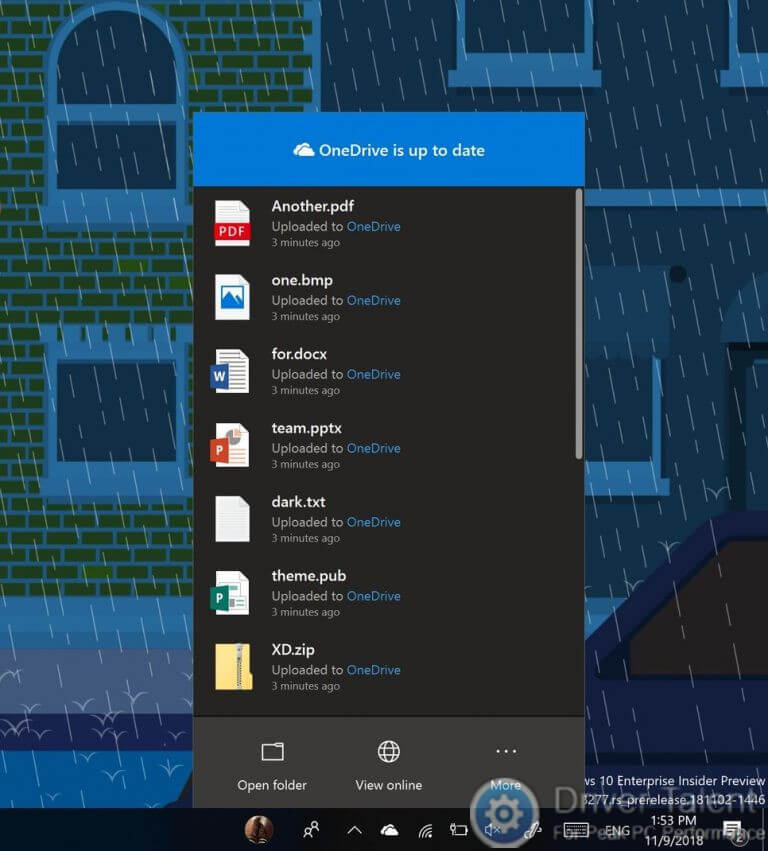 In Build 18282, the OneDrive flyout will be dark as well if you are in Dark mode in Settings.
General Changes, Improvements and Fixes in Windows 10 Insider Build 18282 (19H1)
Fixed an issue causing File Explorer to freeze when interacting with video files in the last few flights.

Fixed an issue resulting in certain x86 apps and games having blurry text rendering in the last few flights, where the text appeared to have a shadow.

If you were seeing certain games fail to launch with an error citing unexpected kernel modification detected, please check the games for available updates and let Microsoft know if you encounter further issues.

When you hover over the navigation pane in Start, after a short period it will now automatically expand. This is something that a portion of insiders have had for a little bit now, and after finding positive results Microsoft will roll it out to all Insiders.

Adding a shadow to Action Center, to match the shadow seen along the borders of our other taskbar flyouts.

Fixed an issue resulting in some users not being able to set Win32 program defaults for certain app and file type combinations using the Open with… command or via Settings > Apps > Default apps.

Fixed an issue resulting in the context menu not coming up when right-clicking an open app in Task View.

Fixed an issue resulting in the touch keyboard not working correctly when trying to type Chinese with the Bopomofo IME.

Made some improvements in the Narrator and Chrome browser experience.

Narrator Scan Mode will more reliability toggle off when a user reaches the Word Online canvas, making it easier to type.

Fixed a race condition resulting in blue screens if your PC was set up to dual boot in recent builds.

Fixed an issue resulting in some Insiders experiencing a PDC_WATCHDOG_TIMEOUT bug check / green screen on resume from hibernate.

Fixed an issue resulting in the Network button on the sign-in screen not working recently.

Fixed an issue resulting in some users noticing the update status cycling between Getting Things Ready, Downloading, and Installing (often accompanied with error 0x8024200d caused by a failed express package download).

Updated the Start and Taskbar jump lists to now have a touch of Fluent Design.
For more information about the Build 18282, you can click here to read the entire release note in Windows Blog.
Last but not least, if you are prepared to install the Windows 10 Insider Build 18282 (19H1), don't forget to create a system restore point in Driver Talent before you do it. Then if your computer runs into issues after the installation, you can quickly roll back your computer to the previous stage. You'd better back up all your drivers with Driver Talent as well. For more fixes to Windows 10 update issues, you can access to the Windows 10 section on this site.
Recommended Download