How to Fix Windows 10 Won't Shut Down after Fall Creators Update
Jun. 24, 2022 / Updated by Wendy to Windows 10
Many users are frustrated by the recent Windows 10 Fall Creators Update. "Windows 10 computer won't shut down after installing the Windows 10 Creators Update" is one of the most common V1709 Fall Creators Update issues. When clicking on the Start menu and select Shut Down, Windows 10 logs out and backs to login screen in instead of shutdown. The only way to shut down the computer after upgrading to Fall Creators Update is to hold the physical power button down to shut it down, which could damage your HDD and cause system errors.
If your computer doesn't shut down normally Windows 10 Fall Creators Update and looking for the fixes, here you are in the right place. Below are some tricks which have been proved effective to resolve the Windows 10 won't shut down bug on the Creators Update/ Fall Creators Update by lots of Windows 10 users.
See Also: Fix Start Menu Not Working after Windows 10 Creators Update

Method 1. Use Windows Update to Troubleshoot Windows 10 Won't Shut Down Issue after Fall Creators Update
The computer can't shut down and goes to login screen after Windows 10 FCU error can be simply repaired by Windows Update.
1. Type Control Panel in the taskbar search area to open it.
2. Select TroubleShooting.
3. Choose Fix Problems with Windows Update under System and Security.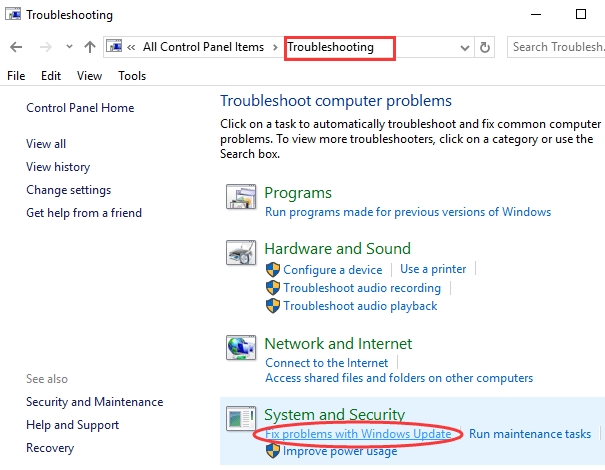 6. Select Trouble Shoot as an Administrator.
Method 2. Disable Fast Startups to Resolve Computer Won't Shut Down after Windows 10 Fall Creators Update
The Fast startup feature in Windows uses hybrid hibernate to put your laptop or desktop PC to sleep mode when you shut it down. That is to say, instead of being off, half your open files are stored in RAM which could load data faster than HDD, other half in page file. This is why it's called Fast startup. Follow the below steps to disable Fast startup.
1. Use the Windows shortcut keysWin + X to open Control panel and then choose Power Option.
2. Toggle to Power & Sleep menu and then follow the path Additional power settings->Choose what the power buttons do ->Change settings that are currently available.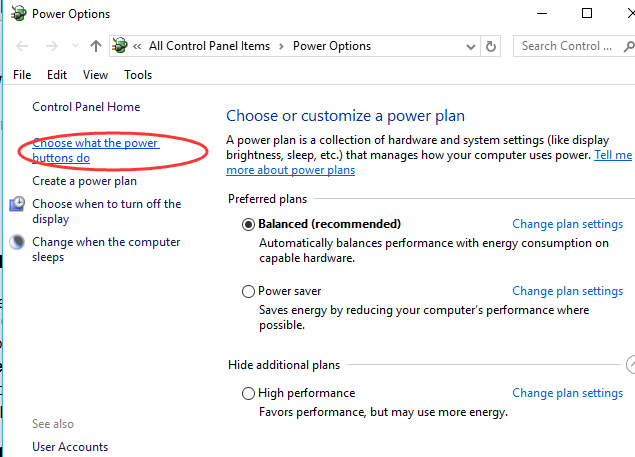 3. Uncheck the checkbox Turn on the fast startup (recommended) to disable the hybrid shutdown and then select Save changes.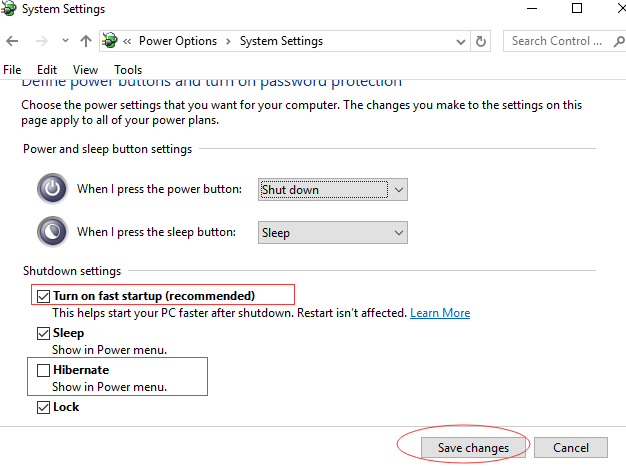 4. Restart your computer to check whether the Windows 10 computer can't shut down problem on Win10 FCU gets fixed.
Method 3. Update Intel MEI Driver to Fix Windows 10 Won't Shut Down after Fall Creators Update
According to the Users who've resolved the hitch Windows 10 Fall Creators Update computer goes to login screen after shutdown, the culprit could be the Intel MEI (Management Engine Interface), used to manage the computer even it is turned off but still in power supply. Its driver version may incompatible with Windows 10 Fall Creators Update. Thus you need to check the IMEI device driver. Below is how
1. Press Win + X to select the Device Manager.
2. Expand the System devices category.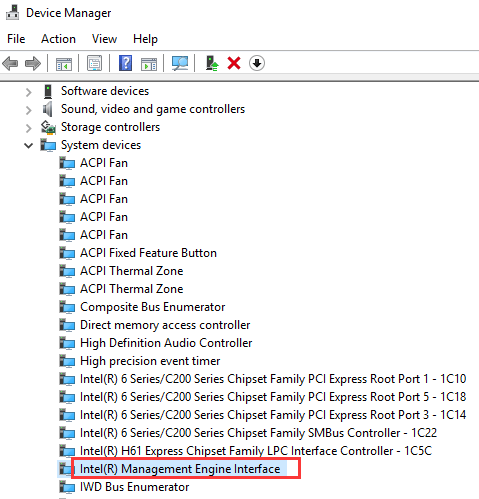 3. Locate and right-click the Intel Management Engine Interface.
4. Select the Update driver.
5. Choose Search automatically for updated driver software or Browse my computer for driver software if you have downloaded the driver file.
6. Follow the on-screen instructions to complete the update.
If after the above 6 steps, your Windows 10 Fall Creator Update computer still fails to shut down, you could try a professional driver update utility, say Driver Talent, to update the best-matched IMEI device drivers since Windows may fail to install you the latest/best-matched driver version. Incompatible drivers may result in system errors like blue screen, Windows 10 shutdown returns to desktop, black screen, endless boot loop, etc.
Click the button below to get Driver Talent now and then follow 3 easy steps install the most compatible IMEI drivers:
Step 1. Click the Scan to detect the faulty drivers for Windows 10 FPC.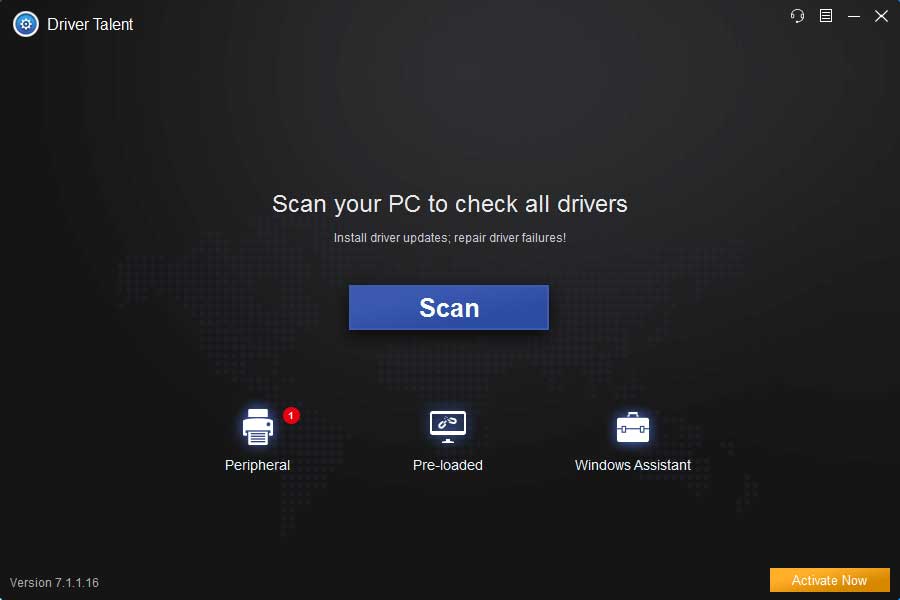 Step 2. Click the Repair or Update to download and install the IMEI driver. The driver versions are listed in the drop-down menu. You can make your own choice.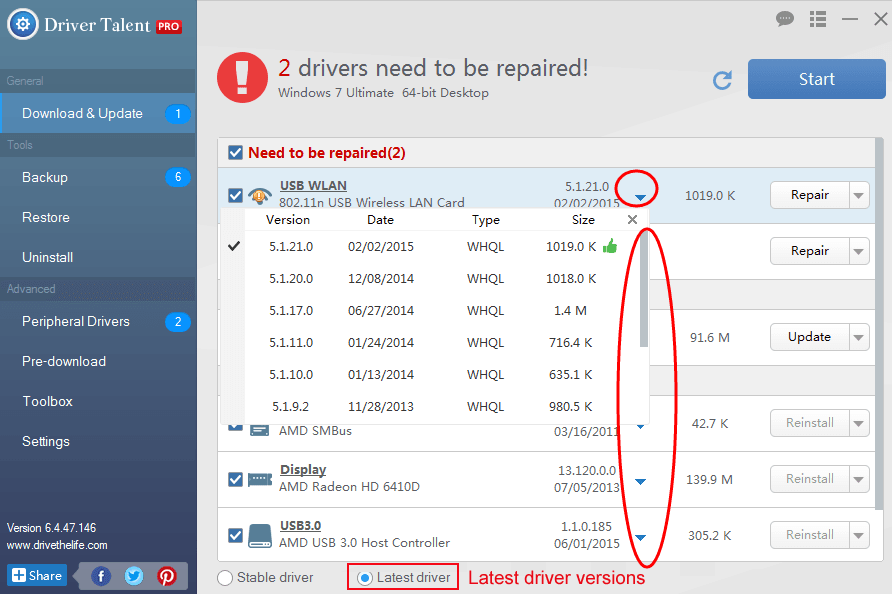 Step 3. Perform a restart to make the driver changes take effect.
Method 4. Remove Anti-malware Software
The third party software like the anti-malware software can also lead to Windows 10 won't shut down but goes to the login desktop screen bug on Fall Creators Update. You can remove the third party software with below steps.
1. Press Win + R to launch the Run.
2. Type msconfig and then click OK.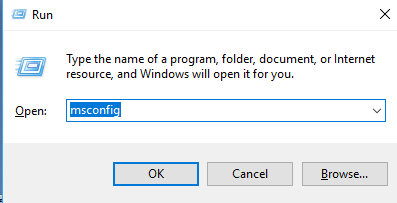 3. Go to the Services tab.
4. Check the checkbox Hide all Microsoft services.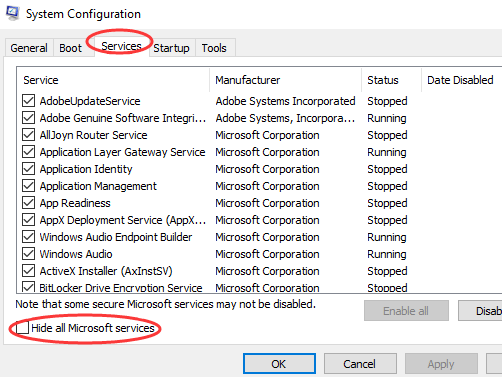 5. Uncheck only third party programs that you installed such as anti-viruses programs. Do not uncheck the services like the Intel, NVIDIA or AMD services.
6. Click Apply/OK and thenChoose Restart.
7. Perform a shutdown to see if you can turn off you Windows 10 FCU computer normally.
That's all fixes for the Windows 10 won't shut down glitch after Fall Creators Update. Hope they are helpful for you to solve Windows 10 logs out and backs to login screen issue. Any supplementary workarounds you share with us in below comment section or in OStoto official forum are highly appreciated. If you find this post helpful, you can bookmark it.
Recommended Download