Windows Can't Find and Can't Install Driver on Your Laptop, Notebook or Desktop PC
Jun. 24, 2022 / Updated by Bessie Shaw to Windows Driver Solutions
Your PC can't install drivers for external USB drives? Windows 7 install cannot find drivers? Windows cannot find driver for network printer or network adapter? "Windows can't install driver" is a very common issue. When you plug a USB device into your PC, Windows Update will automatically detect the device (if Windows Update is enabled by default) and install a driver for the device to work properly. However, in many cases, Windows Update is unable to automatically install the USB driver. Even when you go to the Windows Update to click on "Install Updates" manually, it still can't find a driver for your device.
We've received many reports about this "Windows can't find drivers for my hardware and device" issue, such as Windows can't find a driver for HP universal printing or for HP Laserjet on the network, Windows is unable to install the Android USB driver on Windows 7, Windows 7 can't install Nvidia drivers, Windows 10 fail to install drivers, etc. We'll detail in this article how to solve your problem if you are also in this case.
Why Windows Can't Install Drivers on Windows 10, 8.1, 8, 7, XP, Vista or Windows Server?
When you connect a device to your PC, Windows attempts to automatically configure it and install the appropriate driver through Windows Update. However, Microsoft Windows Update is not so perfect. Microsoft doesn't update drivers as frequently, so many drivers (especially the new drivers for new devices) are not available through Windows Update. Some other drivers released by manufacturers that are not digitally verified with Microsoft will either not be available via Windows Update (check to see Driver Digital Signature Enforcement). And if your network speed is too bad, websites are too busy, or Internet connections are overworked, Windows Update can also fail to find drivers for your computer.
When Windows can't find the driver you need, it will inform you that the device is not installed properly. Therefore, you need to find the right drivers for your computer hardware devices and install them without the help of Windows Update. Try the following method to install drivers on your Windows 10, Windows 8.1, Windows 8, Windows 7, Windows XP, Windows Vista or Windows Server.
How to Quickly Find and Install the Right Drivers on a 64 bit or 32 bit Windows Laptop or Desktop PC
To manually find a correct driver, you need to find out the detailed information about the device, including the manufacturer, device name, and model number, and then search around page by page to find drivers. If you download and install a wrong driver, your device won't work and the driver can even cause crash and corrupt on your computer.
Manually locating the exactly right driver for a computer hardware device is not an easy job. That's why OSToto Driver Talent comes. It is a professional Windows drivers download utility, which helps you to quickly detect the hardware devices, find the best-matched drivers, and then automatically download and install them on your computer, either 64 bit or 32 bit Windows OS --- one-click and one-stop solution.
Free download and install Driver Talent on your Windows laptop, notebook or desktop computer, such as Asus, Acer, Dell, HP, Sony, Lenovo, Samsung, Toshiba, IBM, Alienware, Compaq, Gateway, LG, Microsoft, MSI, etc.
Step 1. Scan to Find Driver Issues
Run Driver Talent to scan your computer. It will have a safe scan to detect the detailed information of the hardware devices, so that it can find the exactly correct drivers. No hidden catches, no spy, and never leaking all the information.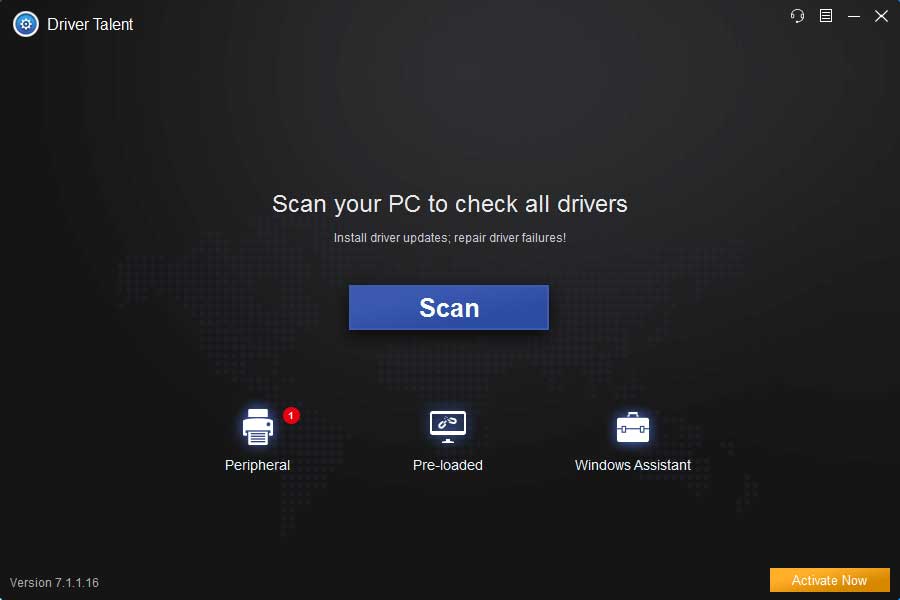 Step 2. Find and Install the Correct Drivers
If there are missing drivers, corrupted drivers, damaged drivers or outdated drivers, Driver Talent will show you and inform you to fix them. Select the devices that have driver issues and click "Repair". Driver Talent will start to download and install the best-matched and also the most stable drivers for the hardware devices.
To install peripheral drivers, such as USB printer driver, network printer driver, USB wireless LAN card driver, etc., go to the "Peripheral Drivers" menu.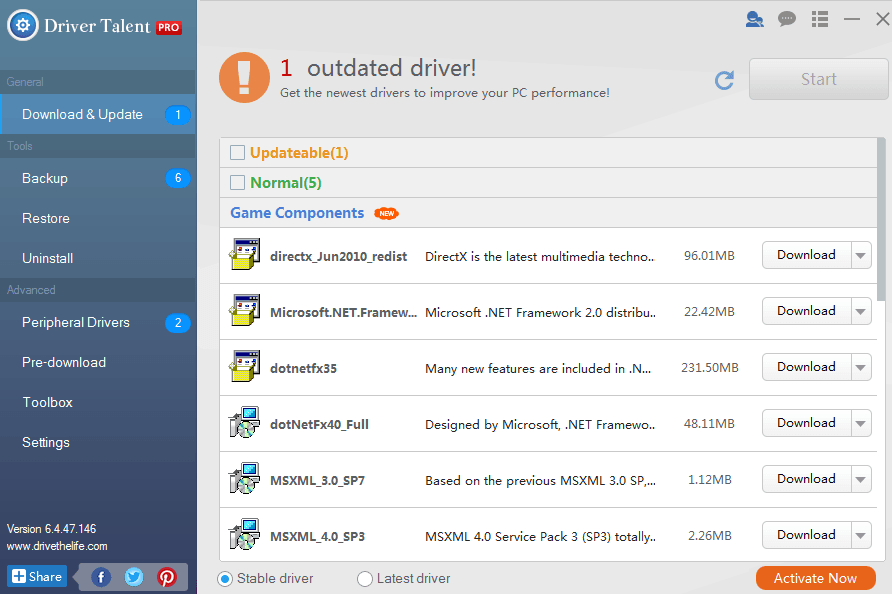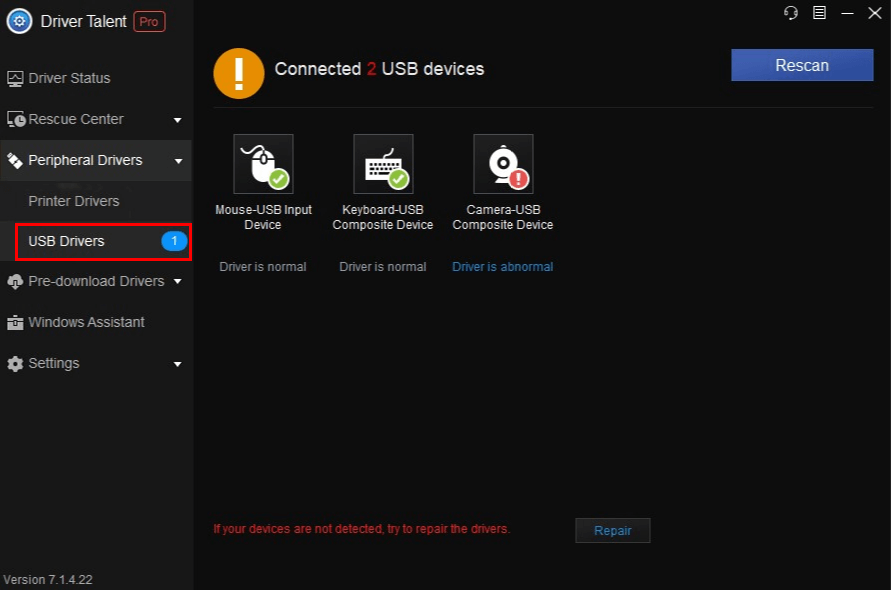 Step 3. Restart Your Computer
After all the drivers are installed, reboot your computer to apply all the effects. After the reboot, the newly-installed drivers will work properly, as well as the hardware devices.
We've dedicated top 4 methods to find drivers on this post: Top 4 Ways to Find Windows Drivers on Computer. You can check to see more.
Find the Correct Drivers for Your Computer on Windows OS or Windows Server
If Windows won't find drivers, try Driver Talent to install the correct drivers. It can install all drivers you need, including:
| | | | |
| --- | --- | --- | --- |
| Display/Video/Graphics card drivers | Motherboard drivers | Audio/Sound drivers | Network Printer drivers |
| USB Printer drivers | Android USB drivers | Kernel mode printer driver | Ethernet drivers |
| WiFi drivers | Wireless drivers | Network drivers | Bluetooth drivers |
| Keyboard drivers | Mouse drivers | Touchpad drivers | USB drivers |
| Phone drivers | Digital camera drivers | Webcam drivers | Game drivers |
| Card reader drivers | Gamepad drivers | Asus drivers | Acer drivers |
| Dell drivers | HP drivers | Sony drivers | Lenovo drivers |
| Samsung drivers | Toshiba drivers | IBM drivers | Microsoft drivers |
| MB/AMD drivers | Nvidia drivers | Gateway drivers | Etc. |
After trying all the above-mentioned fixes, if Windows can't find and can't install driver on your PC problem remains, you could leave comments below for help.
Recommended Download