Top 4 Ways to Fix Connections to Bluetooth Audio Devices and Wireless Displays Issues on Windows 10
Jun. 24, 2022 / Updated by Bessie Shaw to Windows 10
Windows 10 issues have never ceased since Windows 10 released. Connections to Bluetooth audio devices and wireless displays issues on Windows 10, one of the most common Bluetooth issues Windows 10 upgrade aftermaths. It may invade any Bluetooth devices, like Bluetooth headset, Bluetooth mouse, wireless keyboard, Bluetooth speaker or headphones etc. after Upgrade to Windows 10 from Window 8.1/8/7/Vista/XP.
Windows 10 connections to Bluetooth audio devices and wireless displays issue, coming with the error message, "Devices that are not compatible with it" shows that the Bluetooth is not available after Windows 10 upgrade. For the most part, that Bluetooth not working situation could be caused by two main reasons:
• Bluetooth functionality isn't turned on your devices.(PC or the Bluetooth devices you want to connect to your PC)
• Bluetooth drivers are incompatible with Windows 10.
To fix the malfunction connections to Bluetooth audio devices and wireless displays or Bluetooth missing, not working or Bluetooth device troubles on Windows 10. Here we gathered 4 top solutions as below, you should try them successively until the issue solved.
Note: Belowing Bluetooth device troubleshooting methods apply to all Windows 10 computer like Lenovo, Acer, Asus, Samsung, Toshiba, Intel Bluetooth, Logitech Bluetooth, ALPS Bluetooth device, FIC Bluetooth wireless adapter, Belkin Bluetooth adapter, Generic Bluetooth radio, ALPS Bluetooth USB adapter, CSR Nanosira Bluetooth, GVC Bluetooth wireless adapter, etc.
Solution 1. Make Sure Bluetooth Devices are Allowed to Connect to Your PC
Before you do any drivers updating things or other further moves to fix Bluetooth device issues, make sure the Bluetooth devices are turned on both on the PC and Bluetooth devices. And allow the wireless devices connect to your PC. Follow below steps to connect them.
• Go to Start - >Settings ->Devices ->Bluetooth. (As below picture shows)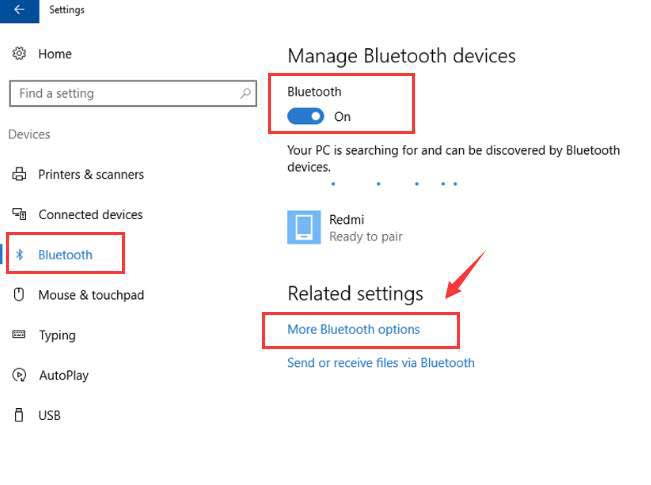 • You can see the Bluetooth device settings on the right side of the pane. Make sure Bluetooth is turned to On and then click More Bluetooth options.
• Tick the box "Allow Bluetooth devices to connect to this computer".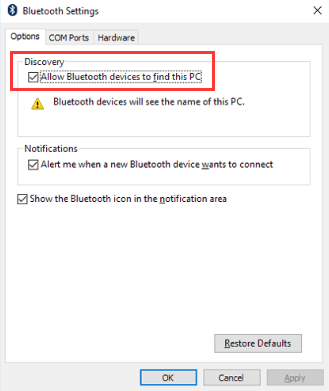 Check whether the Bluetooth device you'd like to connect with your PC shows, if not, you will need to go to solution 2, upgrade drivers for your Bluetooth device.
Solution 2. Update Bluetooth Drivers to Connect Bluetooth Audio Devices and Wireless Displays
Bluetooth drivers may be missing, broken during Windows 10 upgrading process or become mismatched after Windows 10 update. You can update the compatible drivers for your Bluetooth or wireless devices with Device Manager as below.
• Press Win + X and then select Device Manager.
• Expand Bluetooth category, and then locate your Bluetooth devices.
• Right-click the device and then choose Update Driver Software.
• Choose Search automatically for updated driver software.
Or you can rely on a professional automatic driver updater utility, like Driver Talent, a popular driver update program, fixing Bluetooth driver issues with just one click.
Click the button above to get Driver Talent instantly and install the best-matched Windows 10 Bluetooth drivers to resolve problematic connections to Bluetooth audio devices and wireless displays. Below is how.
Read More: Driver Talent Review on Engadget.
Step 1. Identify Bluetooth Driver Issues
Launch Driver Talent to scan all your drivers. All the faulty drivers will show to you in seconds. The Bluetooth drivers will be listed if it is an incorrect one.
Step 2. Download and Update Bluetooth Drivers
Repairing Bluetooth drivers by clicking "Repair" and Driver Talent will search for the best-matched drivers for you and install them.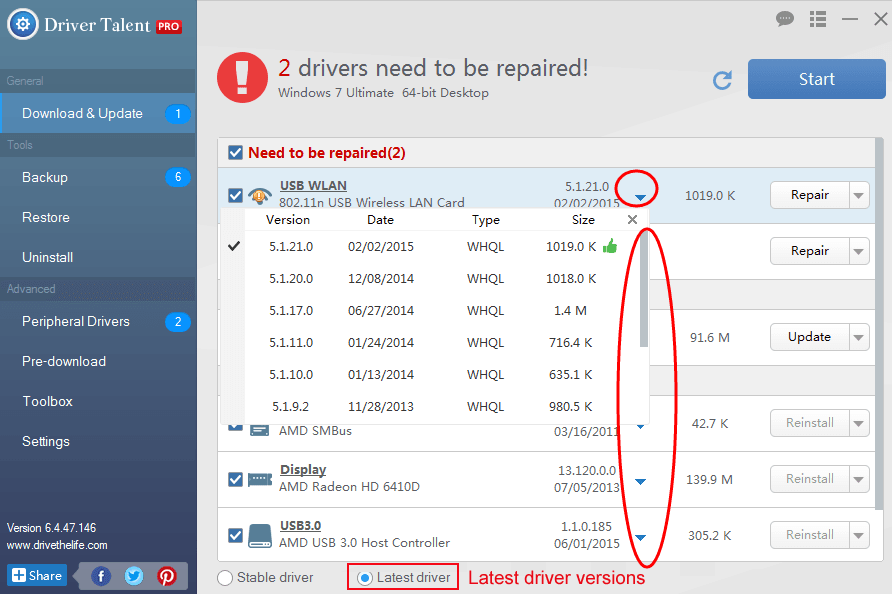 Notes: The "Update" choice is set for you to keep your driver up-to-date. But it is NOT recommended to update all the drivers.
Remember to back up drivers before installing any new drivers in case of driver crashes or other computer errors.
Step 3. Restart Your PC
Reboot your computer to make the newly updated wireless drivers take effect.
See Also:
Solution 3. Delete and Repair the Bluetooth Devices
Should the Bluetooth audio device or the wireless device still can't be detected after trying the above two solutions, try to remove it and then insert it again.
• Navigate to the Control Panel ->Hardware and Sound ->Bluetooth Devices.
• Locate your problematic wireless devices and select Delete or Remove.
• Tick the My device is ready to be found checkbox and click Next.
• When the Bluetooth device is found, select it and then click Next.
• Follow the on-screen wizard.
Solution 4. Use Miracast Devices to Connect Bluetooth Audio Devices and Wireless Displays
Miracast, kind wireless HDMI cable, allows your devices to discover and connect to each other wirelessly.
If want to use Miracast to connect Bluetooth audio devices and wireless displays, make sure that your Windows device and your computer's monitor or display supports Miracast and your Wi-Fi is turning on.
Hope this post helps you get rid of connections to Bluetooth audio devices and wireless displays errors on Windows 10 and Bluetooth related Windows 10 issues. Please comment below if you have any further confusions.
Recommended Download