How to Fix APC_INDEX_MISMATCH BSoD Stop Error
Jun. 16, 2022 / Updated by Bessie Shaw to Windows 10
Stuck in the BSoD error with the "APC_INDEX_MISMATCH" stop code? Don't worry. You're not alone. Many users have reported the same problem. When the issue occurs, you will a blue screen like this: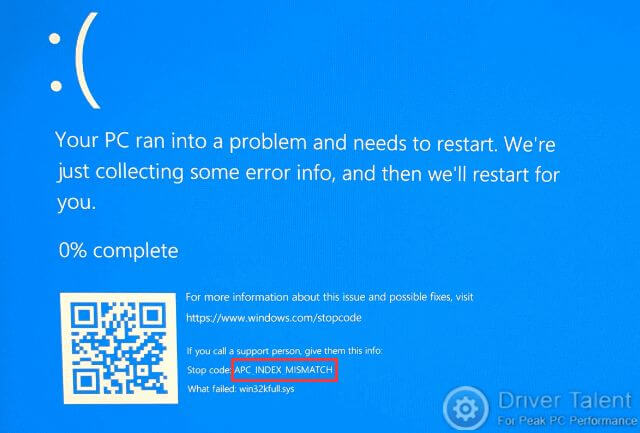 The images appear to show that this APC_INDEX_MISMATCH BSoD stop error is associated with win32kfull.sys, which is one of the kernel mode device drivers. It might mean that there are incompatible drivers or hardware on your computer.
If you see such a blue screen appear on your computer, don't panic. Here are some useful tips for you to deal with this annoying error. Read on to learn how to fix APC_INDEX_MISMATCH BSoD stop error on Windows 10. The methods below work for various brands of computers such as Dell, HP, Asus, Lenovo, Acer, Samsung, Alienware, etc..
Way 1. Disable Realtek HD Audio Manager from Startup
In most cases, the APC_INDEX_MISMATCH BSoD stop error is the result of a corrupt audio driver. To identify if it is the problem with audio driver, try to disable the Realtek HD Audio Manager from startup. Do like this:
Step 1. Launch Task Manager and get to the Startup tab.
Step 2. Find Realtek HD Audio Manager and right click on it.
Step 3. Select "Disable" to disable it.
Then check if the APC_INDEX_MISMATCH BSoD stop error is resolved. If the error is gone, it's the problem with your audio driver. You need to uninstall the current one and reinstall it. If the error still exists, read on to try the following methods.
Way 2. Reinstall Your Display Driver
Except for the corrupt audio driver, corrupt or outdated display driver is also one of the culprits of the APC_INDEX_MISMATCH BSoD stop error. Therefore, you can try to reinstall your display driver to get rid of this blue screen error. Remember to uninstall your current display driver before you reinstall it.
Way 3. Update Your Device Drivers
If the APC_INDEX_MISMATCH BSoD issue occurs after you upgrade your operating system, it should be the fault of outdated drivers. In this case, updating device drivers should work. To update drivers, you can follow the steps in this post: 2 Ways to Update Outdated Drivers in Windows 10.
Way 4. Run Windows System File Checker ("sfc /scannow")
Corrupted system files are also related to the APC_INDEX_MISMATCH blue screen. Windows System File Checker will help you find out the corrupt system files. Take the following steps:
Step 1. Right click on the Start button and select Windows PowerShell (Admin) to launch it.
Step 2. Type the "sfc /scannow" command into it and hit Enter.
Then the System File Checker will scan all your system files. If there are corrupted files, it will replace them with a cached copy located in a compressed folder. It will take some time to do that and you need to wait until this process is finished.
Read More:How to Fix Corrupted System Files with SFC /scannow in Windows
That's all. Hope you can resolve the APC_INDEX_MISMATCH BSoD stop error successfully after you try the methods above. If you need further assistance, leave comments below to let us know. More solutions to other BSoD stop errors can be accessed below:
Recommended Download