How to Fix Emerging Issue 67758 on Windows 10
Jul. 30, 2018 / Updated by Bessie Shaw to Windows 10
Although Microsoft has rolled out many updates to improve the stability of Windows 10, there are still a lot of issues reported to affect the performance of Windows 10. One of these issues is the Emerging issue 67758. This issue is related to the Windows universal applications. It would prevent these apps from running properly such as Settings app not working. If you are bothered by this issue, take it easy. This post will show you how to fix Emerging issue 67758 on Windows 10.

Also Read: How to Fix "This App Can't Open" Error in Windows 10
Fix 1. Run the Microsoft's Troubleshooter to Work around the Issue
It's reported that Microsoft has been conscious of this Emerging issue 67758 and has released a troubleshooter to work around it. According to the feedback from some users, this fix worked for them. Therefore, to fix this nettlesome issue, you can try to download the troubleshooter and run it. Take the following easy steps.
Step 1. Click here to download the troubleshooter file named CSSEmerg67758.diagcab.
Step 2. Click on the downloaded file to open and run it.
Then the troubleshooter should have resolved the issue for you.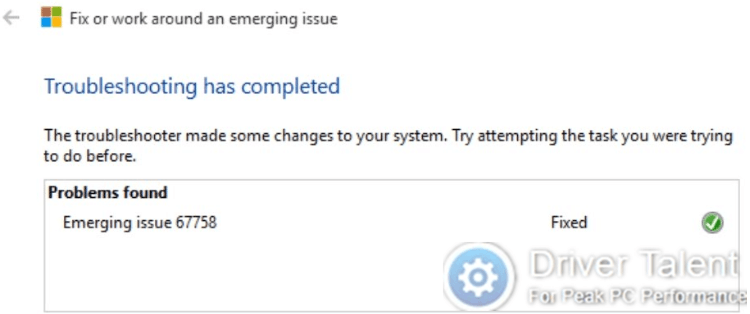 Fix 2. Run "sfc /scannow" Command to Detect Corrupt System Files
In some cases, Emerging issue 67758 may be caused by the corrupt system files. To troubleshoot the error code 67758 in this situation, you need to run the "sfc /scannow" command to detect corrupt system files. These posts will tell you what to do:
Fix 3. Use Windows PowerShell to Resolve Emerging Issue 67758

Another workaround to fix Emerging issue 67758 is to run the register command in Windows PowerShell. You need to run the Windows PowerShell as administrator at first. Do as follows.

Step 1. Right click the Start button and select Windows PowerShell (Admin).

Step 2. Type the following command in it and hit Enter:

Get-AppXPackage -AllUsers | Foreach {Add-AppxPackage -DisableDevelopmentMode -Register "$($_.InstallLocation)\AppXManifest.xml"}

After the command is completed, close the window and check whether the Emerging issue is troubleshot.

Fix 4. Use System Restore to Fix Emerging Issue 67758

If the Emerging issue 67758 still exists after you try all the fixes mentioned above, don't be vexed. There is still a workable solution. If you have created a system restore point before, you can fix the issue by using system restore. Refer to this post: How to Use System Restore to Fix Windows 10 Issues.

If the solutions in this post are useful for you to fix Emerging issue 67758 on Windows 10, don't hesitate to share them with your friends. Leave comments below to let us know if you need further assistance. More solutions to other common computer issues like no sound, blue screen, unknown hard error and microphone not working can be accessed below:
Recommended Download