Top 5 Ways to Fix MTP Connection Problem on Windows 10
Jun. 24, 2022 / Updated by Helia to Windows 10
How to fix the MTP connection problem in Windows 10?The MTP connection is one of the big headaches that Windows users experience after the Windows 10 upgrade or the Windows 10 anniversary update. The "MTP USB Device driver failed", "MTP USB device not installing" or "MTP not recognized" error makes the users fail to transfer media files between their Android devices like Samsung Note 7, HTC Nexus 7, Lenovo T410, etc. and the Windows 10 machines.
MTP (Media Transfer Protocol) is supported by Android smartphones and enables you to transfer media files from Android devices to Windows machines. Most manufacturers prefer to use the MTP connection protocol, namely "Media device (MTP)" in their Android products instead of the USB mass storage. However, Windows 8.1 and Windows 10 come with some changes on driver signature that will affect the MTP USB device drivers install. This results in the MTP connection problem.
Read More: USB Type-C Drivers Download and Update for Windows OS
Android Qualcomm HSUSB Drivers Download for Windows
How to Fix MTP Connection Problem after the Windows 10 Upgrade or the Windows 10 Anniversary Update
Here we'll introduce to you top 5 solutions to fix MTP connection issue on Windows 10.
Solution 1: Switch the USB Port or Cable
Connect your Android devices to different USB ports or use different USB cables to see if it is the hardware that causes MTP USB device connection problem. It is recommended to use the original USB cable that came with your phone or tablet in case a file transformation failure via a cable only for powering.
Solution 2: Turn on the Airplane Mode
Airplane mode on both the phone and Windows machine is another factor affecting the MTP connection. Turn on the airplane mode and try to connect the devices to see if the "MTP USB Device not installing" problem recurs.
Once you transfer files successfully, remember to turn off the airplane mode.
Note: If you fail to turn on or off the airplane mode, see Windows 10 Airplane Mode ON or OFF Errors and Solutions.
Solution 3: Reinstall MTP USB Device Driver
Incorrect configured MTP USB device driver is the mainly factor resulting in the MTP connection problem or MTP USB Device driver failed issue. However, as we've mentioned above, Windows 10 won't allow MTP driver without signature to install. If you want to reinstall MTP driver manually, you can follow the steps here and fix the MTP connection problem. (Note: If you have a cleanly installed Windows 10 anniversary machine, see steps in Fix: Driver Signature Issue on Windows 10 Anniversary.)
For those who want a one-click MTP connection solution, it is highly recommended to use Driver Talent, a professional driver troubleshooter, to reinstall the driver.
Follow the steps to reinstall the driver:

1. Click Uninstall menu to uninstall the MTP driver.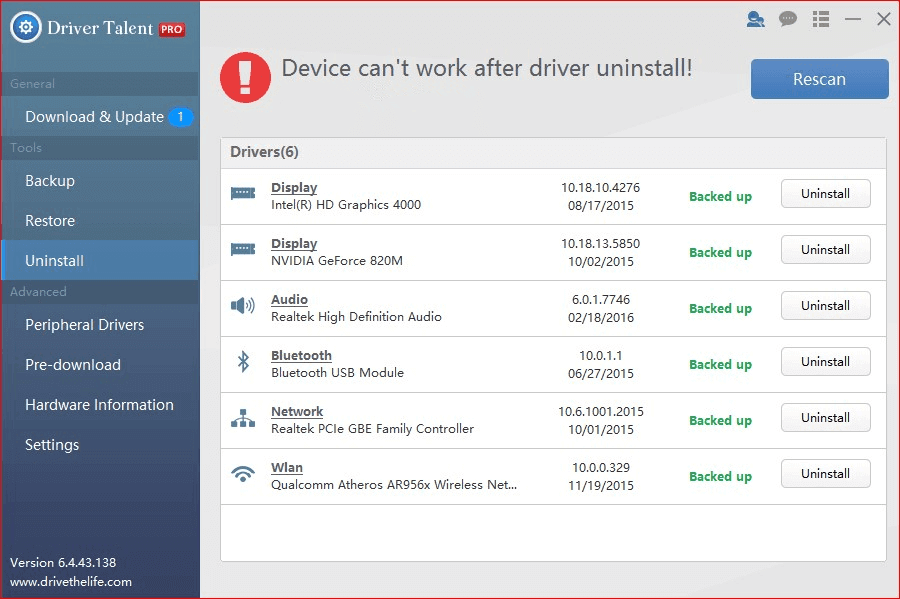 2. Click Download and Update menu and take a driver scan.
3. Click Repair to reinstall the MTP driver and the restart the PC.
Solution 4: Install MTP Related Programs on Windows 10
Windows Media Player on Windows 10 is related to MTP connection, but it may not be installed on some versions of Windows 10, which will cause the MTP USB device not available. You can download and install the Media Feature Pack and MTP Porting Kit from Microsoft to fix the MTP connection problem.
Solution 5: Fix MTP Connection Issue by Modifying Registry
You can conduct a modification on Registry Editor to fix the MTP connection problem.
1. Use Windows shortcut keysWin + R to launch Run.
2. Type regedit into the dialog box and press Enter.
3. Navigate to the following key:
HKEY_LOCAL_MACHINE\SYSTEM\CurrentControlSet\Control\Class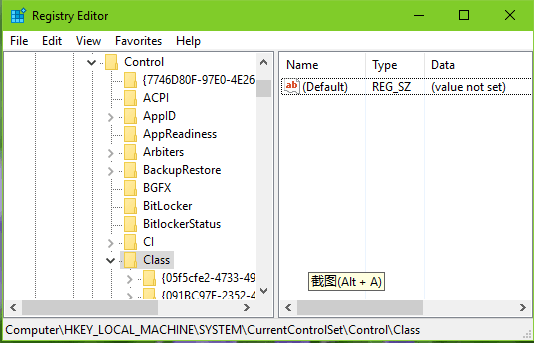 4. Click Edit menu and select Find.
5. Type Portable Devices into the dialog box and click Find Next.
6. Find UpperFilters from the right column and right click on it to select Delete.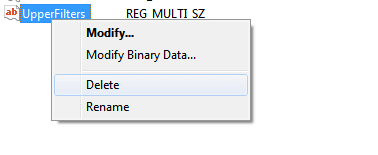 7. Reconnect you Android device to the PC to see if the MTP connection issue recurs.
Note:
1. Backed up the Registry files and create a system restore point in case any PC problems happen. For more information, see How to Use System Restore to Fix Windows 10 Issues.
2. If you are not that technical about computer, it is not recommended to take this method, because incorrect Registry modification may cause DRIVER_IRQL_NOT_LESS_OR_EQUAL error, mouse and keyboard not working, 100% disk usage and other system issues.
Above are the top 5 method to fix MTP connection problem on Windows 10. If you still cannot fix the MTP USB device not installing issue, comment below to let us know please.
Recommended Download