Top 3 Ways to Fix Wireless Adapter Not Working on Windows 10
Jun. 24, 2022 / Updated by Bessie Shaw to Windows 10
There are various reasons for the wireless adapter not working on a Windows 10PC. Main feedbacks on that issue include network adapters not working, wireless adapters disconnecting to the computer and broken or faulty wireless adapters, etc.Here are top 3 ways to fix the wireless adapter not working issue in Windows 10.
See Also: Top 4 Ways to Fix No Wi-Fi after Windows 10 Anniversary Update.
Fix Wireless Adapter Not Working on Windows 10
Luckily, wireless adapter not working issue can be solved with the following methods. You might as well try them till that glitch is fixed on Windows 10, also applied to Windows 8.1, Windows 8, Windows 7, Windows Vista, and Windows XP.
Method 1. Disable and Re-enable the Wireless Adapter
Disable and then re-enable the adapter to make sure it is successfully connected. In the network connections window, right-click on the wireless connection and select "Enable" if your wireless connection shows up. If there is a "Disable" sign, then the network connection is already enabled. If disabling and re-enabling still can't fix the wireless network error, open your network and sharing center, and right-click on the wireless adapter's icon to select "Diagnose and repair," and then proceed to on-screen instructions.
See Also:
Method 2. Reset Your Modem or Router
The modem or network router's hitches should also be taken into consideration when encountering network adapter problems. To rule out that possibility, you may try to reset the modem or router. Once disconnected, press and hold the power button for 10-15 seconds and then wait for 2-3 minutes for the modem to reconnect to the network, and then reset the Internet connection settings for your wireless adapter.
See Also: 4 Methods to Fix WiFi Router Not Working on Windows 10
Method 3. Reinstall and Update Wireless Adapter Drivers
Since any outdated, incompatible or faulty wireless and network drivers may lead to wireless adapter not working circumstances, to update or repair them is of great significance. You can either download wireless adapter drivers manually through your computer or wireless devices manufacturer website or you can choose to repair wireless adapter not working status with a driver management utility tool.
1. Download the Wireless Adapter Drivers via Manufacturer Website
To reload the wireless network adapter drivers, you need to uninstall the network adapter drivers first. Follow the below steps.
• Press Windows + X hotkeys to open Device Manager.
• Expand Network adapter, Right click on the wireless adapter.
• Click Uninstall.
Then go to your computer or wireless adapter manufacturer website to download the corresponding network adapter drivers and install them manually.
2. Repair Wireless Adapter Not Working Issues with Driver Update Utility
As an easy resort, a professional network driver update and management utility like Driver Talent is highly recommended to resolve wireless adapter not working glitch, for it can repair and update the correct network driver automatically in a flash. Driver talent works well with Windows 64-bit or 32-bit desktops, laptops or notebooks, including Windows 10, Windows 8.1, Windows 8, Windows 7, Windows Vista, and Windows XP.
Click the button below to get Driver Talent.
Note: If you need to install the network driver without Internet connection, we recommend you to download Driver Talent for Network Card. It can download drivers for another computer. That is to say, you can download the network driver on an online computer and then move this utility to your computer to install it.
Take the following 3 easy steps to resolve wireless adapter not working issues.
Step 1. Scan Your PC
Click "Scan" to detect whether your wireless adapter driver is outdated, missing, or broken.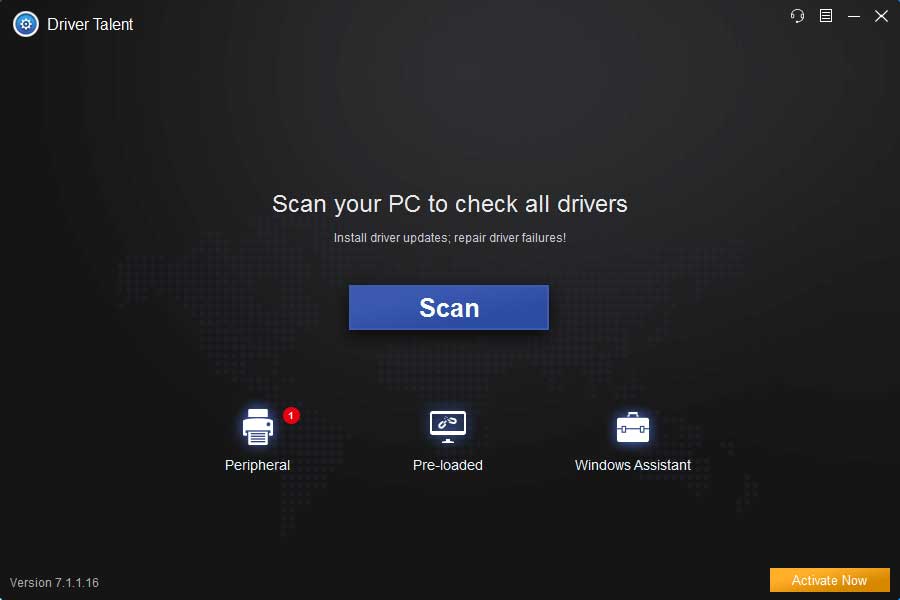 Step 2. Repair and Update Wireless Adapter Drivers on Windows 10
Click "Repair" to fix the error wireless adapter driver or you can also choose to update it to the most up-to-date version by clicking "Update", but it is suggested don't update drivers when they are not broken.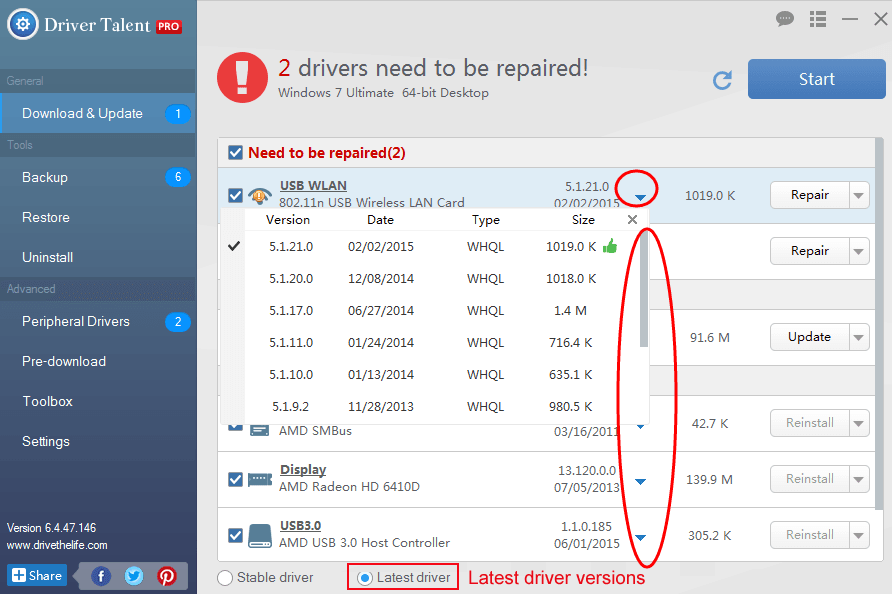 Step 3. Reboot Your PC
Make a PC restart after the above two steps to let the new wireless adapter drivers take effect.
Note: To prevent driver crashes, you'd better back up drivers before installing new wireless adapter drivers. Moreover, Driver Talent provides other excellent functions, such as drivers restore, system restore, hardware detection, PC speed up, VR support check, etc.
If you still have confusions on wireless adapter not working in Windows 10, or any supplementary fixes for that trouble, please leave comments below for further interaction.
Below links are the solutions you may need to fix possible wireless network related issues.
Recommended Download