4 Fixes for Igdkmd64.sys Blue Screen Error in Windows 10/8/7
Jun. 24, 2022 / Updated by Bessie Shaw to Windows Driver Solutions
The igdkmd64.sys error is a Blue Screen of Death error. There are 3 types of igdkmd64.sys error: video_tdr_failure (igdkmd64.sys), iqrl_not_less_equal (igdkmd64.sys) and system_thread_exception_not_handled: what failed: igdkmd64.sys.Once you come across the igdkmd64.sys error, you could follow the top 4 ways to get rid of it in Windows 10/8.1/8/7.
You may also like to check out:
1. Update Device Drivers to Fix Igdkmd64.sys Error in Windows 10/8.1/8/7
In many cases, the igdkmd64.sys error is associated with the outdated graphics driver. To quickly find out whether it is the graphics driver issue, it's highly recommended to use a driver update utility (like Driver Talent) to automatically detect your driver status in seconds.
Click the download button below to free grab Driver Talent directly. No viruses. No trojans.
Here is the straightforward step-by-step guide to update your graphics driver with Driver Talent.
Step 1. Scan Your PC
Launch Driver Talent. Click the "Scan" button to scan all drivers. All your outdated, corrupt, broken or missing drivers will show up within seconds.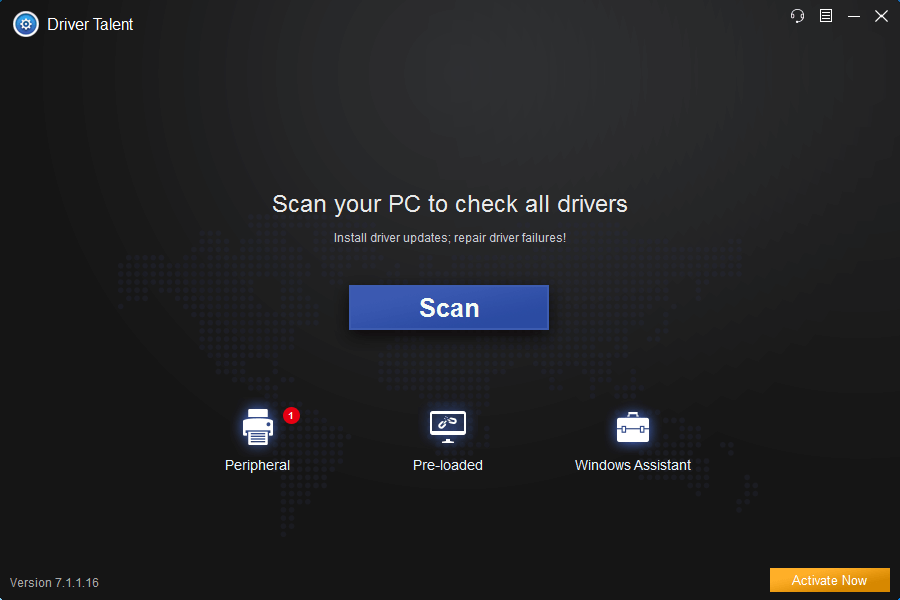 Step 2. Update Graphics Drivers to Fix Igdkmd64.sys Error in Windows 10/8.1/8/7
Click "Update" and Driver Talent will automatically download and install the latest drivers. Click "Repair" to fix other problematic drivers.
Step 3. Restart your PC
Restart your PC to make driver changes go into effect.
In addition to the driver update, Driver Talent provides other advanced features, such as drivers backup, drivers restore, drivers uninstall, system restore, drivers pre-download for another PC, PC Repair (no sound, no video, no Wi-Fi available, etc.), hardware detection, etc..
2. Run SFC Utility
The corrupted system files could also lead to the igdkmd64.sys BSod error in Windows 10, Windows 8.1, Windows 8 and Windows 7. To repair the file corruption, you could run the System File Checker (SFC) tool. Please refer to this article: Fix Corrupted System Files with SFC in Windows
3. Scan Your PC for Viruses
If your computer is infected by viruses or malware, the gdkmd64.sys blue screen error could also exist. Before perform a full scan of your PC, you'd better update your antivirus application to the latest version. Once the scan is complete, remove the detected viruses or malware.
4. Install the Latest Windows Update
According to some Windows users, installing the latest Windows update could fix the igdkmd64.sys blue screen of death error. In Windows 10, click Start >Settings >Update & security > Windows Update. In Windows 8.1/8/7, open Control Panel >System and Security > Windows Update.
If you have any questions about the igdkmd64.sys error in Windows 10/8.1/8/7, please do not hesitate to leave comments for assistance.
Recommended Download