How to Get Nvidia GeForce 511.79 Game Ready Driver for Improving Gaming Experience
Jun. 16, 2022 / Updated by Vivi to Windows Driver Solutions
Nvidia has released GeForce 511.79 WHQL Game Ready Driver to improve gaming experience for Elden Ring, GRID Legends, and Total War: Warhammer III. This new driver is also supposed to offer support for the latest updates.
Issues Fixed in GeForce 511.79 WHQL Game Ready Driver
[Call of Duty: Vanguard][Assassins Creed Valhalla]: The games may display random corruption or white/black screen. [3503111/3525655]

[Battlefield 2042]: The game may display color flashes on the screen. [3503086]

[Corel Paint Shop Pro XI]: The application cannot be launched. [3510891]

[G-SYNC]: After disabling G-SYNC on G-SYNC Compatible monitor and TV, G-SYNC cannot be re-enabled through the NVIDIA Control Panel. [3523157]

Digital Vibrance is reset when monitor goes to sleep. [3519430]
(from Nvidia)
Open Issues
Sonic & All-Stars Racing Transformed may crash on courses where players drive through water. [3338967]

[Grid Legends][GeForce RTX 3-series]: Background artifacts flicker. [3524560]

[NVIDIA Ampere GPU]: With the GPU connected to an HDMI 2.1 audio/video receiver, audio may drop out when playing back Dolby Atmos. [3345965]

[NVIDIA Advanced Optimus][Ampere] Putting notebook to sleep by closing the lid and then waking up the notebook may cause Windows to reboot when in dGPU mode. [3444252]

[NVIDIA Advanced Optimus][NVIDIA Control Panel]: After setting the display multiplexer type to "dGPU", the setting is not preserved across a reboot or resume from S4. [200779758]

The native resolution for a DVI or HDMI display may not be available from the display settings if the display contains an invalid EDID. [3502752]

Increased registry reads by DWM.exe when GPU is connected to G-SYNC/G-SYNC Compatible display [3535493]
(from Nvidia)
How to D

ownload Nvidia D

rivers
To keep your laptop, desktop or computer run in perfect state, you may need to download and update Nvidia drivers for your operation system. There are two common ways to update NVIDIA drivers>
Way 1. Download Nvidia Drivers via Nvidia Official Website
You could get the latest or previous Nvidia drivers on its official website.

Step 1.Navigate to NVIDIA download page.
Step 2.Select the correct product type, series, product, operating system, download type and languages that fit your device. Then click the "SEARCH" button.

Step 3. Click the "DOWNLOAD" button and "AGREE & DOWNLOAD".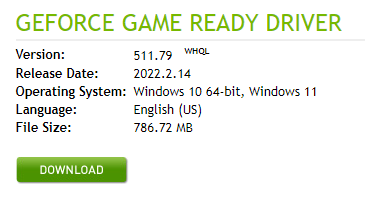 Step 4. Double-click on the GeForce driver file (.exe file) you have downloaded and then follow the instructions.

Way 2. Download Nvidia drivers with Driver Talent
To successfully download Nvidia drivers and make them work properly on computer, you can try professional drivers download and update utilities, such as Driver Talent. The tool enables you to get the right and the latest GeForce driver with only one-click. Driver Talent also allows you to do more management with the NVIDIA drivers, such as backup all the drivers, restore drivers from backup, remove useless drivers, download drivers for another PC, etc.
Download and install Driver Talent directly by clicking the button below.
Step 1. Scan for Nvidia drivers.

Launch Driver Talent and click on the "Scan" button to check the drivers on your device.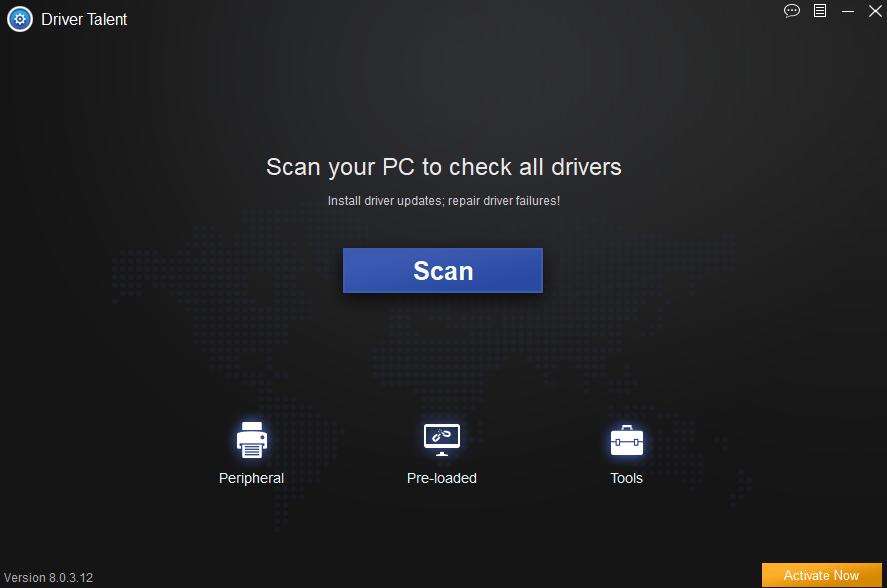 Step 2. Update Nvidia drivers.
Click "Update" to get the Nvidia drivers you need or other well-matched drivers for your operation system.

Step 3. Perform a PC Restart
Reboot your Windows 10 laptop or desktop PC to make the updated NVIDIA drivers come into effect.
Notes: Backup your drivers in advance in case you may need to roll back drivers in the future and in the prevention of any unexpected system issues like Blue Screen,Windows 10 cursor disappears etc.. And it is not recommended update what are not broken. You should use Driver Talent to create a restore point before installing any new drivers, download drivers for another computer and speed up your PC.

Recommended Download